April 25, 2016   |  
Posted by
Shay Harel
With so much going on, getting the beat and taking the pulse on this past week's SERP Features performance is quite the task. More than a flutter, we've seen some major and lasting SERP manifestations. Throwing the age old adage of trying to save the best for last out the window, let's get right to the heart of the matter, Featured Snippets (yes, them again). Ever relying on our SERP Features tool, we made quite the discovery (again)…
A Spanish SERP Feature Fiesta 
If you remember, on April 8th, we reported that Featured Snippets had spread across Europe. It would appear however that this European roll-out was part of larger and more global "Snippet scenario."  Last Monday we were proud to announce that we had tracked the appearance of Featured Snippets all throughout the Spanish speaking world.
On April 15th, our SERP tracking tool picked up Featured Snippets displaying in Spain and Mexico.  Sí, we didn't think this was any coincidence either, so we dug a bit deeper. Turns out, we found Featured Snippets coming up in Argentina, Chile, Costa Rica, Cuba, Dominican Republic, Ecuador, Venezuela… well you get the point, countries where Spanish is the official language. Additionally, more often than not, if a query brought up a Featured Snippet in one Spanish speaking country, the same query would bring up the same Featured Snippet in another Spanish speaking country. Magnifico! 
Mexico & Spain: Featured Snippets & Number of Organic Results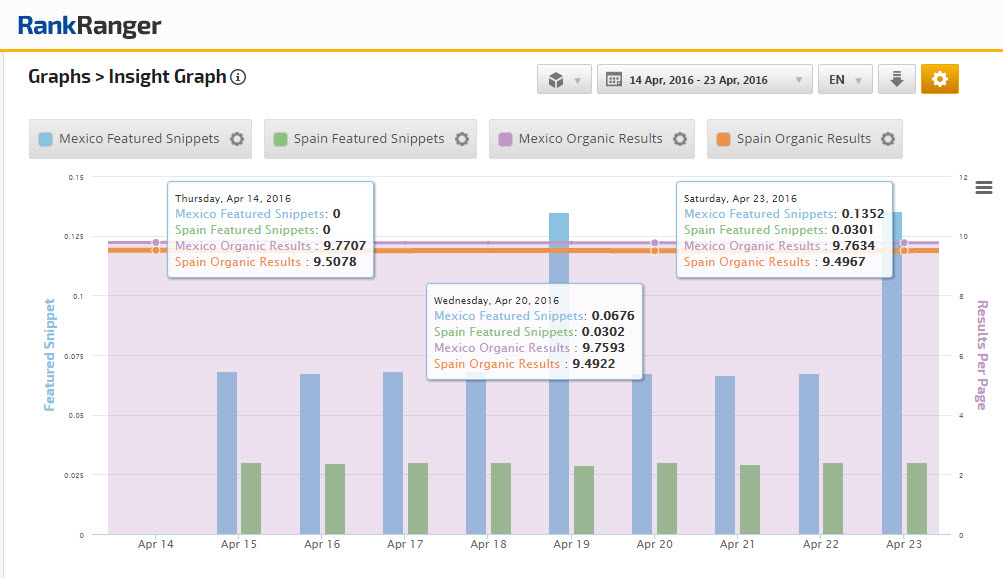 Fig 1. Prior to April 15, 2016 Mexico and Spain did not have Featured Snippets displaying in the SERPs


Leaping Local Packs Batman! 
Moving right along and in the spirit on the 1960's Batman series, Local Pack got "whammed, popped, and kapowed!" the other day. A few weeks back we reported a dip in Local Pack. Well if that was a dip then this is an epic downward dive. After holding steady for about a month we've seen Local Pack go from showing up in 30% of our queries (within the USA) to a new low of just 18.5% (based on our 500K keyword database). The most obvious decline being between April 22nd and 23rd.
Major Drop in Percentage of USA Queries Producing Local Packs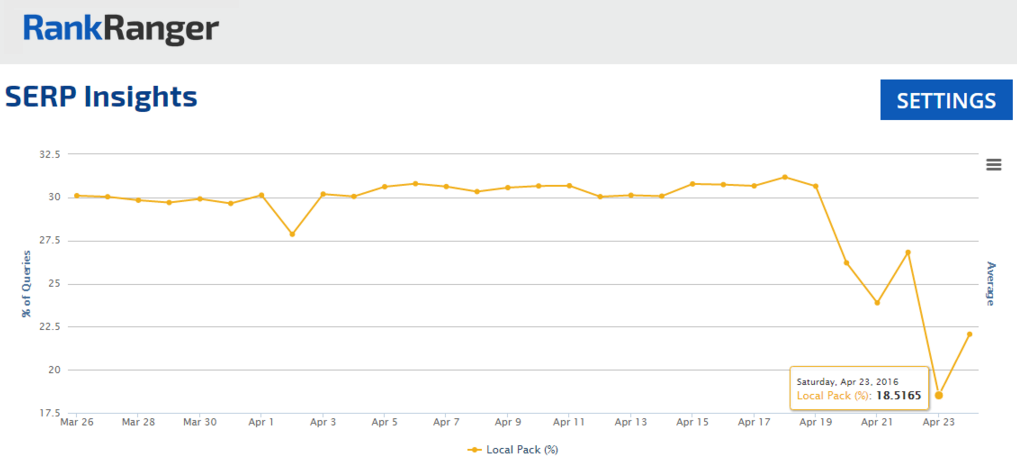 Fig 2. Percentage of USA queries producing Local Packs drops from 30% on April 18th to 18.5% on April 23, 2016
What could be more peculiar than such a steep decline you ask? Well, in truth, Local Pack had been on the decline since the 18th, with a notable shift on the 19th into the 20th (before spiking back up on the 21st – 22nd and going off the deep end by the 23rd). Dizzying and peculiar as this all may be, what is truly offbeat is that this dip between the 19th and 20th didn't just happen in the USA. In fact, our Insight Graph indicated just a "few" other countries (Malaysia, Belgium, Mexico, Singapore, Denmark, Spain, Canada, etc.) showing the same drop-off between the 20th and 21st, with parallel rebounds between the 21st and 22nd.
International Drop in Search Queries Producing SERP Local Packs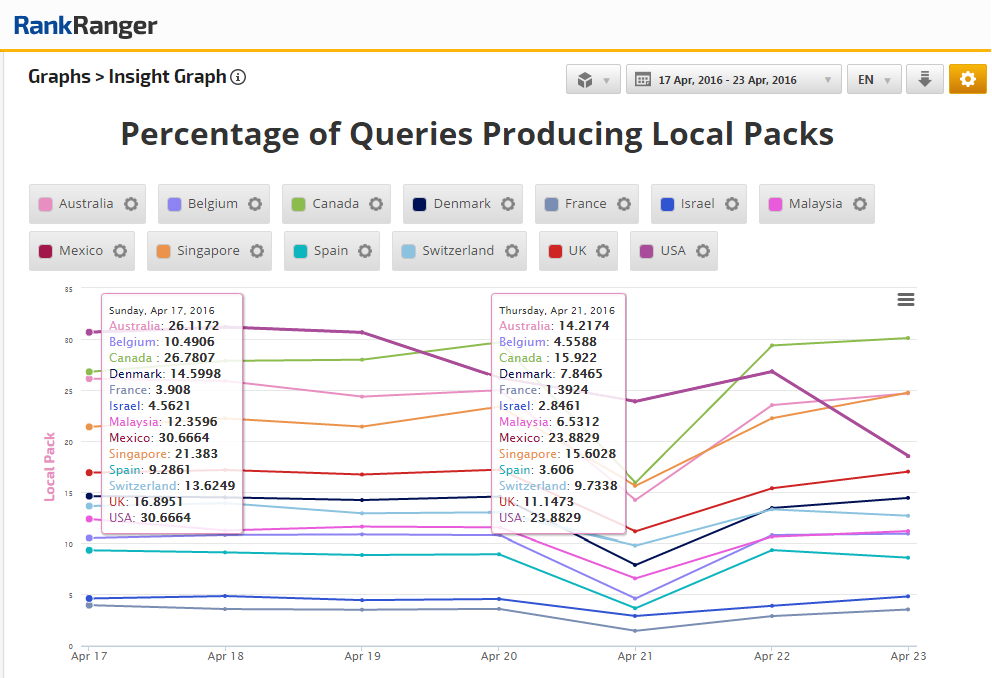 Fig. 3  The instance of Local Packs in SERPs declined by 50% or more in many countries around the world on April 21, 2016
Though not as dramatic as the the dip in the USA between the 22nd and 23rd, these dips were significant. Countries such as Canada, Malaysia, Belgium, Denmark, Israel, and France took at around a 50% hit, if not more in some cases. 
Correlation between Local Pack & AdWords in SERPs? 
Obviously, something was going on within the expansive cosmos of the "Googleverse" between April 20th and the 22nd to say the least. Even countries with already low levels of Local Pack results such as France and Israel, took a one day hit. 
It is interesting to note that of all the SERP Features that could have undergone such a peculiar and global shift, it was ultimately Local Pack that did so. Just last week, on the 20th to be exact, it was reported that going forward Google Maps would no longer be a Search Partner. Subsequently, the web was abuzz with ads now appearing in Local Pack. Google themselves noted the appearance of ads within Local Pack, laying out pricing and eligibility. 
We actually ran an Insight Graph with the data for both Local Pack and Ads in Canada and Australia, two countries that took a significant dip in the shallow end between the 20th and 22nd. What we found is that Ads seemed to take a corresponding plunge. This may cause some folks to raise an eyebrow (or two if you can't do that whole one eyebrow Spock thing).
Australia & Canada: AdWords & Local Pack Trends

Fig. 4  Sharp decline in AdWords Ads & Local Packs in Google Canada & Australia between April 17 and April 23, 2016
SERP Feature Flip  
Local Pack was not the only feature to go all topsy turvy on us last week, there were quite a few features that were fond of fluctuating. Actually, this seemed to be the week of inverse relations as far as SERP Features in the USA were concerned. It seems that some of them just couldn't get together and see eye to eye. 
Fluctuations in Knowledge Graphs, Featured Snippets, Related Search…

Fig. 5  SERP Answer Boxes, Knowledge Panels, SiteLinks, Related Search & Featured Snippets from April 17 to April 23, 2016
While Featured Snippets and SiteLinks trended downward from the 17th to the 18th, Knowledge Panel and Answer Box took an opposite approach by trending upwards. The four features did a "switcheroo" from the 18th to the 19th, with Featured Snippets and SiteLinks going for a ride up while Knowledge Panel and Answer Box slid down the hill.
For the rest of the week, Knowledge Panel and SiteLinks continued their inverse pattern, while Answer Box continued its inversely magnetic relationship with Featured Snippets (with neither ending up on top by week's end). Not to be left out of the fray, Related Search began to play the opposite to Knowledge Panel between the 20th and 23rd, ultimately rising above the rest of the pack. This all begs the question, conversely coincidental or purposefully pointed?
Share Your SERP Insights
What's your theory on the relationship between Local Pack's momentary slump and Ads? Why is Local Pack in the USA continuing its landslide and breaking off from the group?
Did you notice any Spanish Featured Snippets and which queries produced them?
What other SERP patterns and trends did you notice across the world? As usual, we'd **** to hear your insights and findings!