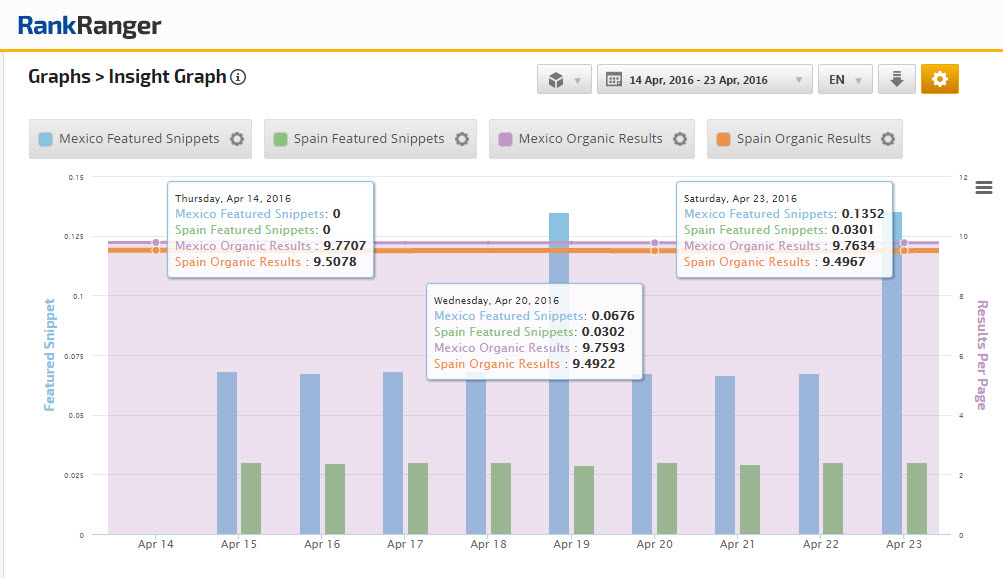 April 18, 2016   |  
Posted by
Shay Harel
Recently, our SERP Features tool picked up the appearance of Featured Snippets in additional European countries. Today, this very same tool has indicated that Google has continued the feature's global expansion by hitting the Spanish speaking market. Currently, Peru is the only Spanish speaking country to host Featured Snippets on the SERP. No longer a one shot deal, our data tells us that the feature has now undergone a substantial roll-out in Spanish speaking countries across the board. 
Featured Snippets in Spain and Mexico
Mexico and Spain were the first locations where we noticed the new roll-out of Featured Snippets in Spanish speaking countries. As our Insight Graph indicates, the two countries began displaying Featured Snippets on April 15th, and have maintained their presence at the same levels since then. Viewing this discovery in conjunction with the appearance of Featured Snippets in additional European countries, indicates the presence of a targeted focus in rolling the feature out globally. In the past two weeks Google has introduced Featured Snippets to over fifteen different countries. The sheer volume of new countries sporting the feature is significant in its own right.  
Across the Board Spanish Snippets Expansion
Upon further investigating the reach of the expansion of Featured Snippets into Spanish speaking countries, we found that the results were generally uniform across the board. Keywords that brought up a Featured Snippet in one Spanish speaking country commonly produced the same Snippet in another. We initially began by performing a query for "cuál es la sauna,"or in English, "what is a sauna."
The same query of "what is a sauna" produced an identical Featured Snippet when queried in Google: 
Argentina 

Chile 

Colombia

Costa Rica

Cuba

Dominican Republic 

Ecuador

Venezuela 
The appearance of identical Featured Snippets is indicative of the blanket release of the feature to Spanish speaking countries.  
Additional Featured Snippet Results 
To confirm the data we acquired via the SERP Features tool, we scoured the Spanish speaking web for Featured Snippets. Our queries produced a profusion of Featured Snippets on a variety of topics. That the feature appeared for a variety of topics and industries further attests to the degree to which the feature is embedded within the SERP. 
Featured Snippet Cuba 
In Cuba, when we queried "¿cuál es la bolsa de valores" (What is the stock market?) the following Featured Snippet displayed:
Featured Snippet Chile
Switching industries, we searched Google Chile for, "que es una prima de seguro" (What is an insurance premium?).
Featured Snippet Ecuador
Diversifying our results further, we queried "que es el gobierno" (What is government?) in Ecuador in order to produce a Featured Snippet. 
Featured Snippet Venezuela 
Moving to healthcare, we found that Google Venezuela will display a Featured Snippet when "eps significado" (EPS meaning) is searched for. 
Share Your Spanish Speaking SERP 
Have you noticed the appearance of Featured Snippets in Spanish speaking countries? What queries brought the feature up? Have you noticed any other SERP occurrences within Spanish speaking countries? Feel free to share your discoveries and insights with us.