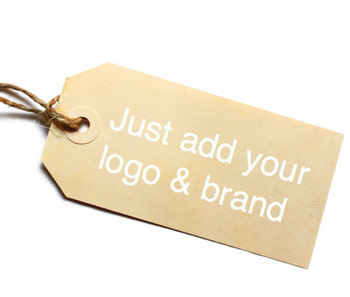 August 13, 2014   |  
Posted by
Rank Ranger
White Label SEO reporting was created to free up time for digital marketing agencies and website optimization companies to do what you do best – marketing and site optimization.



What is White Label?
White Label is a common term used for a product or service that is produced by one company and re-branded by another, giving the appearance that the product or service was created by the marketer (or the company s/he represents). Re-branding is a technique that has been in use for generations with products ranging from foods to clothing, vehicles, electronics and all sorts of online wares and services sold through affiliate marketers. 
Rank Ranger includes complete White Label Solutions across all SEO platform packages to give marketing and SEO professionals the ability to provide professionally branded SEO reports to their clients.
Why We Believe Our White Label SEO Is Important
Providing documentation of the results of your efforts (e.g., progress reports, competitive data, etc.) is critical for customer retention and future growth.

Manually gathering data from multiple sources and compiling it into spreadsheets, formatting and generating reports with a consistent and professional appearance can be very time-consuming and not cost effective or efficient as there is much room for human error.


A self-branded online web interface displaying interactive reports that have been personalized for your specific clients can help jettison even the smallest firm into big-league professional appearance, improving your brand perception.

Our White Label services significantly reduce the costs that would be incurred to create and host in-house software.
How Rank Ranger Delivers White Label Solutions


Automated White Label PDF Reports

Rank Ranger's automated White Label PDF reports are included in all packages and feature:
Your branded logos can be campaign specific and/or used account-wide

Dozens of rank tracking, research, analytical and link reports and graphs to choose from

Automated emailing of PDF reports to any email address –

from your account email address

– weekly, monthly or quarterly

Everything from language and **** format to PDF page size, orientation, font size, etc. can be customized to suit your preferences

Reusable Cover page templates

Reusable Layout Templates
The automated PDF report is a feature that many Rank Ranger users enjoy, whether they are doing in-house SEO and need to send their managers weekly reports, or are an agency needing to report to clients. These reports are professional, well laid out and have no Rank Ranger branding – view a sample SEO PDF Report.
White Label Portal
The White Label portal is a web interface that can be set up for use by your clients and/or co-workers to view reports and graphs for one campaign or multiple campaigns with a single sign-on. Access can be restricted to specific reports and graphs per campaign (Campaign Settings > White Label Portal) or based on account-wide preferences (Account Settings > Localization & Preferences > Default White Label Portal Reports).
Report viewing options can be open and customized by the user or restricted by the account owner to the specific ranking and performance data s/he wants available for viewing in the portal. 
Access can be shared via:
Secure password protected URL

Custom Domain service

Public Direct Link


Rank Tracker Dashboard: Multiple Campaigns, Graph and Report Options Enabled
Set Report Options to "Show" and your customer can change settings and view any report or graph you've granted them access to in a variety of formats, customized with the specific metrics they want to see.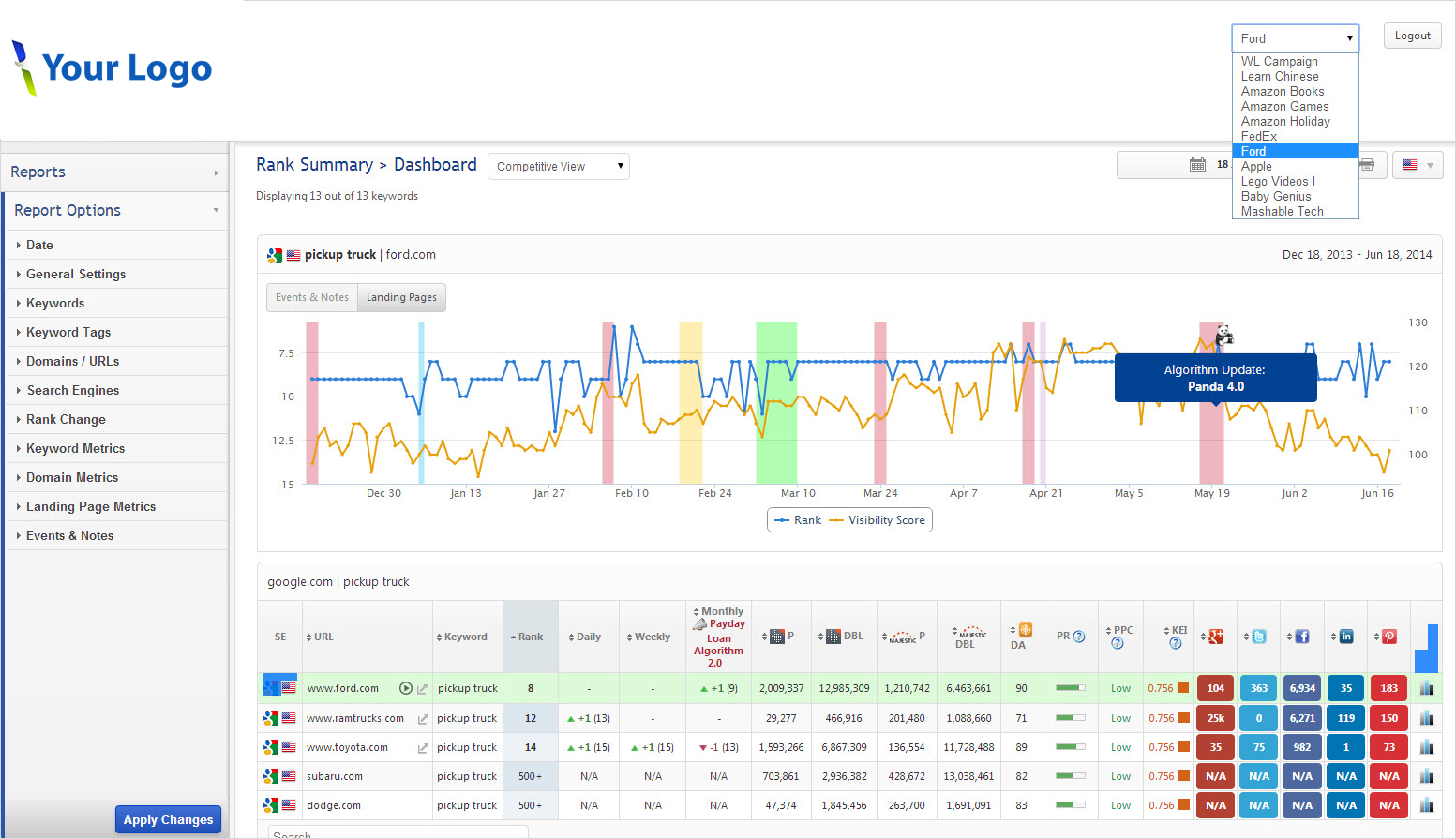 Monthly Rank Distribution Graph: Report Options Hidden & Data is Interactive 



In this screenshot the Report Options (that would normally display in the left menu) have been hidden by the account owner. If enabled in your Report Options, your clients can discover algorithm changes by hovering in graphs. Additional rank and traffic data, events and notes can also be viewed with the interactive hover. The top right toolbar can be used to change report & graph dates, print reports & graphs and change the interface language if a language other than English is enabled in the White Label Portal Campaign Settings.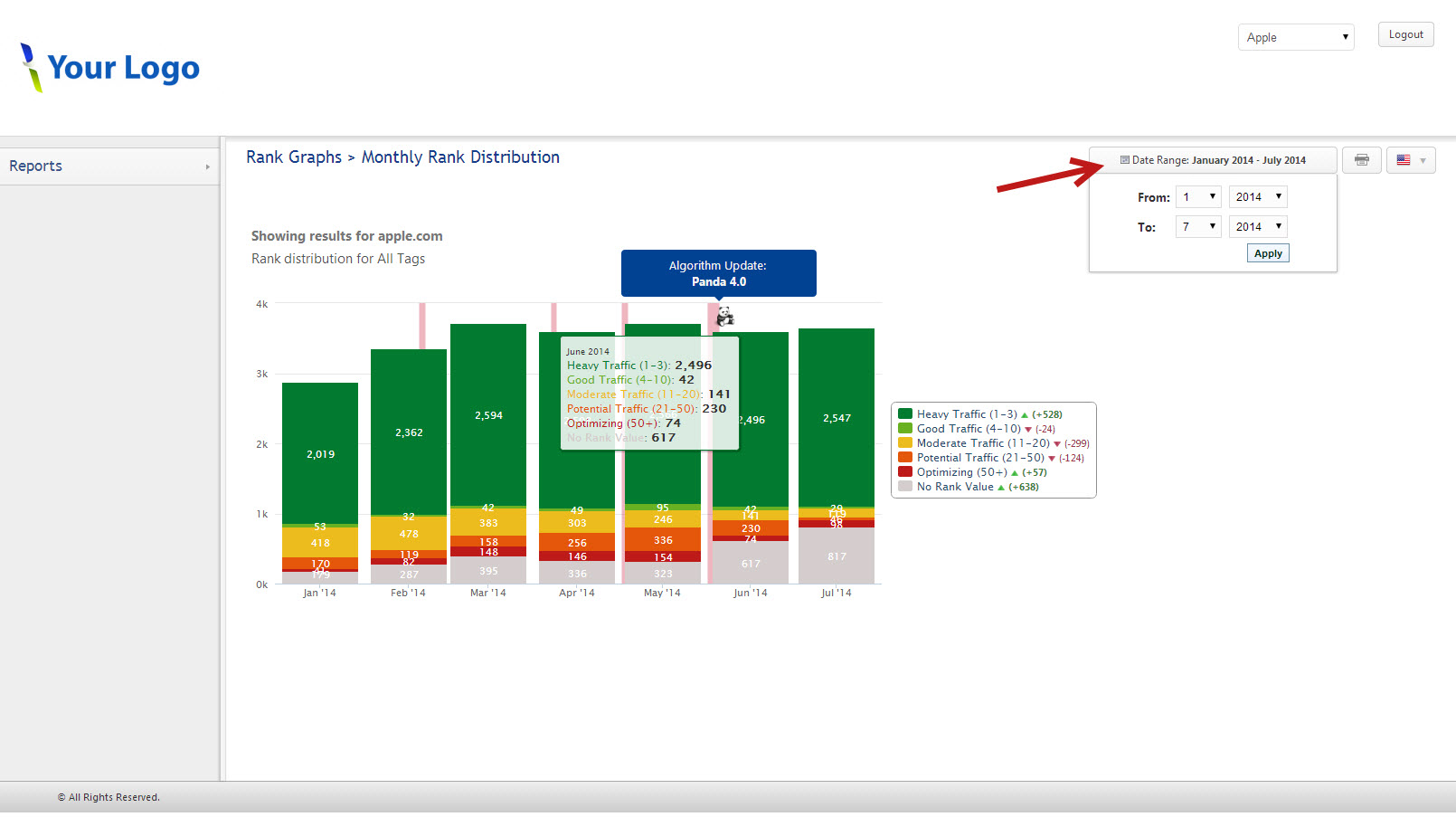 Custom Domain: The Ultimate Professional White Label Solution
Rank Ranger's White Label Web Portal is hosted on a non-Rank Ranger domain to prevent your customers from knowing that the reports are produced by us. For customers who desire a more personalized URL, our Custom Domain Service is available as a premium feature. It allows you to offer the white label portal to clients using your own unique domain URL through creation of a CNAME record. Your custom domain URL can be a root domain or sub-domain that is available on your website, for example seo.yourdomain.com.
It's All About You: Your Reputation
By adding your brand to our impressive array of reports, you gain the ability to present professional high quality rank tracking, research, analytical and link reports & graphs to your clients (whether they be internal or external). Are you using our White Label features?