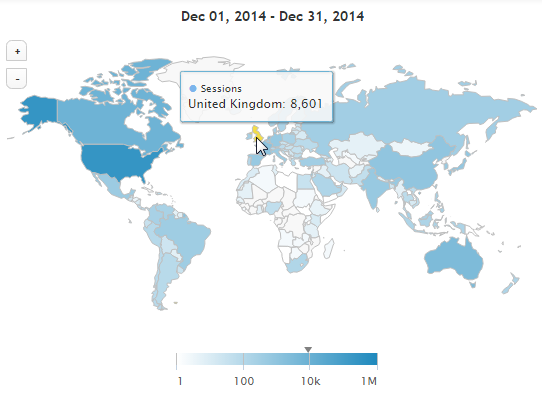 February 9, 2015   |  
Posted by
Rank Ranger
Do you know what countries your website visitors are from?  Our new Analytics Audience Geo Location report provides valuable online marketing data that can be used to determine whether or not your site is correctly addressing the needs of visitors from various parts of the world.  This report can be customized to include location maps, worldwide sessions summary and audience details by country. A Compare to Past feature allows you to include comparison data for the previous period, same time last year or a custom **** range.
Audience Geo Location Map
Hover over any country to view the Key Metric based on the choices you've made in report settings. 
Audience Sessions
Metrics include:
Sessions, indicating the period of time a user is actively engaged with your website, app, etc. 

Percentage of New Sessions, indicating first time visits to the site

New Users indicates the number of first-time users during the selected **** range

Bounce Rate is presented in percentage of single entry/exit page visits and is a good indicator or the potential need for content improvement.

Pages per Session gives you an idea of the average number of pages viewed per session and average session duration can be another indicator of content quality and relevancy.
Goal Conversion Data
E-commerce data includes the number and percentage of goal completions along with their total value.
Geo Location Data
Report data is presented in a table to help you compare traffic by country and data within a country over a period of time.  Filter by Key Metric (sessions, percentage of new sessions, new users, bounce rate or pages per session), Segment and Goal Conversion type to obtain the data most important for individual campaigns.  Goal Value can be displayed in your choice of world currencies.
Analytics Audience Geo Location
You can compare current and previous period maps, along with sessions and goal completion summaries, and the sessions by country table.
With so many variables available in this report, we recommend using Report Presets to save multiple personalized versions using different metrics for the same campaign.
Have you already tried our new search traffic location report?

If not, learn more…

If so, were you surprised by visits from certain countries or goal conversion results? Talk back in the comments below.