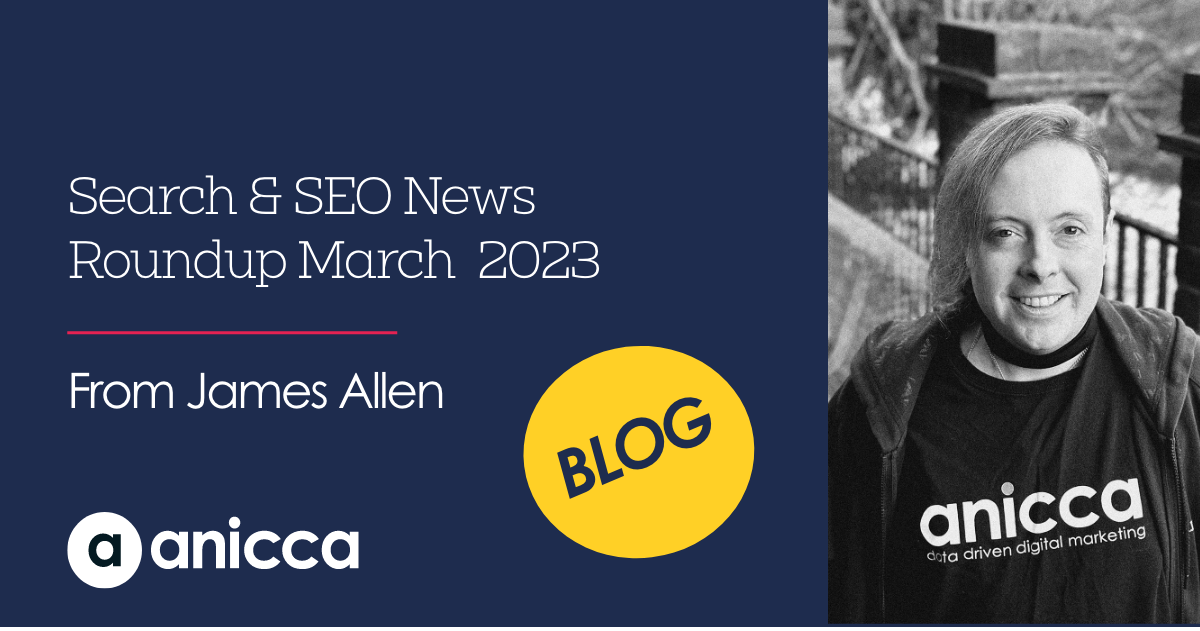 What's new in search this March? More comments from Google on Bard AI, core algorithm updates and upgrades for Search Console.
During March 2023, these are some of the highlights so far:
Clicks and Impressions Data in Search Console for Products
Whitespark Surveys 2023 Local Search Ranking Factors
Bard Won't Often Link to Information Sources
Broad Core Update with Large Volatility in Search
Google Advises Not to use Disavow File in Most Cases
Google Bard is Not Search
Read on for our take on recent events in search.
Clicks and Impressions Data in Search Console for Products
Posted March 27th on Search Engine Journal
Google have released information regarding Search Console data granularity for product snippets and merchant listings. You will now be able to see impressions and clicks for product snippets, directly within Google Search Console:
You can find the official Tweet here from Google. Product snippets and merchant listings, are two different search experiences offered to Google merchants. This new data will allow merchants to compare the performance of each experience, in terms of generated clicks and impressions.
This is what Google had to say:
"Today, we are adding the ability to measure the impact of Merchant listing by splitting the Product results search appearance into two: Merchant listings and Product snippets. These appearances let you see how many impressions and clicks you get from those experiences."
Main takeaway: Some minor increase in data granularity for merchants operating on Google. Nothing to write home about, but may have some niche cases for analysis.
Whitespark Surveys 2023 Local Search Ranking Factors
Posted March 26th on Search Engine Land
Barry Schwartz, writing on Search Engine Land, states:
"The 2023 local search ranking factors survey is now out, it is a survey of what local SEO experts rank the most important ranking factors are for both ranking in the Google local pack and also in the Google organic local results.
More survey details. This survey was conducted by Whitespark and surveyed 44 different local SEO experts. It asked these local SEO experts to rank 149 potential local search ranking factors in order of importance across both the local pack and organic rankings."
The survey results are very interesting, and you can look at those here. Here is a bar chart of the different local ranking factor groups, and how they have changed over time:
The two major increases seem to be for on-page and personalisation signals, whilst link signals have been decreasing since 2015. For some time, Google have been looking for ways to demote link signals within SEO, a crusade that continues since such signals are easy to 'game'.
As technologies like AI improve and ******, it becomes easier to rank pages, products, content and locations via on-page factors. Does the page properly satisfy the user's query? Has it just been thrown up to game Google's algorithms? Not every page, location or item of content can be checked manually. With AI in the picture, all of this is set to change.
Main takeaway: On-page and personalisation signals are now more important for local search, whilst link signals are less important. As Google shift away from 'assumed' page quality signals revolving around backlinks, towards AI-powered critical content evaluation – we expect to see this trend impact the whole of the SEO space (not just local SEO).
Bard Won't Often Link to Information Sources
Posted March 23rd on SEO Roundtable
This is very interesting news and raises subjective questions about the nature of AI, and of the content which it generates. Google are essentially saying that since their AI generates original content, and thus won't need to cite sources.
But wait a minute, is this really true? Text-generating AIs like Bard and ChatGPT, are based on engines which draw from a data model. The data model is comprised of vast amounts of text which is funnelled into the AI for analysis.
Since AI hasn't been mainstream-popular for too long, most of the content digested via an AI's data model, is still written by humans. For example, large chunks of the web (web-pages, like Wikipedia) may be digested, in addition to academic papers and corpora (linguistic corpus files). A lot of the time, such information is funnelled into an AI's model without the consent of the original authors.
As such, is it really true that the content written by AI is truly original? In reality, probably not. But it may be, at least 'as original', as equivalent content written by humans, who also perform research in order to construct their content. The line is blurred, certainly a gray area. For Google, it makes more sense not to cite sources, as it strengthens their subjective opinion that the content generated by their AI is original. Towing this line discredits much of their opposition to deploying such technologies.
Here's what Google had to say:
"Bard, like some other standalone LLM experiences, is intended to generate original content and not replicate existing content at length. We've designed our systems to limit the chances of this occurring, and we will continue to improve how these systems function. If Bard does directly quote at length from a webpage, it cites that page.
Bard was built to be a creative and helpful collaborator—it works well in creative tasks like helping you write an email or brainstorm ideas for a birthday party. We see it as a complementary experience to Google Search. That's why we added the "Google It" button to Bard, so people can easily move from Bard to explore information from across the web.
Bard is an experiment, and we'll use its launch as an opportunity to learn, iterate, and improve the experience as we get feedback from a range of stakeholders including people like you, publishers, creators, and more."
Obviously, publishers probably aren't going to take kindly to this news. Publishers have been battling Google for years re: the surfacing of their content within Google's search results (this isn't a new war, just an evolution on the same battlefield). Those who have attempted to sue Google include collections of UK / US (and European) business owners, Prince Harry and the Daily Mail.
Publishers will doubtless argue that Bard's content is derivative of content already produced by publishers and human beings, and is thus not original. The lines have been drawn in the sand, now we wait for the cases to come and see how the courts react. This may vary depending upon the differing legal systems of different sovereign nations (or states).
Main takeaway: Google aren't going to play nice with publishers 'by default' regarding their Bard AI and how it recycles existing human content. Will this mean fresh wars with publishing groups, and further anti-trust investigations? Only time will tell.
Broad Core Update with Large Volatility in Search
Posted March 16th on SEO Roundtable
Between March 15th and March 16th, a broad core algorithm update was observed. Due to the fact that Google no longer sign-post their major updates (e.g: Panda updates used to be about content, Penguin updates about links) – any kind of analysis here is purely speculative.
This is what Barry Schwartz had to say on the matter:
"So far, this update seems to have started off with a big bang, and I am seeing a ton of movement based both on the SEO chatter within the SEO community and the tracking tools are showing massive volatility. Honestly, this one seemed to have a more significant impact on more of the black-hat SEO community than the white-hat but that might be too premature to say.
Remember, these updates can take about two weeks to roll out, and sometimes, the changes you see within the first few days are not where things stick. So be patient and wait for the roll-out to complete before panicking."
Barry states that the update seemed to impact the black-had SEO community more. For those who don't know, that's the community of individuals who implement more 'hacky' solutions to drive SEO results. They operate on a "make hay while the sun shines" basis, exploiting algorithmic weaknesses to ascertain traffic. Such tactics can work, but they're not suitable for brands who want to build long-term success, since black-hat SEO techniques often 'burn' domains.
It's easy to see the search volatility spanning 15th and 16th of March:
Above data from MozCast.
Above data from SERP Metrics Flux.
Above data from Algoroo.
Main takeaway: Between March 15th and March 16th 2023, there was a lot of search volatility. This hints at a broad Google core algorithm update. The update seemed to hit the black-hat community more than the white-hat community.
Google Advises Not to use Disavow File in Most Cases
Posted March 10th on SEO Roundtable
Over the years, Google seem to have reached a point where they almost regret producing the backlinks disavow tool. Posts from 2017, 2022 and now 2023 all confirm the same position. Companies which make money out of compiling large disavow files of negative links, are likely taking you for a ride.
Back when Penguin was first released, manual actions were much more common, and sometimes this kind of work saw benefit as part of a larger 'reconsideration request' for Google rankings. However, the work was really lengthy. You had to compile backlink data from multiple sources, de-duplicate that data, re-crawl the data to see which links were live, add metrics to each link (to sort high-quality links from spammy ones), attempt to remove poor quality backlinks – and then finally, you would also submit those links for removal via Google's disavow tool. Depending on the size of the backlink profile, we're talking about days or weeks' worth of work.
For some years now, Google have been saying this kind of work (or at least, at this scale) is no longer needed. A minor disavow trim now and then never hurt anyone, but if you are paying for days and days of this kind of work – stop! It's not needed any more.
Here's what John Mueller (Search Advocate at Google) recently said:
"Some people do things that they can bill, regardless of whether it's needed or makes sense."
"To be honest, anyone who does not know, should *not* use it. That's why the tool is not a part of the search console UI. That's why our messaging has been consistently to not use it unless you know there's an actual issue. To paraphrase: When in doubt, leave disavow out."
The bottom line? This work is often erroneously sold in at too large a scale, often before it is needed (if it is ever even needed at all). Think carefully before purchasing this kind of work. If you're not an SEO expert, probably give these kinds of services a wide berth.
Main takeaway: Disavow work is often sold poorly, scaled incorrectly and too much is charged. Unless you know what you're doing, steer clear. By the way, incorrectly deployed disavow work can harm your SEO results.
Google Bard is Not Search
Posted March 6th on Search Engine Land
A very interesting comment from Jack Krawczyk, Bard's product lead at Google. Jack commented "I just want to be very clear: Bard is not search. It's an experiment that's a collaborative AI service that we talked about. The magic that we're finding in using the product is really around being this creative companion to helping you be the sparkplug for imagination, explore your curiosity, etc."
This is to some degree, not unexpected. Google's ecosystem will have to change and adapt as AI is integrated. If AI does a great job of answering a query, why would traditional search-lists of links be needed at all? Although that's true, Google's revenue model revolves around such link-lists, due to their PPC (Pay Per Click) advertising model. So, for now, Bard is fantastic innovation but its core integration method remains to be seen.
In addition to this, product leads often like to differentiate their new and exciting products from the core offerings of any organisation which they serve. AI is the future; it is the rapidly approaching horizon. The technology is here now, but it has not yet transformed all of our lives. It makes sense that Bard's product lead would seek to differentiate Bard from Google's core search offering, which will give the product room to grow and experiment.
Main takeaway: Remember: "Bard is not search" – although at some point soon, it may integrate with (or entirely outmode) traditional web search. As Google seek to build a knowledge or 'answer' engine, vs a traditional search engine, there is still much to define in terms of AI integrations.
Here at Anicca, we stay up-to-**** on all SEO, search and algorithmic developments and apply them to our clients' campaigns. You can check out our SEO services here. Impressed with our knowledge and coverage of search? Give us a call on 0116 298 7857.