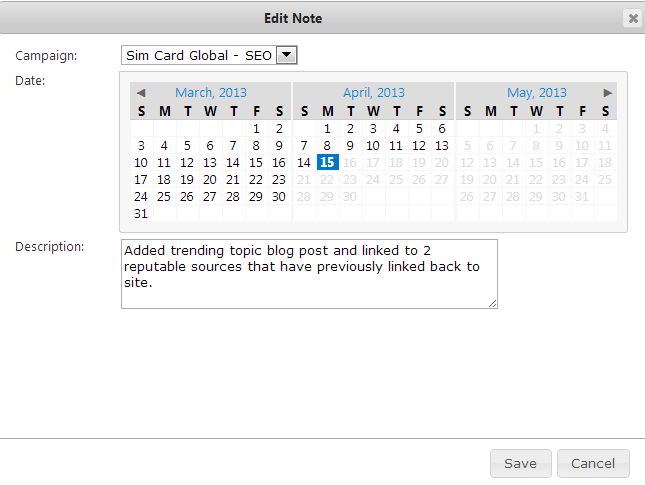 April 15, 2013   |  
Posted by
Rank Ranger
Rank Ranger is happy to announce the new My Notes feature, Target  Rank Projected Traffic report and a few upgrades to the Rank Graph.
My Notes  was in development and planned for release later this year, but because many customers were requesting a feature like this, our team moved up the launch **** and worked quickly to make My Notes available now.  If you're already using Rank Ranger, simply click the House icon and you'll find My Notes in the left navigation. Click the Add Note button on that screen and you'll see a pop-up that allows you to select a campaign, **** and enter a descriptive note.  This feature is also available in the Rank Graph by clicking in the graph area. Look for this feature to be added to various reports in the near future. 
The Target  Rank Projected Traffic report was the result of a custom request from an SEO Pro who wanted to be able to demonstrate to a potential customer projected site traffic from a keyword based on improving its rank position on Google.  We hope you'll all find this to be a useful pre-sales tool to increase your business.




Rank Graph settings now include options for:


Ranking Data by Day or Month

Display of All / Top 10/ Top 20, … Top 100 results

Google Analytics Traffic data



We thrive on your feedback, so please let us know what you think!
If you don't already have a Rank Ranger account now's the time to register for your free trial. and take advantage of these new features.