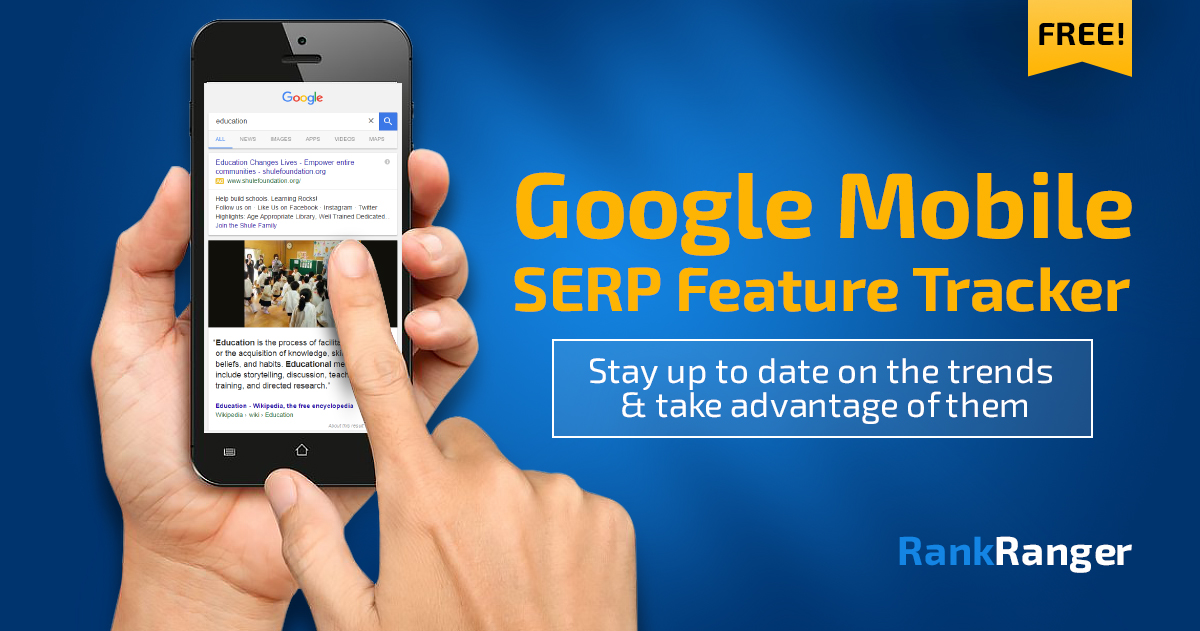 July 20, 2016   |  
Posted by
Rank Ranger
The mobile web is growing in importance to all marketers, causing us to realize that there is a need for a tool that monitors the existence and trends of Google updates to the mobile search. Since such a tool did not exist, we decided to build one.  It was a challenging project because Google continued to launch many new updates throughout the development, causing us to build a tool that is able to quickly adjust for new mobile search features as Google releases them.  Creating the first Google Mobile SERP Features Tracker was a great experience and we are happy to share it with you today.
The first mobile search tool of its kind, this big data research tool is armed with a 100K dataset that grants online marketers and researchers free access to the trends of the features that enhance Google's mobile search results on a global level.

  
Fig 1. The Mobile SERP Features Tracker allows for country specific selection and provides easy access to SERP tracking tools and data, such as mobile SERP Features data by country

SERP Features Trending on Mobile 
Focusing on SERP feature fluctuations, the Trending SERP Features carousel within the Mobile SERP Features Tracker allows for quick and easy insight into those features that are shifting on the mobile SERP.  Displaying data for both daily and monthly changes, the Trending SERP Features carousel offers mobile SERP insights on both the micro and macro level.
Fig 2. AMP pages within news results on the Google UsA mobile SERP shows a one day gain of 1.2961% and a monthly gain of 13.3334%

Customizable Mobile SERP Insight Graph
Enterprise packages are enabled for tracking specific mobile SERP features in a custom Insight Graph. Select specific mobile SERP features to display on the Insight Graph over weeks or months in order to track trends and patterns of those particular features that are relevant to your marketing and research needs. 
Fig 3. Mobile SERP Features Insight Graph showing data for Mobile Friendly (Avg. Results) and percentage of page one results with Phone, Featured Snippet, App Box, AMP (All Queries) and AMP (News Results) trending over a 30 day period
The Insight Graph can be used to track, measure and benchmark the behavior of SERP features and elements such as:
Organic Indicators:

 Mobile Friendly, Phone Icon, Carousel, Breadcrumbs, Events, HTTPs, Reviews, Notable Online, Image Thumbnails, Video Thumbnails, Search Box, SiteLinks, Twitter Feed, etc. 

Knowledge Graph Features:

Knowledge Panels, Featured Snippets, Carousels, and Answer Boxes (e.g., Map, Related Questions, Info, Calculator, Disambiguation, Dictionary, Flights, Sports, Weather, General Converters, Nutrition, Podium, Translation, Stock, Currency Conversion, WhenIs, etc.) 

Page One Extras:

 AMP (All Queries), AMP (News Results), App (Box), Ads and Ad positions, Images (Box), Local Pack, News (Box), Rich Cards, and Related Search 

Organic Results Count:

Breakdown of Results per Page 
Any graph that you have created can be easily downloaded as a PDF or image file, thereby affording you the ability to readily share the data you are tracking.
Fig 4 & 5. The Chart Settings menu on the Insight Graph along with the download options within the Insight Graph on the Mobile SERP Features Tracker 
Mobile SERP Stats at a Glance
Instantly gain current data insights into various mobile SERP elements such as AMP, App Box, Ads, and Organic Results Count. 


 

Fig 6. Numeric data along with graphic charts and hovers for AMP, App Box, Ads, and Organic Results mobile SERP data
Hover over the various elements on the charts to view instant stats like the percentage of AMP results within News Boxes, the ratio of single App Boxes relative to App Box Packs containing multiple apps, the breakdown of Ads placement on the mobile SERP, and a dissection of the percentage of times a given number of organic results appears on Page One of the mobile SERP. 
Additionally, you can view the breakdown of the Answer Box types found on the mobile SERP. Again, use the hover feature to display a numeric representation of the percentage of times each box appears within results on the mobile SERP for the selected country. 
Fig 7. Related Questions leads all Answer Box types on the mobile SERP displaying within 38.14% of mobile queries on google.com 

Mobile SERP Features by Country  
Particularly pertinent for marketing professionals and researchers interested in global trends is a new complimentary tool that allows users to quickly compare global stats on SERP features by country. 
Each of the SERP Features are categorically organized with global data summarized on a per country basis. Uniquely, countries can be ordered within any given data category based upon their data performance for a specific SERP feature. Within any data category you have the ability to select one of the listed SERP features and order the accompanying countries based on either those with the highest or lowest percentage showings for the feature selected. 
Additionally, you can set specific data filters within each category of data. Each category on the Mobile SERP Tracker is equipped with a filter that enables you to set specific data display criteria for any or all of the SERP features within the category. Thus, you can quickly and efficiently track down data that conforms to your specific criteria, thereby eliminating any superfluous information.
Organic Indicators Country Comparison 
Compare, contrast, and evaluate Mobile Friendly, HTTPS, Carousel, Phone Icon, HTTPS, SiteLinks, Ranking, Image Thumbnail, Video Thumbnail, Events, Breadcrumbs, Search Box, and Twitter Feed in an effort to obtain a global perspective on Google mobile SERP behavior.  Data is presented in two tables, one displaying percentage of total page one results and the other displaying the average occurrences on page one.
Fig 8. Countries displaying in order of those that present the greatest percentage of Mobile Friendly sites on Page One of Google's mobile results 
Page One Organic Results Count Across the Globe 
Track Page One organic results across the globe per country, per results count, in order to analyze mobile SERP trends and data.  
Fig 9. Countries in order of those with the highest percentage of SERPs that display with seven results on page one

Page One Extras Global Comparison 
Compare SERPs globally to analyze the Page One performance percentages of Ads, App (Box), AMP (News), Images (Box), News (Box), Local Pack, Related Search, and Rich Cards.
Fig 10. A global comparison of Page One Extras on the Mobile SERP Features Tracker filtered by countries that have Ads on more than 50 percent of page one results and AMP on more than 15 percent. The Average table displays the average number of Ad and Related Search occurrences on page one for the countries listed.
Worldwide Knowledge Graph Data 
Explore the global percentage leaders in Knowledge Panel, Featured Snippet, Answer Box, and Carousels and discover international trends and Google tendencies. 


 

Fig 11. International Knowledge Panel data presented in order of those countries with the highest percentage of Answer Boxes on the mobile SERP
Mobile SERP Significance
Following in the tradition of global SERP data excellence established by its sister data collector, the Desktop SERP Features Tracker, the Mobile SERP Features Tracker is a powerful ally in analyzing Google's mobile SERP. With mobile search surpassing desktop queries, having a tool that provides big data on the mobile SERP is all the more relevant. More than ever we see the mobile SERP undergoing changes, improvement, and updates as more and more users rely on its functionality. 
Special Program for Researchers
Our efforts in developing this tool centered on working towards creating a greater understanding and awareness of the mobile SERP. If you engage in research or in-depth case studies surrounding Google Mobile Search, and need access to additional data on SERP Features, algorithm changes, as well as organic, local, and desktop results and their impact on organizations, business marketers, consumers, and societies, we encourage you to contact us using the form at the bottom of the Mobile SERP Tracker.