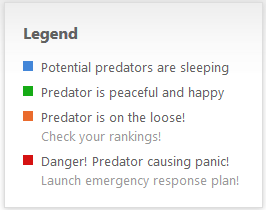 June 10, 2013   |  
Posted by
Rank Ranger
We're happy to announce the launch of our Ranger Risk Index which
measures SERP fluctuations for 10,000+ domains and keywords that we
monitor daily. We hope that by providing you with this Google algorithm
monitoring service, you'll be alert to address potential negative
results quickly.
We've been researching the best way to achieve the most accurate results with our Ranger Risk Index tool and during the past few weeks we when we caught Google's Phantom & Penguin updates, we realized we succeeded!


Initially, we found that the results were quite similar when we compared the top 50 to top 10 or to top 20, but the flow/change of the fluctuations wasn't smooth enough and was missed for some dates. Analyzing more and deeper data provided better results, so we are normalizing ranking fluctuations for the top 50 results, and we measure the drop of rankings in top 100 for those domains that were positioned in the top 50. The average that we calculate is based on the last 30 days and will change on a daily basis, but will not affect numbers for dates that were previously  analyzed – the new generated average will affect only the number of the current day of calculation.
Covering a variety of industries (among well-known Black Hat SEO industries) with a sampling size of more than 10,000 keywords, nothing should escape the Ranger's view.
Experience Ranger Rank Risk Index now! We hope you'll have fun with and benefit from this free risk analysis tool. Your feedback enables us to continuously improve our SEO rank tracker (and feed the egos of our programmers once in awhile), so pleaselet us know how we're doing.