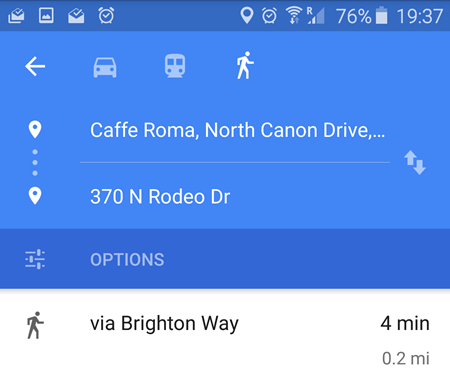 August 26, 2015   |  
Posted by
Joel Janovsky
Last week I posted about improvements Google has made to provide great user experiences and I highlighted the variety indicators for Google's SERP features  that are now available in the Rank Ranger dashboard as SERP icons. This week I'd like to cover their latest update regarding Google Maps for Android.

You know the feeling… you're walking around the streets somewhere you've never been before. Before your visit you've done your homework, researched the location, using
Google Maps
and
Google Street View
. When finally arriving nearby the location, your final destination, you take out your phone from your pocket, opening Google Maps and type in the address you're looking for: 370 N Rodeo Dr, Beverly Hills, CA; 2/10 of a mile away, only a 4 minute walk. Great. Almost there.. you wish.
The Old Google Maps for Android
Before the latest update for Google Maps, the older version would  have directed you to the location you asked for, on your way to the final destination Google Maps would have told you when and where to turn, whether you were walking or driving. And eventually, when arriving at your final destination the app would tell you that you've arrived. And sometime, if you'd be unlucky, you'd been directed to the wrong place. The problem, though, is that sometimes, I would even stretch it and say pretty often you would find neighborhoods more or less without street numbers, so what do you do then?
Waiting for Google Maps to tell you when to stop, and wishing for the best, that the closest building to where you're standing is the right one..? Or you try to remember what the place looks like from the Google Street View memory from two weeks ago?
I suggest that you try the new Google Maps for Android Devices.
The New and Updated Google Maps for Android
In Google Maps latest version (updated August 21st) for Android, they've rolled out a small but significant update – you can now easily access and preview street views directly from your app.
By simply pressing a small thumbnail that appears in the app. Very simple and very convenient – makes it so much easier to get around in unexplored areas.  So whenever you arrive at a place, not that familiar to you, simply open up Google Maps, type in the address you're looking for and follow the directions. When you're finally there, click on the thumbnail and match your view with Google Street View and hopefully the view should be the same – unless perhaps the street view is from 4 years ago…
So back to where I started, last week's post about how user friendly Google is… If in addition to rank tracking, trying to gain a search box, notable online, breadcrumbs or other useful features in the SERPs, you are using Google to find your way around, I highly recommend this upgrade your Android Google Maps version.
So far this latest update is available in the Google Play Store for Android devices, but keep your eyes and ears open, I doubt the update will take much longer to be launched for Apple and Windows users too.