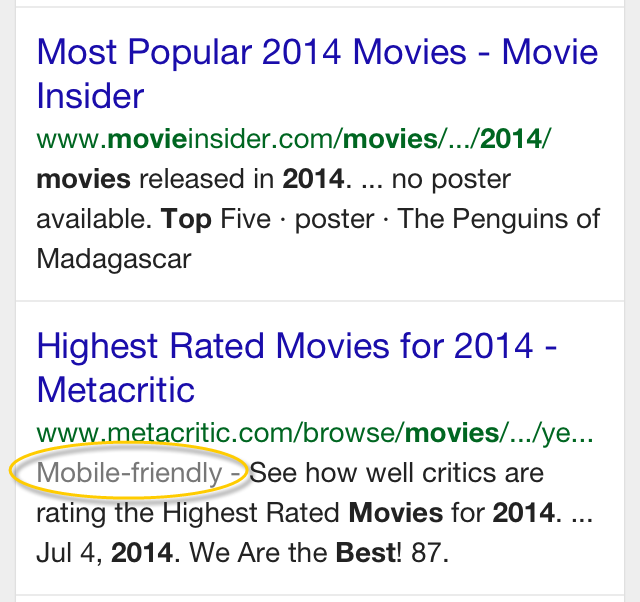 November 19, 2014   |  
Posted by
Shiri Berzack
Since mobile has become a necessary platform for every internet user, it is more important than ever that your website is mobile friendly, and Google wants to reward you for that. This isn't the first time that Google has promoted becoming mobile friendly, this year they have already released posts encouraging you to speed up your mobile site and to avoid directing mobile users to your homepage.
When your potential customers are searching from their mobile devices, they want to see websites that are easy to read while on the go, and Google is now helping them find the right websites to look at. When using Google mobile, websites that have been deemed as "mobile-friendly" will be labeled as such, so users won't need to click through and then discover that they are unable to comfortably view the information on a page. 
According to the official announcement, in order to qualify for being labelled a "mobile-friendly" site, Googlebot must be able to detect the following criteria:


"Avoids software that is not common on mobile devices, like Flash"

"Uses text that is readable without zooming"

"Sizes content to the screen so users don't have to scroll horizontally or zoom"

"Places links far enough apart so that the correct one can be easily tapped"
It is definitely worth reading up on Google's Webmaster Mobile Guide in order to make sure that your mobile site is at optimal performance. It is also important to test your site with their Mobile-Friendly Test tool. You can also confirm mobile compatibility with our On-Page Optimization tool.
This is extremely important to take note of and now is the time to improve your mobile site, not only to improve user experience but also because Google has said "We are also experimenting with using the mobile-friendly criteria as a ranking signal."
How is your mobile site and do you intend on updating it to follow the criteria above? Let us know in the comments below.
Download the Rank Ranger Mobile App