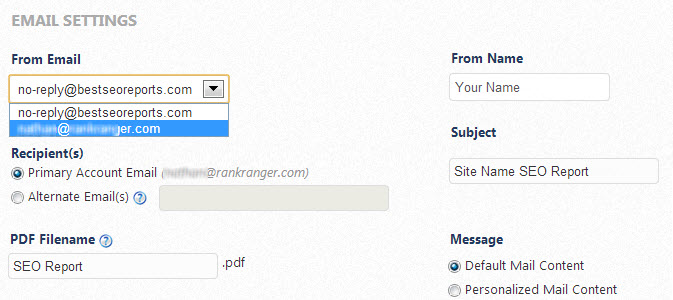 December 1, 2013   |  
Posted by
Rank Ranger
Today we've released a small update that allows for further customization of our automated White
Label PDF Reports. It's now possible to have the system automatically send your
reports directly to your customers from your email address and
name.
White Label Reports Sent from Your Email Address
Simply log in to Rank Ranger and
go to the
Automated PDF Reports
section and click the
Edit
link
beside any of your reports. Then click the
Report Details
tab and scroll
down to
Email Settings
and select your "
From Email
"
options. You can also enter a "
From Name
" and "
Email
Subject
" of your choosing.
In case you were too busy preparing for Thanksgiving or
Black Friday shopping to read our November blog and email messages, here's a quick recap
of the flurry of updates we've released to help sharpen your SEO edge over the competition:
Account Settings has a new user interface that provides more efficient management of sub-users and tools including API and App connections and the ability to manage multiple Google Profiles with just one connection to your Google Analytics and Google Webmaster Tools accounts.
Rank Ranger
Android Mobile App for SEOers who need
to check rankings while away from the office. That announcement triggered a
flurry of messages asking for an iOS App for various Apple devices and we're
happy to let you all know that we already had that in development with plans
for a December release.
Our Beta Testers were excited about the new On-Page Keyword Analysis & Optimization tools and we hope you will be too as you use these tools to combat the competition while improving your site quality. An On-Page Readability Test is also included in the mix utilizing six respected tests with multiple language support.


Resolve On-Page Problems
Address the Critical

 
KEYWORD factors
 

by following the recommendations in each report section.
Smart Backlinks Tracking & Management features have been added to Rank Ranger providing you with a variety of link distribution reports and management tools for tracking cost, employee, contractor and supplier performance.
Backlink Management Reports
Link Tracker Chrome Extension
The new

Link Tracker Chrome Extension

integrates with our Link Manager & Backlink Tracker. With easy installation via the Chrome store, you can check link status or add links to Rank Ranger while browsing the web.
Smarter, Faster, Easier! That's our goal and we hope our November updates will make it easier for you to obtain the type of results you want in user interface that's fun and easy.  We're always looking for new ways to help your SEO business run smarter, faster and easier!  You can contact us by email, or jump into a conversation with us on Facebook or Twitter to share your ideas and requests, or just to say "hi" and let us know if you enjoy using Rank Ranger.