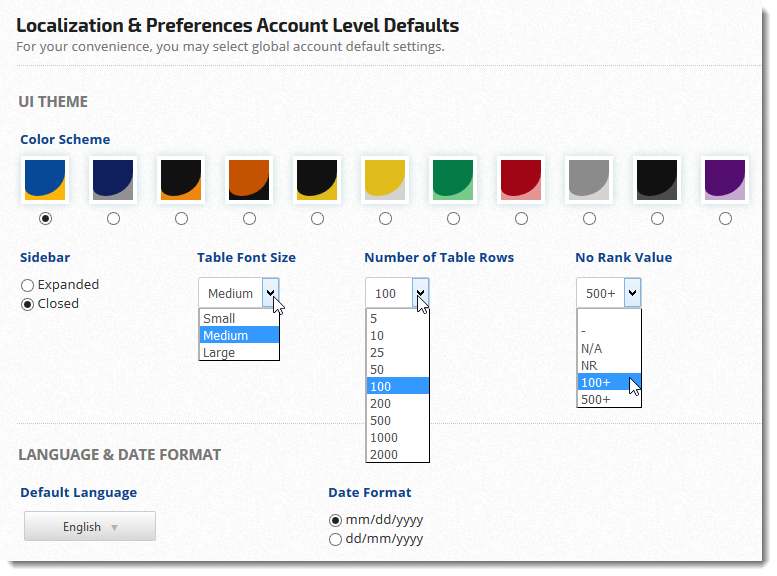 January 5, 2016   |  
Posted by
Rank Ranger
2015 was a terrific year at Rank Ranger – thank you for sharing it with us!  Development of new features and reports was our top priority and we were happy to fulfill many requests that were submitted through our WeDevelop program. We truly enjoyed brainstorming with customers and beta testers to create new SEO and marketing reports and features.
In this post we'll take you on a tour of many new reports and features, but in case there's a specific item you're most interested in, here's what we're covering in the 2015 Rank Ranger Review:
New User Interface and Site
Just in time for SMX we debuted two major platform updates including a redesign of our SEO software interface that improved usability with a more intuitive menu structure that makes moving between reports and finding pertinent information and options simple.  New account localization & preference settings enabled users to personalize the interface with options for display colors, language, report layout, Client Dashboard and PDF report account-wide default settings. In a poll, users told us that the most popular user interface color is the Green/Light Green option followed by Blue and Gold.
The other major update was our public website's transformation to this design that reflects Rank Ranger's character and evolving brand in the SEO & marketing tools space.
The site menu and feature page content was organized into SEO, Marketing, Social Analytics, White Label, data integration and other sections for ease in locating the exact tools you need to maximize time and accuracy in research and reporting.  
New Rank Tracking Features
Google SERP Features
We had fun trying to be the first to discover and report on each new Google SERP feature!  New SERP features icons were created for each type, and display in the Rank Tracker Dashboard every time RangerBot reported on a feature. A very cool SERP Features API was also developed.
Featured Snippet
Breadcrumbs
Carousel
Events
HTTPS
Image Thumbnail
Maps
Mobile Friendly
News
Notable Online
Rating
Search Box
Sitelinks
Video Thumbnail
Image Thumbnail
Mobile Search
In addition to providing rank tracking for the top 100 search results generated from mobile devices, a mobile-friendly test was added to the On-Page Keyword Optimization tool and special SERP Mobile-friendly and mobile carousel indicators now display in the Rank Tracker Dashboard.
Google Mobile SERP Fluctuations were add to the Rank Risk Index to provide you with visual tracking of the mobile search algorithm rolled out in April.
Local Rank Tracking
It's been a fun year of twists and turns responding to changes that Google made affecting local search tracking. Shortly after they launched their mobile algorithm, they dropped Classic Maps. Our response was to quickly launch a transparent update that tracks and reports on the newer version of Google Maps search engine and provides up to the top 50 Google Maps results.
During the summer, while some people were at the beach, our development team rose to a new challenge from Google caused by changes to the Local Pack in SERPs.
Local Pack results with Website URL included  vs. new Local Pack results without Map or Website URLs
When the Local Pack doesn't include website links users must click through to Google's Business listing, along with 10 to 20 local listings. Rank Ranger developers came up with a solution for reporting on the Local Pack… a new Advanced Search Engine Setting for Business Name Local Pack match.
ASO App Tracking

Our Target URL feature became the solution for accurate rank tracking of apps in the Apple iTunes and Google Play Stores this year, and a recent update that allows for wildcard usage in the URLs has further enhanced the possibilities.
 

The Target URL feature also works great for tracking YouTube videos, eCommerce products (e.g., Amazon product pages) and sites that need separate tracking for multiple locations, services or categories.
Link Status, Traffic & Rank Change Email Notifications
A feature that allows users to specify conditions to trigger email notification for rank change, traffic change and link status was added that generates messages:
daily, weekly or monthly for rank change of X positions or reached the top X position (daily week or monthly, weekly and X can equal a number of positions or the top 10, 20, etc. position)

weekly or monthly for traffic change by X% or a specific number of sessions

daily, weekly or monthly for link status validity change
This sample rank change email notification was set for a group of campaigns, each with different triggers.  Users who wish to monitor rank change for only a few specific keywords or change in the number of website backlinks can utilize our Keyword Rank & Backlink Alerts. 
Tag Manager for Tag Groups


The new Tag Manager was developed to help customers who have he need to categorize and sub-categorize the large number of keywords they manage.  After a Tag Group is created, multiple options can be defined within it.
After Tag Groups and Tag Options are finalized, they can be applied to Keywords either using the Bulk Upload option or manual selection.
Social Analytic Reports
Social Media KPI Analytics launched in the Reports gallery with a Social Dashboard highlighting marketing success for all connected social media accounts and a suite of comprehensive social analytics reports for Facebook pages, Twitter accounts, YouTube Channels, LinkedIn company pages and Instagram accounts that highlight social engagement and audience demographics. Social engagement data options were also added to the Insight Graph.
Traffic Analysis Reports
Five new reports were added to our suite of custom traffic analysis reports to provide marketers with the tools they need to succeed:


Marketing KPI Analysis


Tracking return on investment (ROI) was an important goal this year for digital marketing agencies and enterprise customers who use Rank Ranger. Working closely with several of them, we developed and further upgraded our new Marketing KPI analysis report to make it everything they wanted it to be.  The result is a highly customizable Analytics report that can be used to generate a variety of reports such as:
Ad Cost vs. Revenue

Mobile Traffic Revenue

User Behavior, Goals & Conversions

Revenue Traffic Sources

AdWords Campaigns Performance Comparison
An option exists for data multiple years to be displayed and the variety of metrics is only limited by the number of segments and goals in the site's Analytics account, and your imagination.
Audience Demographics
The Audience Demographics report was launched in February to provide a graphic view of traffic by age and gender, as well as a detailed analysis of sessions, segments and goal completions for a site's audience.
Audience Geo Location
The Analytics Audience Geo Location report also launched in February and provides data that can be used to determine whether or not a site is attracting and retaining visitors in target markets. The report can be customized to include location maps, worldwide session summary and audience details by country. A compare to past feature provides comparison data for determining progress.
Event Tracking Performance
With the Google Tag Manager activated in an Analytics account that's connected to Rank Ranger, the Event Tracking Performance report can be used to analyze overall event trends and detailed performance of specific events.
Exit Pages
The Exit Pages report can help marketers discover trends in the number of page views, unique page views, average time visitors spend on a page, total number of exits and the exit rate, but individual statistics per landing page.
Market Research Reports


Landing Page Traffic Insights Report
The Landing Page Traffic Insights report allows marketers to analyze search traffic and user behavior in one report, providing discovery of trending landing pages and correlation between metrics such as new users vs. clicks.
Clicking the discovery icon in the Landing Page Traffic Insights report can lead to Not Provided keywords for a specific landing page in the Search Analytics Keywords report.
Search Analytics Keywords
The Search Analytics Keywords report provides a combination graph and table detailing the Keywords that returned URLs from your site in Google search results. Keywords and the number of Impressions, Clicks, Click-thru-Rate and Average Position of each individual keyword in Google Web Search queries is presented in a multi-axis graph and sortable table.
Research Keyword Trends
Search engine optimization is not only about what to optimize for, it's also about when to optimize for specific keywords due to seasonal holidays and repeating trends within organic search. That's why we launched our Keywords Trends report, enabling digital marketers to track how trendy their keywords are, when they're most trendy – and which ones are dead, during specific times of the year.
Our database contains keyword trends data as far back as January 2005 for global search as well as for specific country search. Measuring from 0-100 with 0 being freezing cold and 100 very *** and trendy, this report provides a heat map to the hottest keywords during specific time periods. For example, if you run a self-help site, you could use the Keyword Trends report for insights regarding which keywords to optimize for after people make their new year's resolutions.
Competition Intelligence Reports
Top Competitors in Organic Search
We know that ranking higher than competitors is a top priority, so we created the Top Organic Competitors report to help online marketers discover who the competitors are and the number of campaign keywords they are ranking for in the top 20 organic search engine results. Launching the discovery screen provides the actual keywords for side-by-side analysis.
Top 20 Organic Competitors Report
Top Competitors in Paid Search Report
Similar to the Organic Competitors report, the Top Paid Competitors report provides intelligence into who the competitors are for AdWords in SERPs. We thought that marketers might be interested in discovering the actual ad copy that helped their competitors rank in top search ad positions, so we included a hover option per keyword that reveals the ad as it appeared in the SERPs.
Top Paid Competitors Report
PPC Analysis Reports
To help PPC managers discover which campaigns and keywords are bringing in the most traffic and goal completions based on Google Analytics account campaigns and goals, the AdWords Keywords and AdWords Campaigns reports were launched. Report data can be filtered by Key Metric (sessions, the percentage of new sessions, new users, bounce rate or pages per session), Segment and Goal Conversion type. Goal Value can be displayed in your choice of world currencies and the Traffic Graph offers a compare to precious period option. 
Marketing SEO & Traffic Widgets
What's a widget? Rank Ranger widgets provide a colorful graphic presentation of SEO and marketing performance progress that can be added to the top of a variety of detailed reports or stand alone in PDF reports and Client Dashboards. These 6 widgets were added to our platform in 2015.
Performance Summary Widget
The Performance Summary Widget combines Rank Distribution by search engine, Visibility Score and Traffic trend graphs.
Keyword Performance Widget
The Keyword Performance Widget provides an overview of a site's keyword rank progress, percentage of keyword positions in each of the top SERP categories and gain/loss of keywords ranking in 1st, 2nd, 3rd and top 10 rankings.
Analytics Overview Widget
The Analytics Overview Widget makes a colorful presentation of traffic trend, a breakdown of top referral channels and an overview of device type.
Analytics Demographics Widget
The Analytics Demographics Widget delivers location, age and gender traffic data.
Organic Page Count Widget
The Organic Page Count Widget trends the organic traffic and number of unique landing pages over a 12 month period.
AdWords Overview Widget
AdWords Overview Widget presents transactions or conversions in a colorful graph comparing ad clicks to goal completions, and a summary of sessions, ad cost, clicks, number of conversions, conversion rate and goal value.
White Label
A new System Templates screen was added to the PDF Templates section with 12 new SEO & Marketing PDF Report templates, each containing between 2 and 8 sub-reports. You'll find a variety of report types including:


SEO Rank Progress & Trending

Landing Page Performance

Top Competition Analysis

Social Engagement

Marketing KPIs & ROI Analytics

AdWords Performance

Traffic Analytics

Audience Demographics

Brand Visibility

Enterprise Portfolio Performance
It's easy to create professional PDF reports to share with clients and managers with one-button click to create the framework and then simply assign the campaign.
Google Drive Integration
A new feature that enables connection to Google Drive allows you to export rank tracking reports directly to a Rank Ranger campaign folder in your Google Drive. You can also this feature to store
documents relating to specific Links in Link Manager.

Developer APIs
SEO Intelligence Search APIs were developed in 2015 that help marketers gain deep competition intelligence with Rank Top 50 and Rank Top 100 APIs that provide the top 50 or top 100 landing pages ranking for your keyword.  These APIs include search result indicators (e.g., mobile-friendly, video thumbnail, sitelinks, rating, event, etc.) and can be upgraded to include Google SERP Features (e.g., Knowledge Graph, Carousels, Answer Box, Local Pack, Image blocks, News blocks and Paid Ad data). 
Our Suggested Search API provides up to 10 keywords that Google has suggested when your keyword is entered into Google Search. The Related Search API provides up to 10 related search phrases displaying at the bottom of a Google search results page for your keyword.
An upgrade to our API Console makes constructing API requests easy.


Enterprise Reports and Features
Responding to the advanced needs of digital marketing agencies and enterprise SEO companies we launched new features in 2015 including the ability to archive campaigns and reactivate them when needed, and a cross-campaign feature in the Insight Graph.
One of the new Enterprise reports is Brand
Visibility, which highlights universal search results including daily rank position for brand-related pages (e.g., website, Map results, Google Business page, Facebook business page, LinkedIn company page, directory listings, Wikipedia bio, etc.) that ranked in the top 20 search engine results, along with position distribution, visibility trending, Page 1 coverage, results type and the actual top 20 SERP Snapshot revealing competitors, top ranking AdWords ads, related search and any special Google search result features (e.g., local pack, knowledge graph, etc.).
Brand Visibility Report
The Portfolio Performance Overview report is actually 7 or more reports in one, allowing marketers and management with an opportunity to analyze a group of campaigns by selecting from a variety of baseline, current and change metrics including campaign details, Total Page Rankings (individually for pages 1, 2 and 3), Average Rank per search engine, Visibility Score, Google Analytics Traffic and Users (total, organic or paid search), and Search Console Queries, Impressions and Clicks.  Target Goals can be set with indicators highlighting achievements, the compare to past feature provides performance insights, and Presets can be used to save multiple report views.
Wrapping it Up
It has been a fun and awesome year thanks to our amazing customers and creative staff!  And I'm happy to tell you that we have more awesome reports, features and tools on the way in 2016!
While our development team is working on them, we're always happy to receive your requests through our WeDevelop program. What's on your 2016 wishlist of features, reports or tools that we can develop to enhance your Rank Ranger experience?