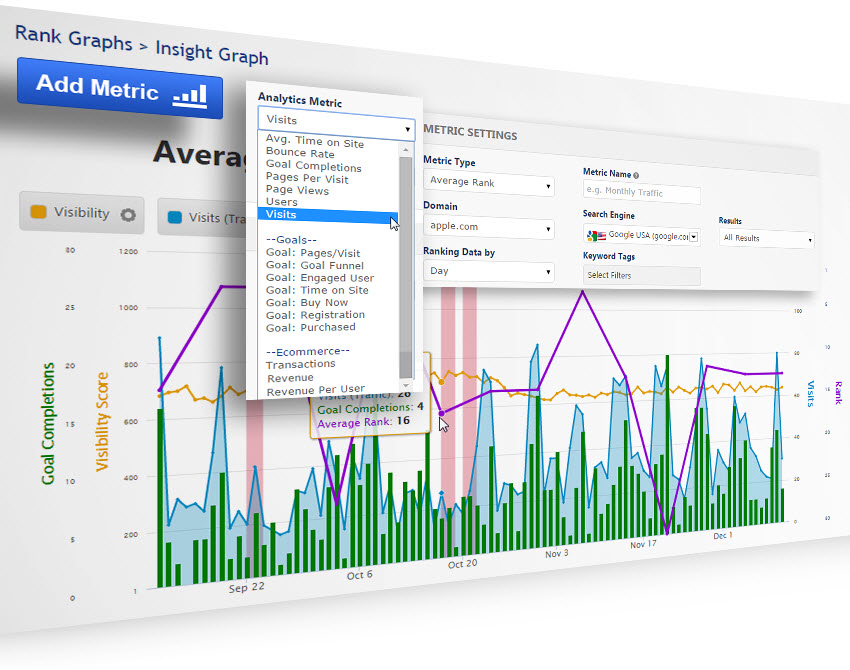 December 31, 2014   |  
Posted by
Rank Ranger
In 2014 Rank Ranger enjoyed awesome growth in both new SEO platform features and the number of customers using our software.
Internationalization & User Base
With the expansion of languages offered in our multilingual platform and translation customization options, 42 countries are now being served by customers using our rank tracking reports and optimization tools to provide enhanced digital
marketing services to their clients.
Development
Development of new features and reports was at the center of our focus this year. Our WeDevelop program attracted so many requests that it's difficult to cover every detail, so I'll provide you with the highlights of platform-wide upgrades here and specific report and feature types throughout this article.


Report Presets

allow you to save a personalized version of a report or graph and create additional versions with different metrics, variables and styles in the same campaign. Public and Private Preset options allow multiple account users to share graphs created by the account owner or create and save their own custom versions.

Account Localization & Preferences

help you personalize your Rank Ranger experience by selecting language & **** format, preferences for the display of sidebar, table rows, results terminology, and automated PDF report & white label portal default settings.


A new

Language Translation

interface has been developed to enable users to submit suggestions for new or better translations throughout the Rank Ranger platform.

Major enhancements were made to our

graph technology

that have enabled the display of Google Algorithm updates, Events and Notes, and improved both on-screen, automated PDF and exported report results.

Rank Tracking Reports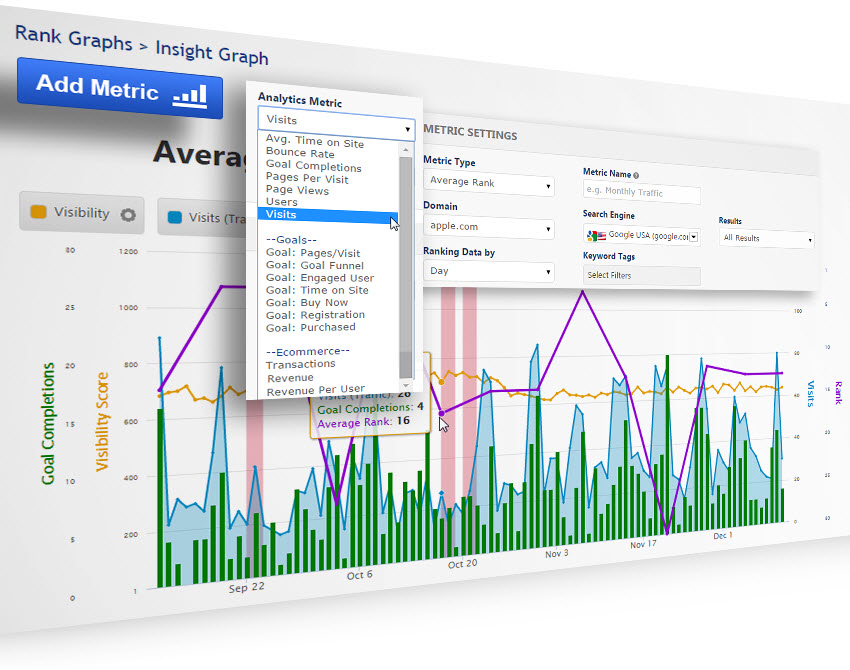 Released this week, our
Insight Graph
gives you the freedom to create graphs with blended metrics – choose from Rank, Average Rank, Domain Backlink Metrics, Google Analytics traffic data, Social Metrics and Visibility Score options. Compare results to any previous period and display results on 1 or 2 axes. A custom color palette coupled with a variety of display settings enable style personalization. And the new Preset feature allows you to create many additional versions for the same campaign, using different metrics, settings and styles.
Landing Page Performance report allows you to view the performance of an exact URL as ranked for your keywords, providing keyword rank distribution, organic traffic, backlink metrics and social signals. A variety of filtering options makes this a 7-in-1 report.  A click on the page string reveals the keywords. Rankings are grouped into value based sets and can be viewed for all, or only specific, Search Engines being tracked in a campaign. Weekly data updates accumulate for historical data that can be used for comparative trending.
Market Reach report was launched in response to Google's secure search (Not Provided) masking keyword data. Utilizing a new scalable metric – a type of TAM (Total Addressable Market) – that measures the potential revenue of a business opportunity on a global scale, we were able to consolidate numerous SEO aspects into this comprehensive progress report.
A new video that provides instructions for using the Rank Tracker Dashboard was released this year to demonstrate the addition of Landing Page Metrics, options for baseline vs. current rank for overall rank change, and Google special SERP icons that provide visual indicators of the
type of search results a landing page and keyword combination ranked in. 
Since Google's retirement of Authorship, current icons include:



  
HTTPS



  Ratings



  Videos



  Events



  News Results



  Local Results
Our proprietary Visibility algorithm was used to introduce the Visibility Graph that can be used to view a site's search engine visibility based on keyword rank position and average search volume. Results can be targeted by filtering for specific keyword groups and/or search engines, and this can also be used to compare competitor site visibility.
Weekly Snapshot report featuring our rank color scale was created to detail landing page and keyword weekly rank performance in a heat map style. The addition of Rank Distribution table, Visibility and Traffic graphs make it easy to quickly identify rank consistency vs. dramatic rank change.
The Website Rank Distribution report that displays a general rank summary for the keywords ranked 1st, 2nd, etc. was upgraded to include domain metrics from Google, Majestic and Ahrefs plus homepage social signals. This report provides a score for overall strength of the domain, along with our Visibility Score.
Google Play Store for ASO joined YouTube, and several other specialty search engines we offer, to expand your rank tracking options for exact URLs.
A new Target URL feature makes it possible to accurately track rank for a location or category within sites that have data scattered among multiple sub-directories and/or sub-domains or that generate database driven URLs. This has proven to be extremely helpful for directory sites and companies in the hotel, healthcare, franchise and real estate industries.

 
Research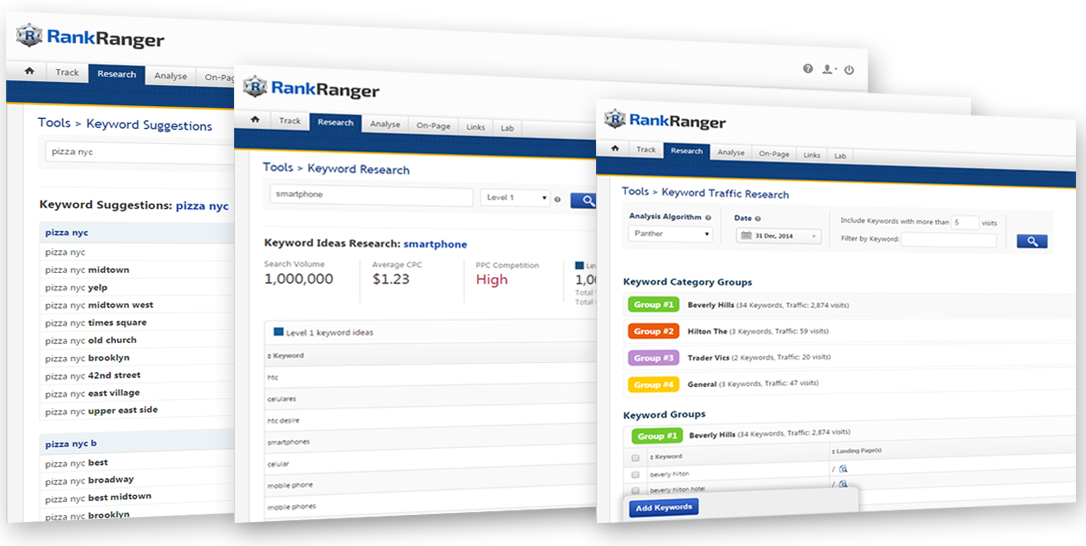 Metric upgrades to the Domain Analysis report have turned it into a comprehensive overview of domain statistics from
DMOZ, Alexa & Delicious, Supplemental Index Ratio, Social Metrics
and integrated backlink data from Majestic and Ahrefs.
Our Keyword research tools were expanded into a full suite:


Keyword Research Tool

allows you to obtain keyword ideas, research average CPC, PPC competition rating, search volume and directly add keywords to a campaign.

Keyword Suggestion Tool

provides potential keyword phrases in alphabetic and numeric batches based on your query. Data can be exported to spreadsheet format and manipulated and/or uploaded to a campaign.

Keyword Traffic Research Tool

can be used to identify strong keywords for campaigns based on actual search traffic.
Analytics & Webmaster Tools Reports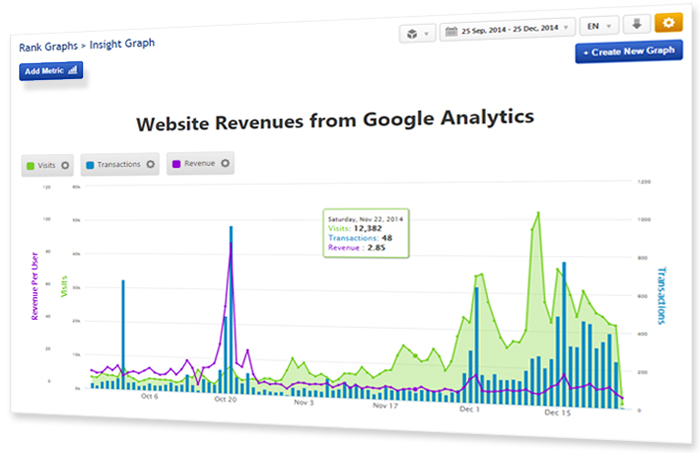 Additional metrics including device overview, top traffic channels and traffic sources enhanced our Analytics reports, along with an upgrade that provides impressive graphic display onscreen and when exported.
Search Queries Keywords and Search Queries Pages reports integrate with Google Webmaster Tools to provide Clicks and Impressions data on separate axes making it possible to visualize the ratio between them and identify wide gaps.
On-Page Optimization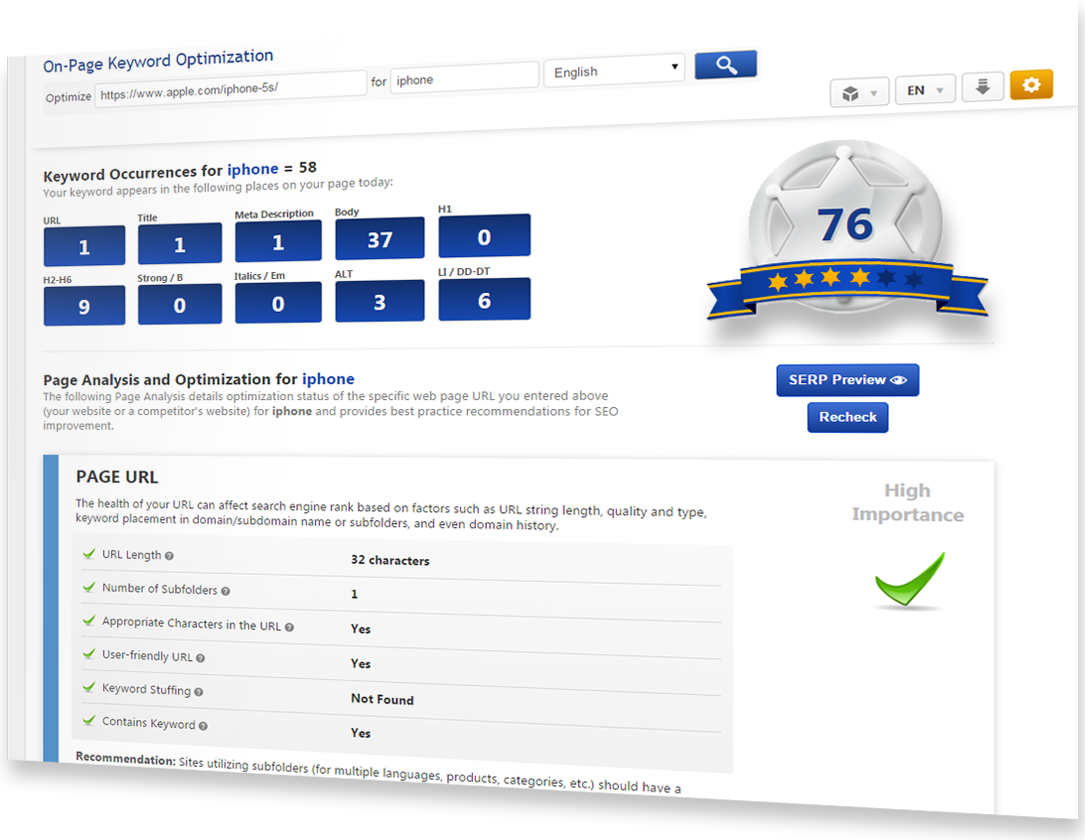 An editable Google SERP Preview tool was added to our On-Page Keyword Optimization analysis report, in addition to a Recheck function, Top 10 Page Keywords, Page Response Speed and report settings that allow you to show or hide any of the tests and test components (like detailed description and recommendations).
White Label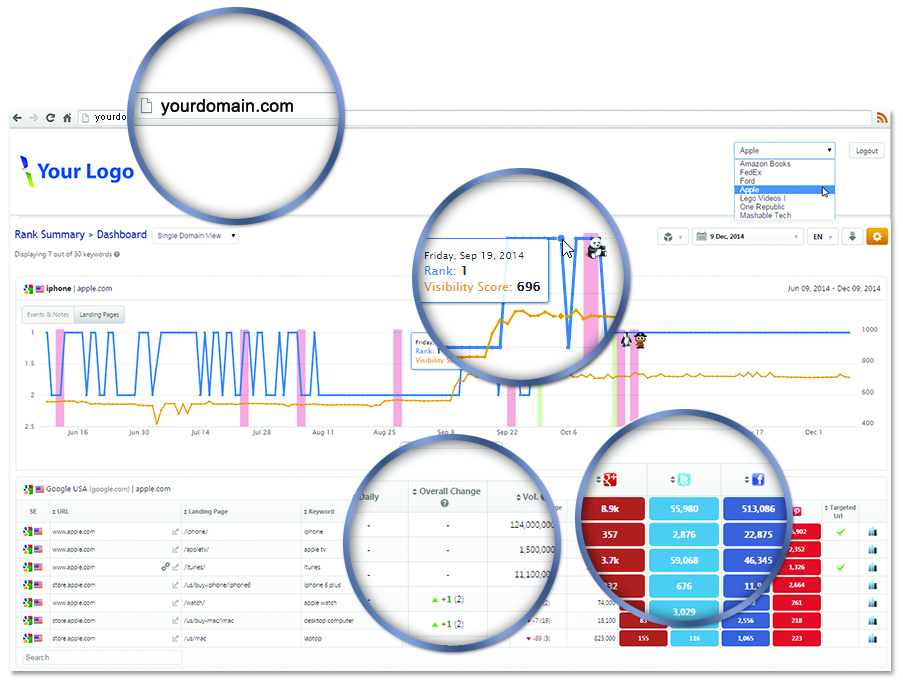 White Label Web Interface Portal received several improvements including the option to use your own Custom Domain, and single sign-on for the display of multiple campaigns in one portal. A White Label Portal API was created to allow for efficient integration with your site or application.
Account-wide personalization settings now make creation of Automated PDF Reports and Portals simple and faster by allowing you to establish default settings to be applied to all new reports and portals (settings can be changed at the campaign level, if desired). Additional report recipient email address options were added including multiple alternate email addresses and Bcc.
A series of videos was created to demonstrate new features and how easy it is to create your own branded SEO reports and set up branded web portals.


Apps, API & Utilities
Rank Tracker iPhone/iPad App rounded out our mobile app offering (Android app was released in 2013)
Developer API methods were upgraded with a reference ID that can be used for your internal campaign or customer identifiers (e.g., customer number, project ID, etc.), a Market Reach API was introduced, and an API that allows you to manage your White Label Portals was created for efficient integration into your site or application.
SEO Utilities Suite launched enabling an API Console, rank export, rank backup, keyword tools and simple import of campaign and historical rank data.


Support
A new Help Center provides all the information you need to use Rank Ranger's many features including a searchable Knowledge Base, Documentation and Getting Started Videos, plus access to our WeDevelop program, support services, and news of the latest platform updates.
Digital News
In addition to providing you with expert opinion and highlights from SEO news and online marketing channels in our Digital News blog, we've been happy to provide you with Google Penguin, Panda, Pigeon, Pirate and a few unnamed & unclaimed algorithm updates this year that were caught by our Rank Risk Index. 
Our Team at NextCase 2014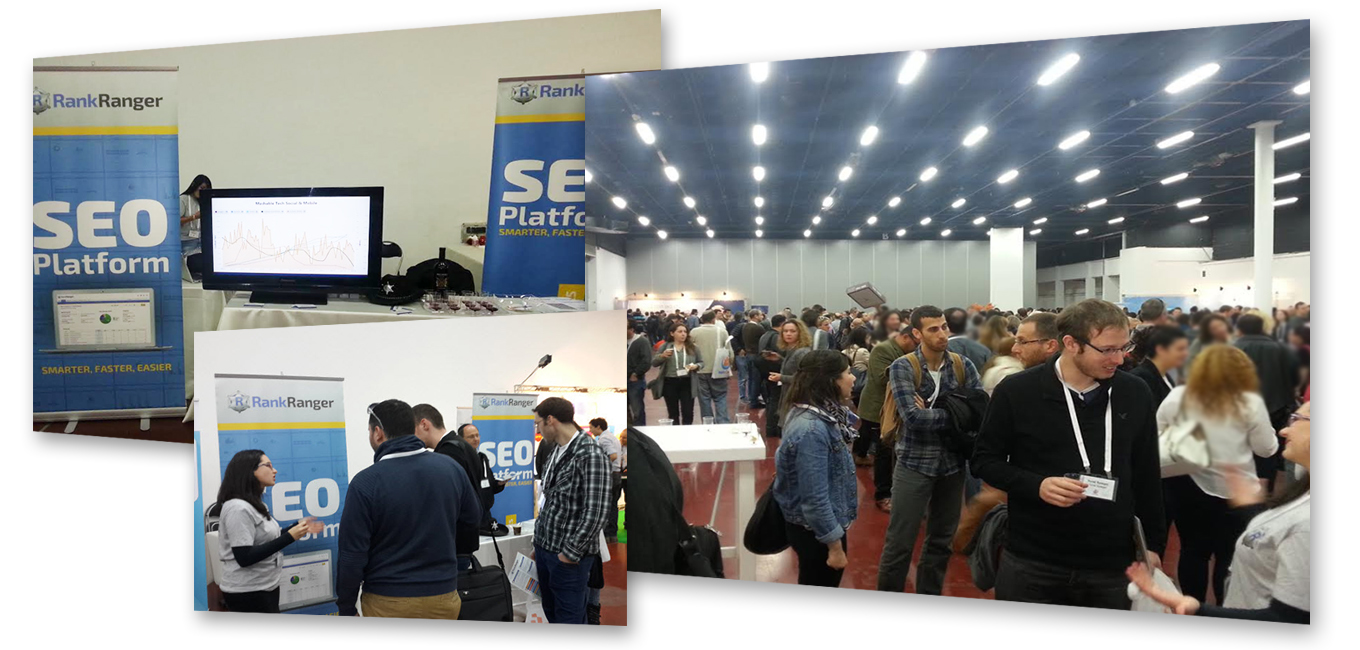 Rank Ranger was proud to be a sponsor at NextCase 2014, a professional and innovative conference focusing on SEO and Internet Marketing. Case studies were presented on SEO, PPC, web analytics, optimization, blogging & content improvement, goal conversion & revenue, utilization of social media, app marketing and online advertising.


Wrapping it Up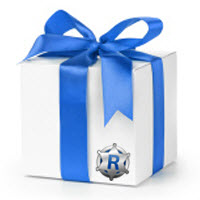 It has truly been an awesome year for us at Rank Ranger and we owe a lot of that to our inspired team and great customers!  Which leads me to ask…
What's On Your 2015 SEO WishList?
There is plenty of speculation among the experts regarding the power and direction of online marketing and SEO in 2015, but since our goal is to provide you with the best digital marketing platform, we want to know what's on your wishlist of features, tools or reports that would make your job easier, less time-consuming and more fun?