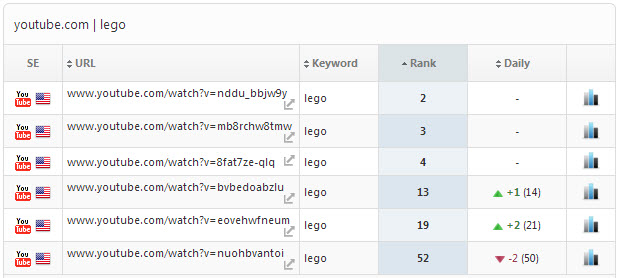 October 24, 2013   |  
Posted by
Rank Ranger
Rank Ranger allows you to track YouTube video rankings with a few simple steps and using our URL tagging feature makes your reports easy to understand.
For companies that perform SEO for YouTube video URLs, YouTube's watch?v=  URLs were creating a challenge on video rank tracking reports with confusing results.
Example of a YouTube Video Rank Tracking Report – BEFORE
Rank Ranger to the rescue!  We've added a URL tag that you can use to identify each URL with descriptive text that's meaningful to you.
YouTube Video Rank Tracking Report with Descriptive URL Tags and highlighted Primary Campaign URL in our SEO Rank Tracker.
The new URL tagging is easy to implement – you can add it to an existing campaign in your Campaign Settings > Search Engines screen and in case you're ready to set up a new Video SEO campaign here's how it differs from a standard SEO Campaign Setup:
Campaign Settings
Rather than entering only the domain name, enter the full YouTube Video URL
and select Exact URL in the Preferred Ranking System field.
Campaign Search Engines
Select YouTube in the Search Engine field and click the Add button.


Enter your keywords as you would for any campaign and then move on to the Competitors screen. You can enter competitor video URLs or you can use this to create 1 campaign for a grouping of your own YouTube videos.
Campaign Competitors/URLs
Enter the full YouTube Video URL and click the Add button


Add URL Tag
Click the "+" sign to the right of the URL to open the Tag field, enter your descriptive text and click the Add button.
Click Next to connect Google Analytics and Webmaster Tools, or go to your Track tab and Rank Ranger will begin tracking your videos.


Enable URL Tags in your SEO Reports
Enable this feature in your reports by opening Report Options and selecting Show in the URL Tags field of the Domains / URLs section.


Smarter, Faster, Easier! That's our goal and we hope we've accomplished that for you with this improvement.  We're always looking for new ways to help your SEO
business run smarter, faster and easier!  You can contact us by email, or jump into a conversation with us on Facebook or Twitter to share your ideas and requests, or just to say "hi" and let us know if you like this new feature!