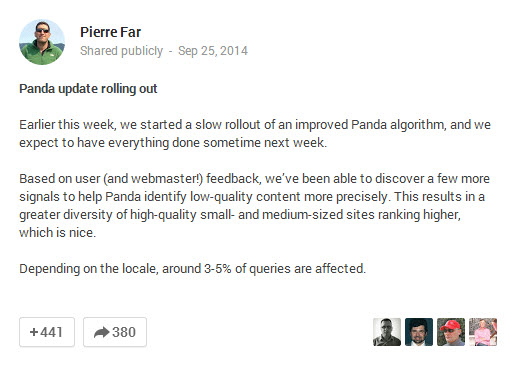 September 29, 2014   |  
Posted by
Shiri Berzack
Last week Pierre Far of Google UK announced that Panda 4.1 is here. A slow roll-out is expected to improve the algorithm by identifying low-quality content with better precision, resulting in greater diversity of high-quality content in search results, specifically for small and medium-sized sites.
Panda 4.0 came out in May and was a major update for SEO, however this one seems to be a smaller refresh of the algorithm. The Panda update was originally rolled out to maintain the quality of sites appearing on SERPs. This meant that sites with low quality or scraped content were penalized, while sites with high quality, original content were pushed up in rank. Take a look at our Google Algorithm Updates History for a full picture of the updates and refreshes to the Google algorithm
John Mueller made a small mention of the update in his Google Webmasters hangout video, saying that this is a global update to Panda.
Our Rank Risk Index has shown stability with slight fluctuations, reflecting the slow nature of this roll-out rather than a major spike disrupting the SERPs.
Are you noticing any changes yet?