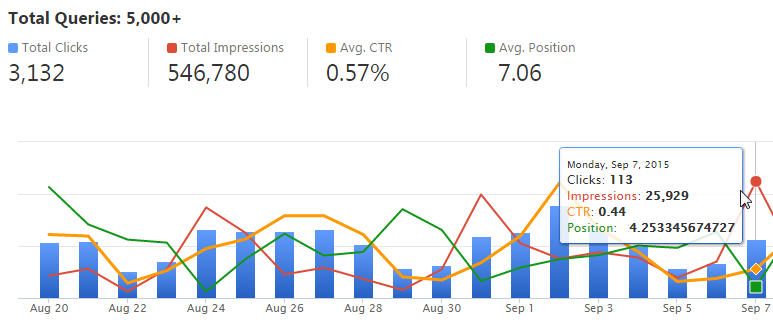 September 20, 2015   |  
Posted by
Rank Ranger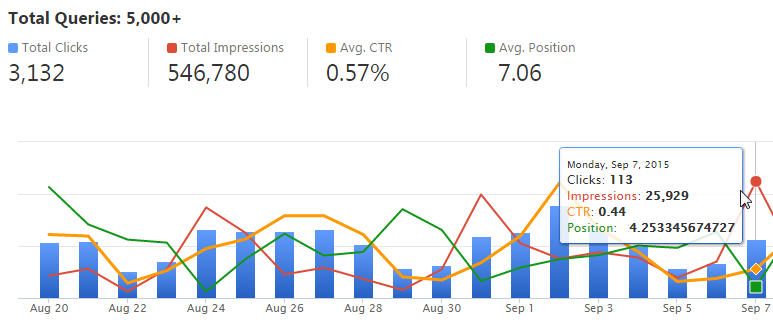 Google announced at the end of August that their new
Search Analytics API
would be replacing the Webmaster Tools data that has been used in your reports. Our Developers have been testing the new Search Analytics API since the beginning of August with plans to release an update before Google deprecated Webmaster Tools, which was reportedly scheduled to happen on October 20th.
Our team quickly responded to an unexpected change in Google's scheduling and over the weekend rolled out of an update that will allow you to integrate the new Search Analytics data into your Rank Ranger account by disconnecting the old Webmaster Tools integration and connecting to the new Search Analytics.  We would have preferred for this to be a quick one-click switch, however, Google Search Console requires your authorization through a series of steps.
NOTE: If you connected Webmaster Tools to a campaign during the past few weeks, you may not need to make any change to that campaign. Please check Reports > Search Console > Search Analytics Keywords report and if you see data then that campaign is fine. If not, please follow these instructions:
Disconnect Webmaster Tools from your account
Access your Account Settings

Scroll down and select Authorized Connections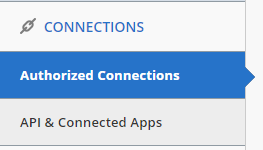 Locate Webmaster Tools connection and click View Details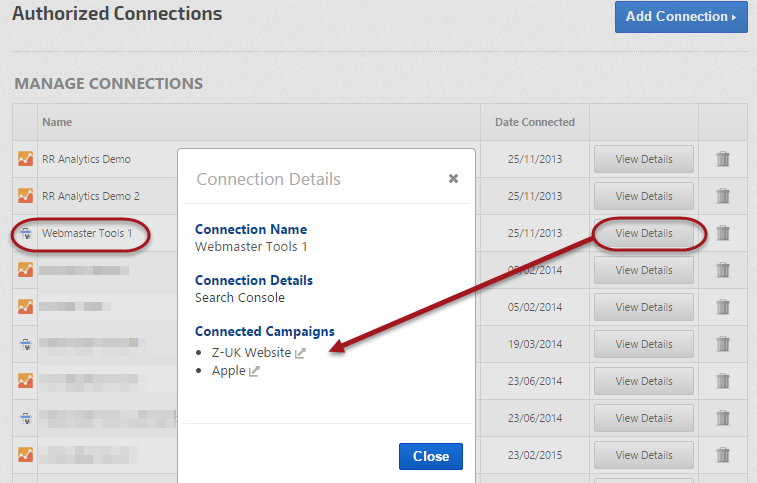 Make a note of the Connected Campaign(s) – this is especially important if your account has more than one Google Webmaster Tools account integrated.
Delete the old Webmaster Tools connection by click the trash can icon. After confirming that you have the list of campaigns associated with this connection, click the Yes button to revoke access.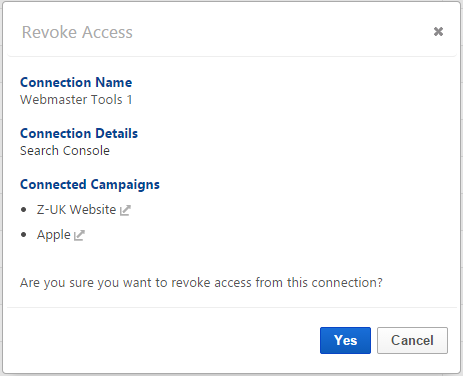 Add New Search Console Connection
At the top of the Authorized Connections screen, click the Add Connection button and select Search Console.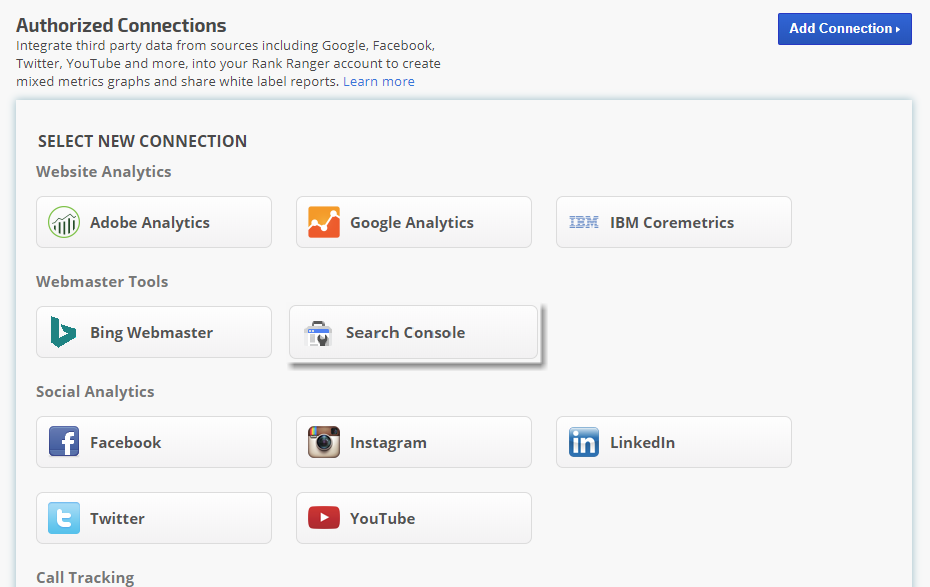 Review the permissions required and click the Allow button if you want the Search Analytics data integrated into your Rank Ranger reports.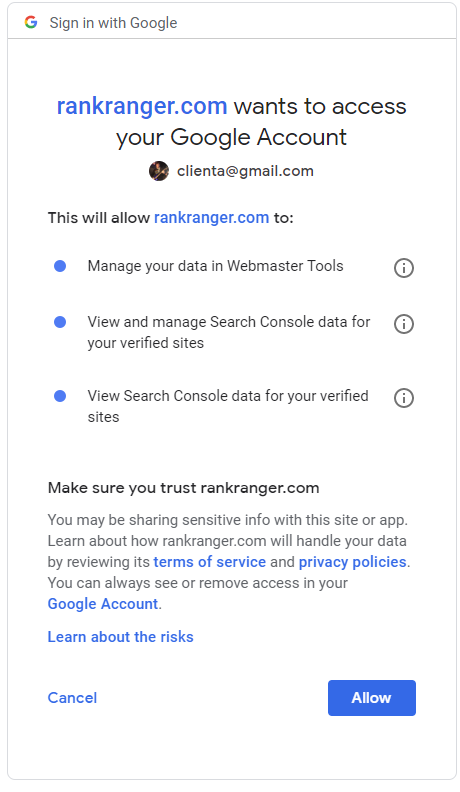 Edit the Connection Name (optional) and click the Update button.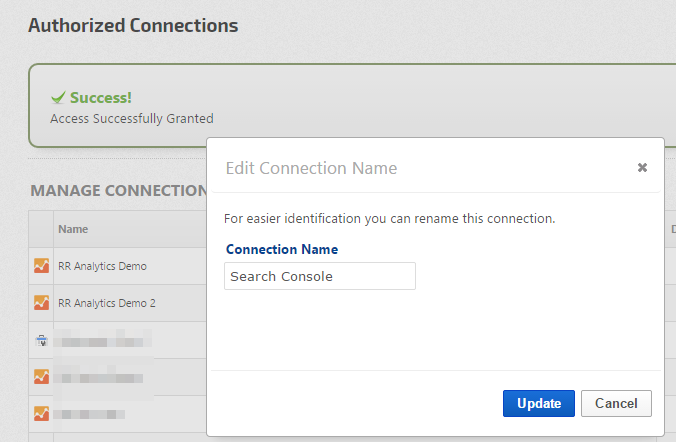 Disconnect Campaigns from Webmaster Tools
Access Campaign Settings by clicking the Home icon to open the Campaigns screen and click the gear icon corresponding to the campaign that had the old Webmaster Tools connection.
In the Connect section of the left menu click Search Console.
Click the Disconnect button for the Website and for the Connection Name.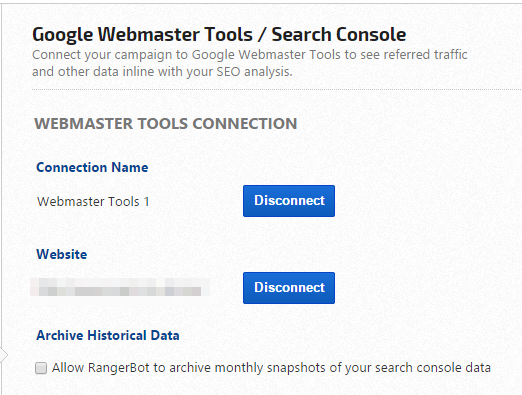 Connect Campaigns to Search Console
Select the new Connection Name for the campaign and click the Connect button.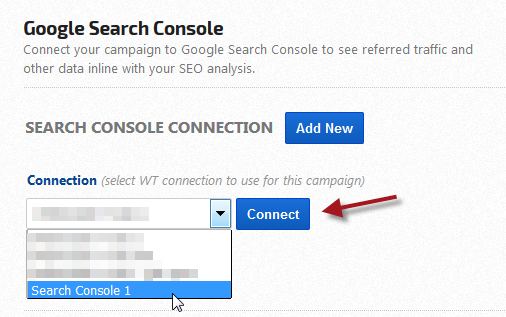 Select the Website URL that corresponds to the campaign and
click the Connect button.
Archive Historical Data

With this
update a new feature has been added for archiving historical Search Analytics data. Google has historically provided the last 3 months of data in their reports and if you check the box to allow RangerBot to archive monthly snapshots of your search console data, we will begin doing that for you.
Successful completion of Search Console integration enables the Search Analytics Keywords and Search Analytics Pages reports in addition to Crawl Issues and Site Messages from Google all in our convenient SEO & marketing platform.