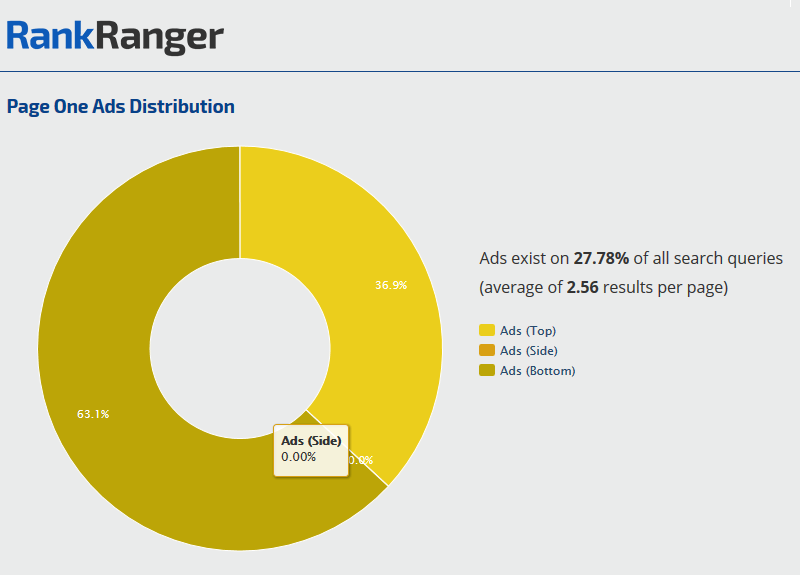 February 23, 2016   |  
Posted by
Laura Campbell
The Search Engine Marketing world has been buzzing since Google's announcement on February 19th that they would stop showing ads in the side section of search engine results.  According to Matt McGee's Search Engine Land article, there would be only two exceptions to this rule: Product Listing Ad (PLA) boxes and ads in the Knowledge Panel.
Barry Schwartz reported yesterday in Search Engine Roundtable that the move away from sidebar ads is leading to four ads at the top of search engine results, the news of which triggered a frenzy of comments regarding the impact of such a change on small businesses and Google's income.
Our Google SERP Features Search Intelligence confirmed early this morning that there are now ZERO ads to the side of Google search engine results anywhere in the world.
ZERO Sidebar Ads in Google SERPs
Figure 1:
Percentage of Google Page One search queries resulting each AdWords type
Trending SERP Features
We've been monitoring changes in organic indicators, knowledge graph features, page one extras and organic results count on a 500k dataset during the development of our new Google SERP Features Search Intelligence tools and today in addition to zero sidebar ads, we're seeing an increase in bottom of the SERP ads of 26.79% in Google USA and similar results in other countries.


Figure 2: Trending SERP Features in Google USA results on February 23, 2016
Change in Google USA Page One Ads Distribution
Our research indicates that Google's ad placement tests between last week and today's update resulted in a dramatic change in the display of AdWords advertisements.
 Page One SERP



 Feb 17



 Feb 18



 Feb 19



 Feb 23






 Ads exist on % of all search queries



 31.20%

 31.33%

 30.38%

 27.78%




 Average number of ads per page



 3.63

 3.5

 3.22

 2.56




 Ads (Top)



 23.5%

 26.7%

 27.8%

 36.9%




 Ads (Side)



 51.9%

 43.3%

 33.7%

 

0.0%




 Ads (Bottom)



 24.6%

 30.0%

 38.5%

 

63.1%









Google's Testing of Sidebar Ads
Looking back over the past 4 weeks, sidebar ads peaked on February 15th with the percentage of Page One search queries resulting in sidebar ads at 55.56% compared to 53.88% on January 25th and 0% today.


Figure 3:  AdWords occurrence statistics from January 25 to February 23, 2016 indicate the percentage of Google search queries resulting in each ad location.
Impact on AdWords Advertisers
The removal of sidebar ads does not necessarily mean that there will always be four ads above the organic results. There will be cases where only one ad displays for certain queries.  As many marketers have speculated, there is certainly a case for potential higher CPC when there are only 4 ads at the top and none in the sidebar. It will be interesting to see what Google fills all that empty white space with, perhaps more or different types of knowledge panels and product listing ads – which may improve the user experience. We will continue tracking the organic vs. paid clicks and do our best to provide you with helpful insights. We are interested in your feedback regarding the impact (if any) that this AdWords change has on your marketing campaigns – please comment below or contact us.