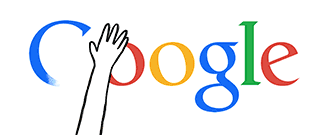 September 2, 2015   |  
Posted by
Laura Campbell
Who doesn't **** Google Doodles?  I always enjoy Google's creative Doodles and their latest Google New Logo Doodle of their old logo being erased is clever and memorable, since just about anyone viewing it will hold a mental picture of the old being wiped away and the new being written with chalk and magically becoming permanent (for now). 
The new logo presents a bolder, more grown up appearance for the company that turns 17 years old on September 4th.
Google's logo change presents Rank Ranger with a creative question that we hope you will help us with. Currently our SEO platform displays the old Google icon with the younger, lower case "g".
Our question to you is, should we change the Google icon that displays in your rank tracking reports to match Google's new favicon?  Should we also change our current Google Mobile 
 icon in your reports? And if so, what might be the best way to illustrate a mobile version of the new icon?  Take our survey…