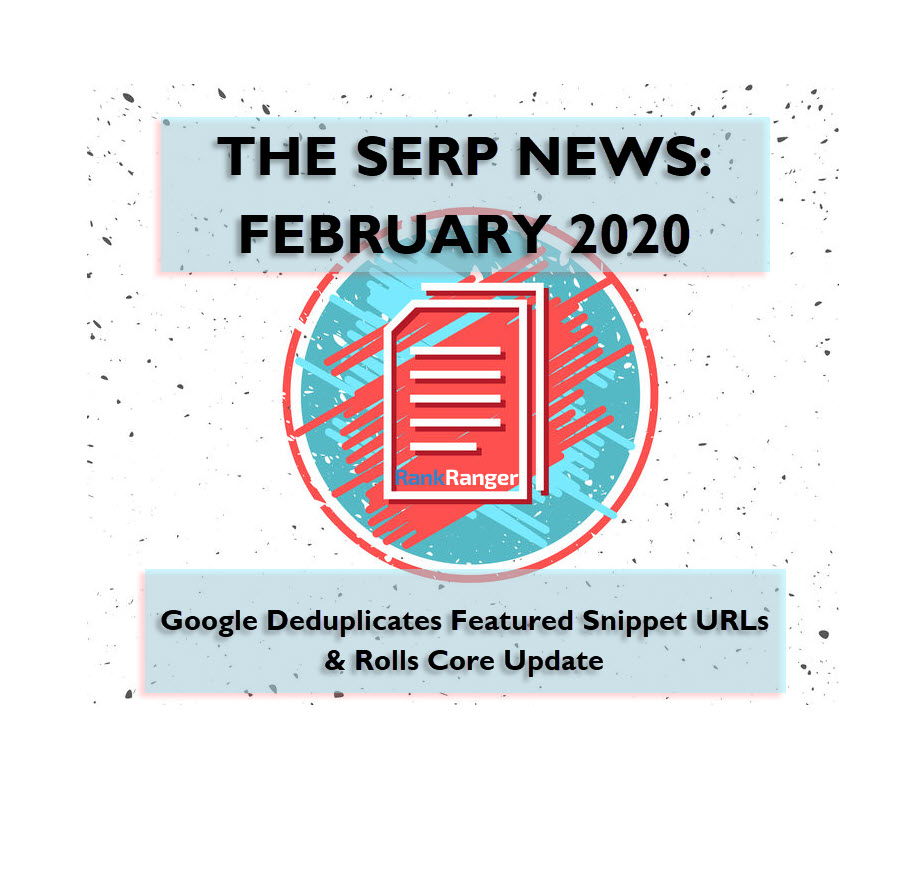 February 5, 2020   |  
Posted by
Shay Harel
What the heck just happened? It seems like everything and everything that was once the Google SERP has been turned on its head in what has been a downpour of serious changes to the results page! Featured Snippet URLs have been pulled from the organic results, the desktop SERP started to look like the mobile SERP only for it to not look like the mobile SERP, and life just got a bit more complex for retailers with Google's Popular Products extravaganza. Oh, and we got our first core update of 2020 to boot! 
Welcome to the February 2020 edition of the SERP News. 


Featured Snippet URLs No Longer Replicated 
You know it was madness on the SERP when a core update is NOT the lead item in an SEO news digest. On January 22nd, Google announced that it would no longer be replicating Featured Snippet URLs within the search results. Google, until this point, would show the URL employed within a Featured Snippet among the organic results found on page one of the SERP.  With the announcement that the Featured Snippet would be the only time the URL would be displayed on page one, and as you may have expected, total chaos ensued.
Here's my best crack at sorting out the madness that followed the announcement. 
Featured Snippet URLs Reflecting Manual Manipulation of Search Results?! 
It was initially reported that Google was automatically placing Featured Snippet URLs at the very top spot on page two of the SERP. At the time, when we analyzed our dataset, this was happening for pretty much every keyword. This, of course, brings up the question of manual manipulation of the search results, something that Google has adamantly denied… repeatedly. Google later clarified saying that they are not automatically showing Featured Snippet URLs as the first result on page two of the SERP. As time has passed, Google has been true to its word and Featured Snippet URLs do not appear as the top result on page two. They do not appear anywhere except for the Featured Snippet itself. I would assume the initial placement of these URLs at the top of page two was merely a part of Google's roll-out process. 
Onto the next controversy, Explore Panels. 
CTR Dives for URLs Shown to the Right of the Organic Results
Explore Panels are a hybrid between Featured Snippets and Knowledge Panels and at the time of the Featured Snippet URL deduplication they appeared on roughly 3% of page one SERPs per our SERP Feature Tracker. 
The issue here is that the Explore Panel was designed to appear to the right of the organic results. With Google deduplicating Featured Snippet URLs and removing them from the organic results, the only time a user would see the URL within the Explore Panel was at the right side of the page. As you could imagine, folks with URLs in the Explore Panel were not happy to see their CTR fall off a cliff. 
As the griping reached a peak, Google, very much to their credit, announced that the Explore Panel would be moved to the main column of search results. The moral of the story is that when people tell you to stop whining… you should just whine louder, harder, and more continuously (as my kids tend to do when I tell them to stop whining). 
That said, as of the writing of this post, Google has not made the move. Rather, Google has re-duplicated the URL that shows within the right-side Featured Snippets. We actually checked this to see if it was universal and after analyzing 5K keywords we can tell you that Google has placed the URL for such Featured Snippets back into the organic results. 
In late January Google re-duplicated the "organic" URL for right-side Featured Snippets, aka Explore Panels
Onto the next controversy, tracking Featured Snippet performance. 
Featured Snippets as the New Position 1 
Prior to this update, your URL would be shown within a Featured Snippet and at one of the SERP's top-ranking positions. Thus, your rankings looked relatively uniform. You had a Featured Snippet for the keyword and you ranked well for the keyword at the same time. With the deduplication, rank reports began to look a bit absurd as your organic rankings looked terrible at first and then non-existent once Google stopped duplicating the URL on pages beyond the initial SERP.  
What to do? 
Easy, consider the Featured Snippet as position 1. Thus, Featured Snippets are no longer position 0. 
Now, this adds all-new levels of complication since the CTR for ranking #1 as a traditional result vs. as a Featured Snippet are not the same thing. 
[To this, we've added all sorts of additions to our tools and reports so that you can sort, separate, compare, and analyze your Featured Snippet wins independently of your top "organic" rankings.]
The January 2020 Core Update
After that whole Featured Snippets SNAFU, I'm out of breath (which is odd, because I'm typing… not talking). Good thing there's no other big news off the SERP… oh, wait, there was a core update. 
On January 14th Google gave us our very first core update of 2020! 
So, was it a big one? One quick look at the level of rank fluctuations will tell you that it was quite a beast: 
As is customary with the core updates, YMYL sites (those related to Health and Finance in particular) were hit the hardest by the update:
You'll notice that the Health and Finance niches show significantly more volatility at the top of the SERP than the other niches. It is very common to see these niches heavily impacted at the top of the SERP during a core update and, in a way, this separates core updates from unconfirmed algorithm updates. 
To get a better sense of the relative impact of the January 2020 Core Update I compared the volatility increases recorded to those seen during an unconfirmed update that took place on December 6, 2019. Here, as I think would be expected, the data shows that the January 2020 Core Update was operating at a different level than the unconfirmed update: 
Please refer to our full analysis of the January 2020 Core Update for the complete set of data. 
Google Redesigns the Desktop SERP and Then Backtracks
If Featured Snippet URL deduplication and a core update were not enough for one month Google also decided to revamp the entire desktop SERP. Then, shortly thereafter, it decided to partly "un-redesign" it. 
Here's how it went. 
Just one day before the January 2020 Core Update rolled-out, Google announced that it had brought the mobile SERP's format to desktop. This meant the introduction of favicons, the removal of color from URLs, the shrinking of URL size, the placement of URLs above the organic results, and the insertion of the colorless (and thus hard to notice) ad label. 
Now, I am not a big fan of this look for the SERP. I think it too heavily favors big brands whose favicons are far more familiar than your run of the mill company. Evidently, people, in general, were not a big fan of the desktop SERP's new look. Within a week of the change, folks were noticing that Google had removed the favicons from the desktop SERP – though, the other new changes such as the colorless ad label remained. In fact, some users even reported seeing the old green ad label make a reappearance. 
On January 24th, Google officially declared the desktop SERP's layout to be far from settled. Accordingly, the search engine said they will be continuously experimenting with the look of the desktop SERP. 
Google testing a SERP that adopts the mobile format save for favicons 
If you want my opinion… Google is in a bit of a pickle here. If you look at their announcement about continual experimentation, they clearly thought that users would respond to the new desktop look much the way they did on mobile… with eyes of dreamy teenage ****. That seems not to have happened. Now, Google can't throw away the new look and return to the old version for two reasons: 
1) They want that colorless ad label for more ad clicks. 

2) Returning to what was would leave them with a bit of egg on their face. 
For what it's worth, here's my prediction. Google will compromise. Green URLs will be back (though at their current position and size). Favicons will stay off. And, of course, the colorless ad label will remain. 
Popular Products Set to Dominate Retail on the Mobile SERP 
In case you were not already concerned about the number of product carousels on the mobile SERP, Google announced the release of Popular Product listings. Here's what the Popular Product listing basically does: It takes listings for a specific product from a host of websites (either via markup or through a feed via Google's Merchant Center) and places it into one massive vertical carousel of listings.
Say you want to buy yourself a brand spanking new pair of socks… you might just see this: 
Clicking on a specific card brings up additional photos of the item, reviews, and stores where you can buy yourself some new socks:  
Notice that Google initially shows but five of the 14 stores where you can buy these socks. I would imagine being one of these five stores would be very important. 
Also, it's important to note that you can keep clicking to see more and more and more products. With all of these products, you may never even see or need an organic result again. That's my way of saying that ranking within one of these carousels may be more important than ranking organically. How do you like them apples?! 
The SERP Roundup Covering January 2020
Haven't had enough yet? Good! Here comes your set of changes, tests, and updates of all sorts that came to the Google SERP in January (other than the major overhauls covered above). 
Google Flights Drops Its Sponsored Label 
Big news in the world of travel… Google is going sponsorless with its Flights Box and flight results. Google has said that it will drop the sponsored labels from Google Flights in the near future (perhaps already by the time you read this). Currently, there are two ways Google earns revenue from its flight results: 
1) Ads from booking sites and the like 

2) Referral payment from the airlines themselves
To my understanding, not many airlines have bought into the program. This makes good sense if you take Google at their word that payment has no impact on ranking within the flight results (i.e., what incentive do you have to pay in?). 
Google's Flights Box showing the 'Sponsored' label 
The question in my mind is not why Google is going in this direction. Rather, I want to know what new revenue program Google is currently working on. I don't think for a second that Google is not going to seek to profit from flights after having invested so much into revamping its travel results. 
Google's Dataset Search Engine Matures
Way back in October 2018 Google gave us its dataset search engine… for finding datasets. Back then the findings were sparse and the UI a bit "thin." As we hit January's homestretch Google took the dataset search engine out of beta. 
With the release comes an upgraded UI that lets you select the format of the data you want, search results based on usage rights, etc. 
Google's dataset search engine is out of beta and now includes all-new filters, etc. 


Google to No Longer Support Data-Vocabulary Markup
As of April 6, 2020, Google will stop supporting data-vocabulary markup. Meaning, if you are using the markup you will not receive a rich result once April 6th comes around. The only markup supported will be Schema.org. 
Photos for Google's Screened Ads
Get that pretty face of yours ready… Google was seen testing images within its "Screened" ads. Google Screened Ads are basically Local Service Ads but for professional services (accountants, lawyers, etc.). If Google does adopt images within the ad format I would very much make sure to jump on that… having a picture of your trusting face is sure to bring more clicks than those ads that don't contain the provider's image. 
Result Lists Replace Some Descriptions
When a site reflects a list (17 places to hide from your father-in-law when he comes to visit for five weeks), Google is at times displaying items from the list within the organic results (mobile only). 
A mobile result shows list items in place of the traditional description


When Google chooses to show the list items, no description is presented within the result. In terms of clicks, I can see this going both ways… if the user sees your list items and isn't happy with that they see obviously they would not proceed to click and vice versa. I personally think this format makes sense when compared with showing a description of the page (which in most of these cases would be self-evident anyway).
Local Pack Area Choice Goes Live
This past summer, Google was found testing an option that lets users choose from specific areas so as to refine results within the Local Pack. As of early January, the 'Choose Area' feature seems to have gone live. 
The Local Pack's 'Choose Area' is fully rolled-out for mobile results 



The feature makes a ton of sense. A geographical area within the Local Pack can cover a lot of ground. Being able to specify where exactly you want listings from is very helpful. 
Google Stories Expands to Animals & Insects 
Here's a fun one for you…  Google has expanded its Stories beyond people (and Major League Baseball games). Google is now showing its visually striking stories for a variety of animals and insects. 
Well, well, well… It looks like Google Stories have evolved past "people as entities" (i.e., just showing for people per se) and now includes entities like animals!

(Query was…. lions)

cc: @rustybrick #SEO pic.twitter.com/1VriUdvJur

— Mordy Oberstein (@MordyOberstein) January 19, 2020
What's fascinating is how Google approaches these entities relative to how it constructs Stories for people. I recently went into this in-depth during a recent episode of The In Search SEO Podcast. 
SERPs Still Loading 
There's a bit of unfinished business on the "current" SERP. Will Gooogle keep to its original plan to move the Explore Panel to the main results column? What look will Google settle on for the desktop SERP? How will the Popular Products element change the way retail sites view organic rankings? With a bunch of big questions yet to be answered, the coming weeks (months?) should be pretty interesting and could help illuminate some of Google's greater goals. 
Strap in.