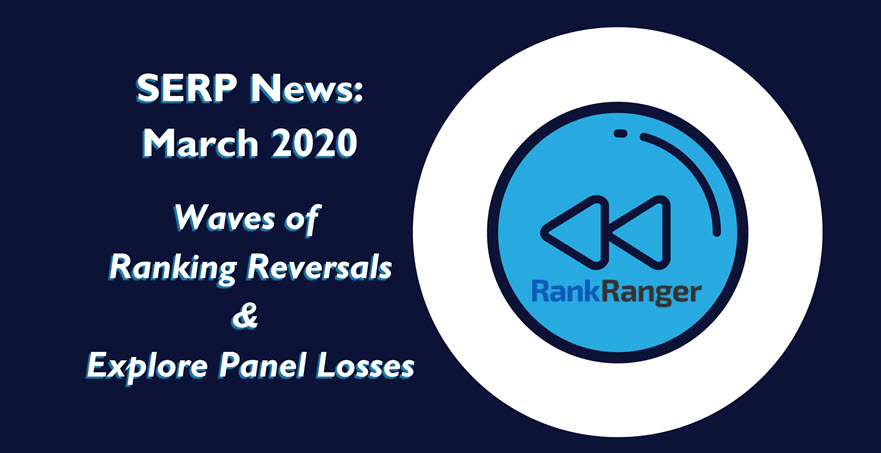 March 4, 2020   |  
Posted by
Shay Harel
Havoc. That's how I would describe the February SERP, particularly the unconfirmed update that hit mid-month. With reversal upon reversal, the rankings resembled the sort of discombobulated u-turn a 16-year-old would make on their way to failing their driver's test for the umpteenth time. Throw on such SERP spectaculars like new entity pairings and a new multi-image carousel for Google Posts and you have yourself a month of SERP changes to remember. 
This is the March 2020 edition of the SERP news! 
Unconfirmed Google Update Puts Things in Reverse 
Unconfirmed Google updates are far from innocuous and the one that hit in mid-February brought with it all sorts of vexation as sites underwent some significant ranking changes. On February 8th, our Rank Risk Index caught a substantial increase in rank fluctuations that would last a total of six days. 
A series of heightened rank fluctuations running from February 8th through the 13th
Despite the rank changes being quite serious after five days of rank craziness, Google had yet to comment… at all. Google did eventually weigh in by stating that they make changes to the algorithm all the time (who knew?). While this is true it's also factored into what is considered "normal" levels of rank fluctuations. That is, there are many changes to the algorithm that are part of your day-to-day rank fluctuations. At the same time, some updates are far more severe and impact rank fluctuations in a more noticeable and far-reaching way. 
That said, this particular update was a bit "bizarre." One of the first things I noticed is that there were a high number of "immediate reversals." In many cases, Google changed the ranking trajectory of a site only to reverse course by the time the update finished rolling out. Interestingly enough, some of the sites that displayed such a pattern saw the same ranking behavior as part of a minor unconfirmed update that hit the SERP on January 24, 2020.  
Some sites that underwent immediate reversal on January 24 saw the same pattern as part of the February unconfirmed update 


At the same time, some sites seemed to show a "pure" reversal of the January 24th update. For example, the sites shown below saw a rank increase on January 24th that was reversed at the onset of February's unconfirmed update: 
Similarly, there was a noticeable pattern that had sites impacted during the January 2020 Core Update see their own reversal: 
I'm sure there were a variety of other reversal patterns. These were just the ones that stuck out to me during my analysis. In terms of commonality between the sites that underwent reversals… good luck. I didn't see any apparent rhyme or reason that would serve as an overarching theme to the reversals. I suspect you'd have to look at the granular level in order to isolate the common denominator for that specific subset of websites. 
Google Halves Right Side Featured Snippets 
Sitting right in the middle of Featured Snippet deduplication are Explore Panels (you may know them better as right side Featured Snippets). At the time of this writing, we are still waiting for Google to move these fellas over to the main column of search results so that their URLs can be deduplicated. Well, it appears Google will have a bit less moving and deduplicating to do as our SERP Feature Tracker shows 60% fewer Explore Panels (right side Featured Snippets) on the SERP! 




On February 15th, Google removed roughly 60% of right side Featured Snippets from the SERP
Digging into this a bit, it appears that a lot of keywords related (loosely at times) to products and services lost the feature. That's not to say other verticals did not see the feature flee the SERP. At the same time, the right side panels are not being replaced with "traditional" Featured Snippets either. 
I am seeing something similar with one of my clients. They just lost the right snippet and didn't gain a quick answer FS.

— Josef Sperzel (@JosefSperzel) February 24, 2020
Could this be the precursor to Google moving the Explore Panel to the main column of results? Maybe. It would make sense as getting rid of 60% of the panels would make doing so easier. 
Google Goes Relationships in New Knowledge Panel Construct
Sometimes small external changes can signify big internal changes. Like when your dad buys a shiny new red Corvette for his 65th birthday to counter the dark realization that his body is slowing down. (For the record my dad did not get a red Corvette for his 65th birthday… he got a new knee instead.) Google starting to pair entities together is such an event. 
The world got its first look at Google's new push for creating entity relationships on February 4th. Reports came in that Google was showing a "see the connection" button. Engaging the button brings up a Featured Snippet that discusses the nature of the connection between the two entities. 
In doing so, Google has taken entity connection from identification to contextualization. That is, prior to this Google would merely point out the connection of the "relatedness" between the two entities. The most popular case of this would be the People Also Search For carousel that often appears as part of the Knowledge Panel. In the case of the see the connection button, Google has gone beyond the identification of the relationship and has begun to delve into its nature per se. 
Interestingly, about two weeks before the see the connection button was unveiled I starting noticing that Google was creating paired entity panels, like the one below:
The content here mirrors that shown within the Featured Snippet that comes along with the see the connection button. In fact, the desktop counterpart of the snippet used in conjunction with the see the connection button is the Explore Panel (sometimes referred to as the right side Featured Snippet) which is what is shown above. 
The move speaks not only to Google's ability to make connections per se, but to see the relationship between those connections as an entity. In other words, at times, the very relationship between two things has its own independent identity. Seeing Google operate a bit differently with the relationship between two entities seems to indicate that Google is taking a more entity-centric approach to relationships per se. (I talked about this a bit more in-depth during a recent episode of The In Search SEO Podcast.) 
The SERP Roundup Covering February 2020
Even Google needs a break now and then. February was one such moment for our favorite search engine (maybe preferred is the right word) who dialed back the number of tests and changes they made to the SERP. It's all relative, of course. Just because Google didn't drop its usual barrage of alterations to the SERP doesn't mean there were not a significant amount of substantial changes and tests (beyond what I already discussed). 
Here's what I have for you this month: 
Multi-Photo Google Posts & Post Snippets
Google gave its Google Posts feature some **** on February 20th. In specific, Google released a new format that allows for up to 10 images to appear within a post as a carousel. The new multi-image Google Posts apply to video posts as well. This has definitely gotten some within the world of SEO a bit excited and could be a way to get a bit more creative in showcasing a specific product or whatnot as part of a Google Post. 
At the same time, Google has also been placing snippets from Google Posts within Local Pack and Local Finder listings. The snippets are noted by a blue exclamation mark logo. You might have to dig through the posts to find where the snippet is sourced (i.e., Google is not pulling the content from the latest posting). 
An icon representing a snippet being pulled from a Google Post within the Local Finder 
Bug Rejects Google Post Images
Nothing could be more appropriate as a follow up to a tidbit of news on Google Post image carousels than a bug to Google Post images. In early February, reports surfaced that large quantities of Google Posts were being rejected as the result of a bug. At the time, there was some speculation that Google had taken a hardline stance on its Google Post image guidelines resulting in large-scale image rejection. However, as time went on, Google noted that a fix went into effect thereby indicating that it was a bug, not stricter adherence to guidelines, that had fueled the image rejections. 
Image Search Images Get New Labels
Google has announced that they will no longer be serving dimension labels when you hover over an image on the Image SERP. Instead of the bottom left label showing the size of the image Google will be better reflecting the content represented on the hosting site with labels indicating an image's status as a recipe, product, video, etc. 
It's an interesting switch. To me, it means Google sees Image Search as a gateway to page content and not towards image usage. I myself use Image Search mainly to jack memes that my wife wouldn't appreciate in the slightest. I am not the profile Google is targeting here as all I care about is how much the image will bother my wife and how big it is (the bigger the better for my purposes). Rather, Google thinks the typical user is not looking to get a rise out of their partner but is looking for deeper content with the image serving as a gateway to such content. 
Google Diversifies Local Search Results in Europe
As part of a longstanding issue around alleged monopolized search results, Google is now showing a diverse set of sources to fuel the European SERP for local queries. To avoid allegations of creating an "uncompetitive" environment on the SERP in Europe, Google is now showing alternative sources of local listings above the Local Pack. 


Sites containings local listings related to the query showing above the Local Pack in Europe
I'd have to imagine that if the Local Pack listings are entirely relevant then users will not be clicking on the set of "diverse sources" at the top of the SERP en mass. That is, typical user behavior would have folks take a look at the Local Pack listings first since they do not require a click to assess their relevance. However, if the Local Pack listings are not on target, why wouldn't a user go and have a look? That, though, is the normal paradigm in such cases (i.e., if the Local Pack is not relevant, users would go to the organic results). I personally think the new box of alternative sources does not have much impact as even the organic results give you some info at the onset via the title and description. Meaning, would a user really prefer these sources to organic results as there's not much info being offered so as to entice a click (you'll notice the titles are cut off).  
Top Stories Carousel Card Summation 
Here's a really interesting update to the Top Stories carousel…. card summaries. Back when Google went BERT with the Top Stories carousel the search engine announced that the changes would include short summaries within the news cards. Since making the announcement no one has seen such cards appear, until now.
In early February, Brian Freiesleben spotted a news carousel that contained short summaries of the stories presented in each carousel card.    
"Top stories" showing short snippets for AMP articles and including author info in the SERP. I don't see this often – pic.twitter.com/LBuWfqRFSS

— Brian Freiesleben (@type_SEO) February 5, 2020
Not so interesting? Ah, but you have to remember BERT. The ability to pull out a few tidbits of highly relevant contextual content speaks to BERT… which can understand content far more contextually than anything we've seen within the algorithm thus far! 
Staying on Top of Review Snippet Performance 
Search Console has a new toy for us to better track our pages that appear on the SERP with a review snippet. Specifically, there is a new performance report designed to show data on those pages that produce review snippets. Like the unfiltered performance report, here you can see data on impressions, clicks, and so forth. 
Local Listing Image Enlargement 
One day I was trying to find a decent place for a lunch meeting. Upon finding what was a possibly suitable place I clicked on some of the images via the Local Panel. When doing so I got a set of oversized images that were not meant for desktop consumption. 
Looks like Google is testing a showing of massive photos via the Local Panel! (At least, I've never seen this before).

cc: @rustybrick #SEO pic.twitter.com/ZLOt3fmYuP

— Mordy Oberstein (@MordyOberstein) February 2, 2020
The format I saw did resemble something very similar to mobile, so maybe it was some sort of bug? That said, Google has been playing with oversized images on desktop… as we're about to find out! 
Open Space Test to the Desktop SERP
Big images went beyond the Local Panel on the February SERP. Just a day or two after I saw those gargantuan images via the Local Panel (see above) Google was found testing a more "open-spaced" desktop SERP. The format featured the use of oversized images and pulled the descriptions from the organic results. 
Is Google testing a new desktop results layout, saw this one with post title, featured image and favicon. Any updates from Google? @rustybrick @JohnMu pic.twitter.com/wg1l4V7qMi

— Anurag Pareek (@anurag_pareek) February 6, 2020
A few weeks later Google was at it again with larger images on the desktop SERP. Similar to the above test, in this instance, Google was showcasing extremely large images as part of the organic results (imagine a giant image in place of a thumbnail). With so many iterations of oversized images it's hard to say there is nothing intentional going on here. 
Google Maps Turns 15
Google Maps is 15 years old (holy crap)! To celebrate, Google has given Maps a colorful new icon as well as some amazingly neat features. To start, Google has put more tabs within the user's initial purview when using the app. Also, more AR and user-generated updates are coming to Google Maps. Part of these plans includes crowdsourcing folks riding on public transportation so as to provide real-time updates (sort of like how Waze does).
I just hope Google Maps' venture into crowdsourcing for public transportation will help subway riders know which car to skip so as to avoid too many manspreaders. 
Going with the Long Game
All of these reversals of ranking fortunes just reiterates the importance of thinking long-term about Google's updates. Sometimes the impact of an update, while immediately felt, is not everlasting. It pays to remember that sometimes Google is "experimenting" and trying to see what works. When it doesn't, Google pulls it back. That's not to say you shouldn't have a hard look at your site when impacted by an update. And sometimes, if you got clobbered extremely hard by an update (particularly a core update), there's a very strong chance that you've got a real problem on your hands. But in general, I'd go with Hall of Fame NFL coach Bill Cowher's advice, "Don't get too high with the highs and don't get too low with the lows…"