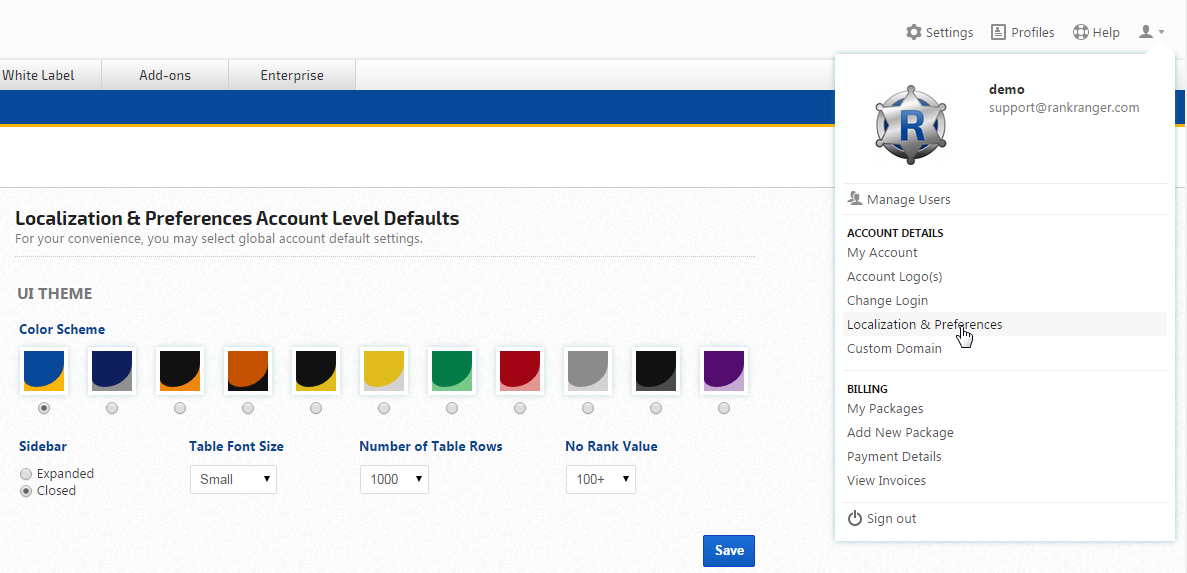 April 16, 2015   |  
Posted by
Rank Ranger
One of our goals is to provide you with a pleasant and efficient user interface that's uncluttered and user-friendly. So with Spring in the air our development team decided to redesign our SEO software interface to make moving between reports and finding pertinent information and options effortless. We think our new menu structure is more intuitive and hope you agree.
Let's get started exploring your new user interface…
We don't know your favorite color, so please help us by selecting your new color scheme in Settings > Localization & Preferences.
While selecting the color scheme, you may also set report defaults such as:  


Sidebar

menus expanded or closed when opening a report.   

Table Font Size

displayed in small, medium or large.  

Number of Table Rows

you want displayed in each report table.    

The

No Rank Value

label you want displayed when keywords are not ranking in the top 500 results of Google, Google Places or Yahoo, or in the top 100 results of other search engines.
Organize Online Marketing Campaigns
The Campaigns tab displays a summary of all of your rank tracking campaigns, and the sub-menu provides access to your Profiles (to help you organize campaigns into associated groups) and Contacts features.
All Online Marketing Reports & Tools in 1 Location


 
Click the Reports tab to discover the advanced reporting & research tools you've grown accustomed to using – but now all in one convenient location.
Each sub-menu leads to a logically organized report or tool type: Rank reports, rank & blended metrics Graphs, Research reports, Analytics traffic reports, PPC performance reports, Webmaster Tools search traffic and Google Index reports, On-Page Optimization Audits, and Link management reports.
White Label Centralized
All White Label branded features are now accessible in one section of the interface.   You'll find everything that you need to create and manage Client Dashboards (formerly known as White Label Portal), Email Automated PDF Reports, custom Cover Pages and PDF Templates under this tab.
Extra SEO Reporting Features
A new Add-ons tab contains additional features including Email Notifications, Events & Notes for recording online marketing activities and Report Presets that enable you to create multiple versions of the same report for the same campaign.  Utilities for import & export of campaign data are also located in the Add-ons tab along with an API Console for ease in constructing requests.
Custom SEO Software Development
The Ranger Lab has been moved to the Add-ons tab and contains custom reports that have been developed based on customer requests through our WeDevelop program. The contents of this section is ever-changing as items get moved to the Reports or Enterprise sections of the user interface.
Also in the Add-ons tab you'll find a new Legacy section containing reports that will be deprecated at some point in the future because we have either created a better solution or the evolution of the web is moving them into obsolescence.  If you are using any of these reports, we encourage you to migrate to the improved version – if you need assistance determining the better solution, please contact us.
SEO Company & Online Marketing Agency Solutions
Enterprise customers now have a special dashboard containing the custom online marketing platform solutions we've built for SEO and Marketing companies that manage large numbers of clients, run multiple campaigns with numerous keywords and/or have more complex needs.
Which color scheme will you choose?
This post has provided you with the highlights of Rank Ranger's new user interface, but please refer to our new User Guide for complete instructions for using Rank Ranger's online marketing platform.
As with our reports and features, our team is looking forward to receiving your feedback on your new user interface.