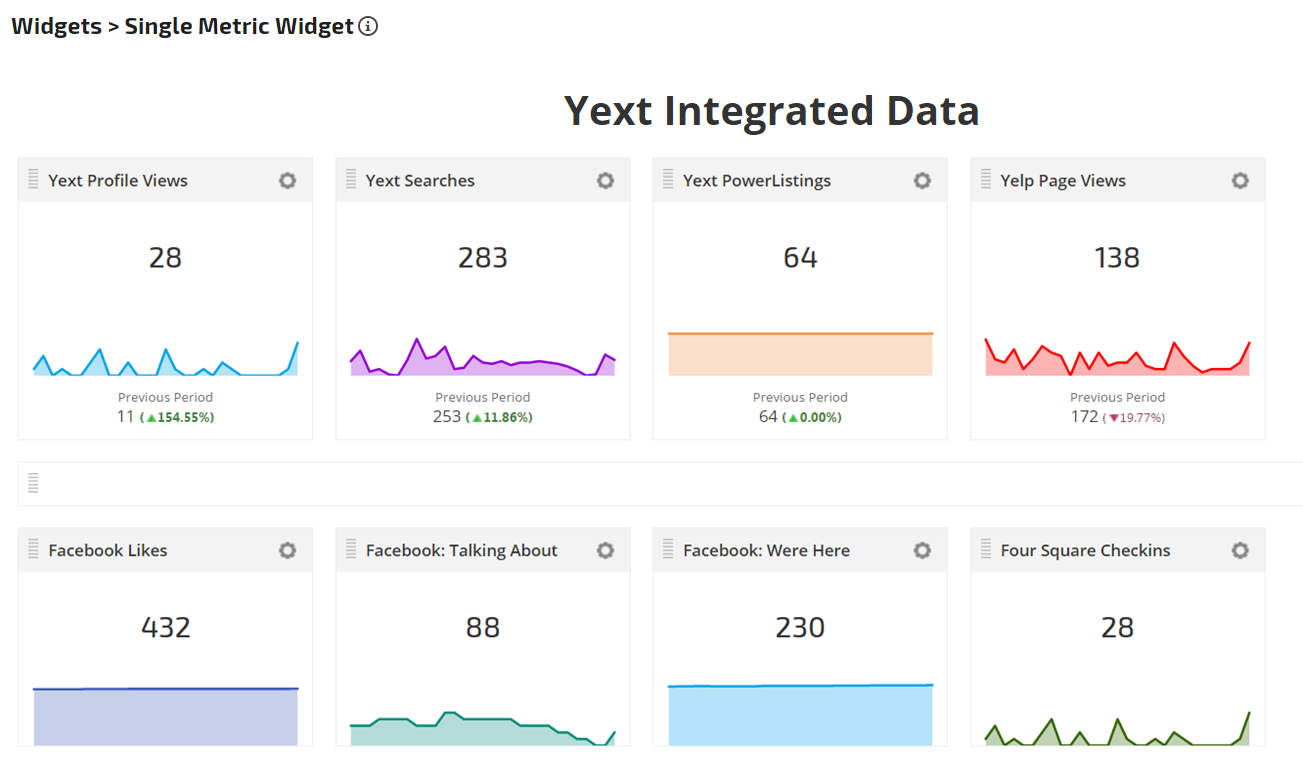 January 9, 2017   |  
Posted by
Rank Ranger
In what is a highly competitive environment for local businesses, maintaining a competitive edge is more important than ever. One of the major obstacles local businesses face has been ensuring their local citations are congruous and up to ****. To help businesses manage this somewhat odious process, Yext offers local businesses the ability to track down and update any outdated or incorrect listings. But really, Yext offers a lot more than just that. With its array of analytics, Yext reports back on various aspects of your Facebook page, indicates Yelp page views, etc. As testimony to the efficiency of our WeDevelop program, Rank Ranger now enables you to integrate the range of analytics offered by Yext.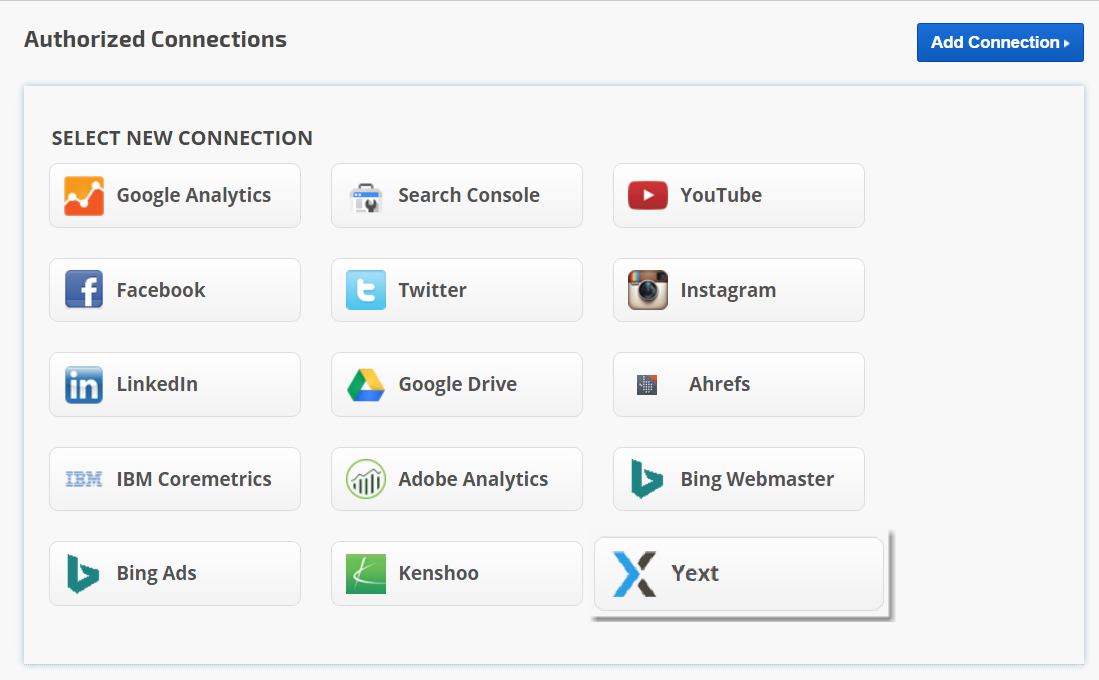 Yext Analytics in Rank Ranger 
With an easy to navigate authorization process you can integrate Yext data into any of your campaigns within Rank Ranger's SEO software. The added value of a Yext integration into Rank Ranger comes from the unique set of metrics that Yext offers its users. As such, we now offer you the ability to integrate the following Yext metrics:     
Facebook Likes (lifetime)

Facebook Were Here (lifetime)

Facebook Talking About This 

Featured Message Clicks 

PowerListings Live (lifetime)

Profile Views

Searches 

Yelp Page Views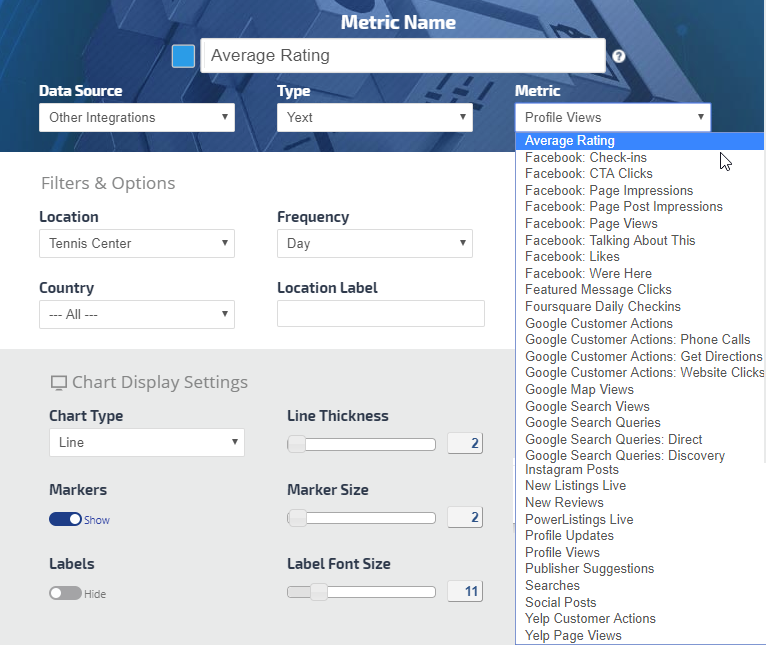 Yext metric settings displayed within Rank Ranger 


Displaying Yext Data in Rank Ranger  
With our new Yext integration you'll be able to see the data within your Yext analytics in new and dynamic ways. We've enabled our users to see their Yext data by displaying the integration within our Insight Graph and Single Metric Widgets. 
What You Can Do with Yext Analytics inside the Insight Graph 
We've integrated Yext analytics into our most versatile reporting tool, the Insight Graph, in order to offer you an enhanced viewing of your data. Besides for offering the ability to compare any of the Yext metrics on the same graph, you can also compare current data to previous reporting periods. Whether plotted on the graph's main axis, or an a secondary axis, you can track your Yext analytics relative to previous periods. This includes the ability to analyze various periods of Yext analytic data across custom **** ranges.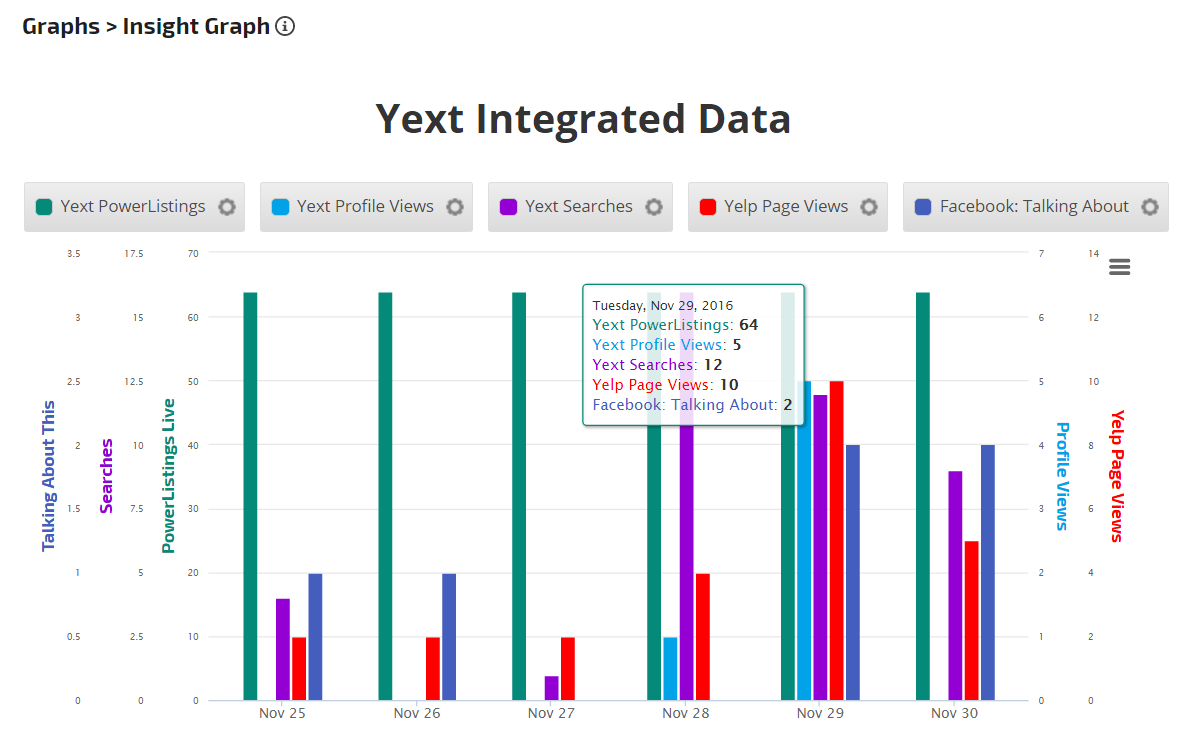 Yext analytic data displayed as a bar graph on the Insight Graph with custom color options enabled 


Further, Yext data displayed within the Insight Graph can be shown in any combination of line graphs, columns, and/or area graphs. Additionally, you can set the data to be displayed in a variety of colors of your choosing.   
Utilizing Single Metric Widgets to View Yext Analytic Data
Other than the Insight Graph, we've placed Yext analytic data within our Single Metric Widgets. Inclusion of Yext data within the widgets affords you the opportunity to present Yext data in a visually enhanced manner that is perfectly suited for monthly or quarterly reporting.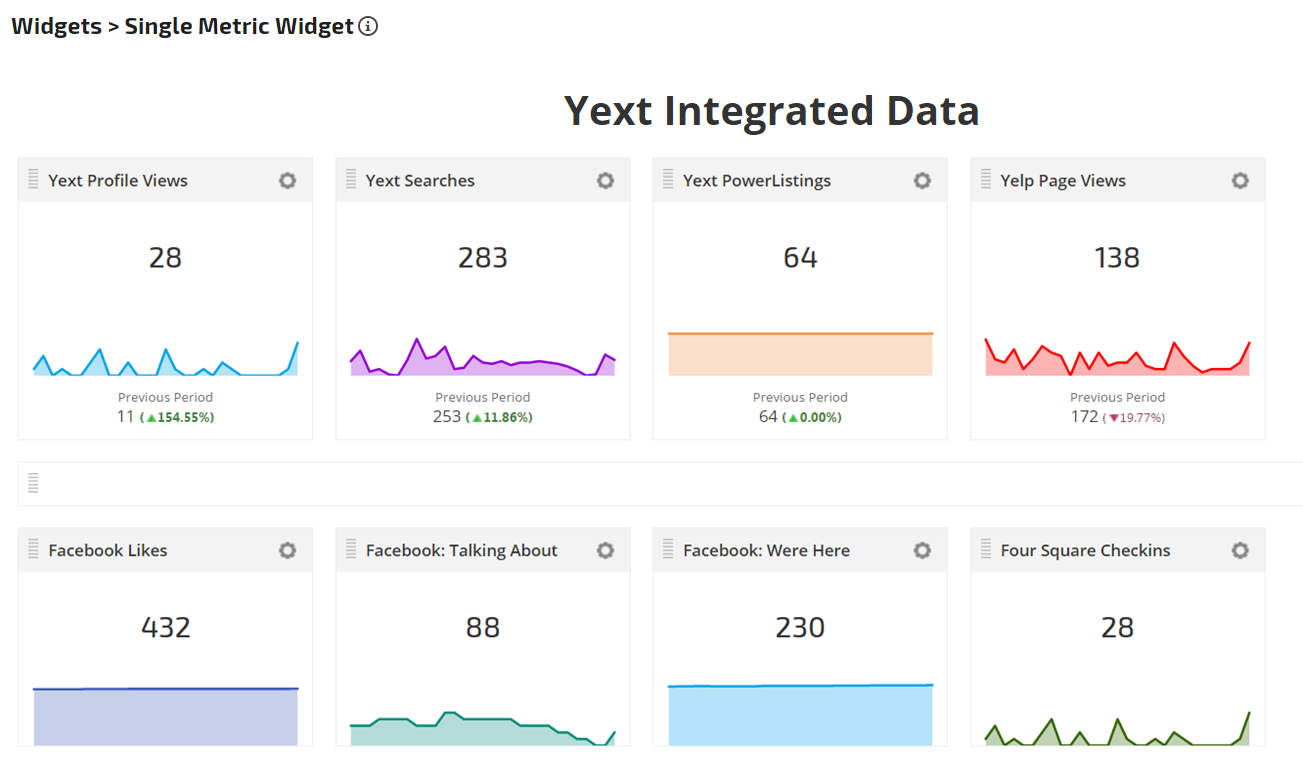 Yext analytic data as shown within a series of Single Metric Widgets 


Like the Insight Graph, the Single Metric Widgets allow users to set custom reporting periods, including previous reporting periods. 
A Unique Way to View Yext Analytic Data 
Expanding the comprehensive nature of Rank Ranger's SEO software by broadening our already extensive third party integration list to now include Yext, offers a unique way to view the dataset. By displaying Yext data within two of the most versatile data reporting tools available, the Insight Graph and Single Metric Widgets, you can explore Yext analytics in new and unique ways that allow for deeper insights. The two data reporting options present a diversified way to view Yext analytic data, with each method offering the ability to track and compare data against multiple periods of time. The result is a way to engage with Yext data in way that is like none other and that could only be brought to you by Rank Ranger.