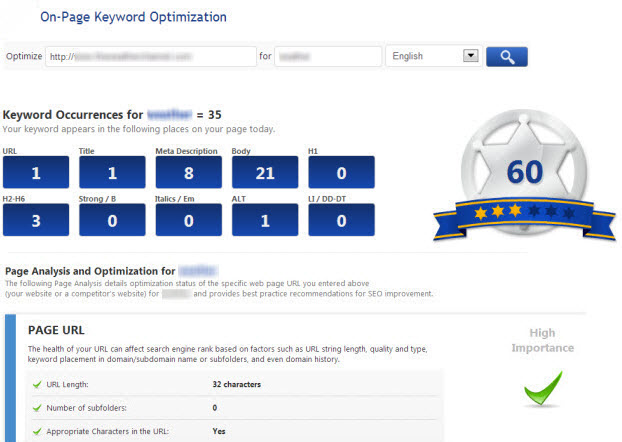 November 25, 2013   |  
Posted by
Rank Ranger
Our Beta Testers enthusiasm about the new On-Page Keyword and webpage analysis & optimization tools we're launching this week is contagious! I'm excited to share these feature-rich tools with you!
On-Page Keyword Optimization
Use the On-Page Keyword Optimization tool to create custom reports for any URL and Keyword combination you need to optimize.

Get creative! This tool can also be used to analyze pages and keywords that are not
currently in your campaign (e.g., a competitor's page, a page containing
a banner ad you're paying for, etc.). 
Resolve On-Page Problems
Address the Critical
KEYWORD factors
by following the recommendations in each report section.
On-Page Keyword Density Analysis
Run the On-Page Keyword Density Analysis on any web page URL before and
after content changes, or take advantage of its ability to spy on and
effectively check your competitor's keyword usage and density.  The
report displays the density of the keywords on this page; single and 2-word up to 5-word phrases.
On-Page Readability Test
Six respected tests with multiple language support rolled into one On-Page Readability Test because character, syllable, word and sentence counts, as well as characters and
syllables per word and words per sentence can determine the readability
of your content by specific audiences. And since scoring systems produce
numbers, it's easy for search engines to include such parameters in
their algorithms and thus boost or penalize your site in the SERPs.
Look for these tools in a brand new On-Page tab when you log into Rank Ranger tomorrow.

Smarter, Faster, Easier! That's
our goal and we hope this update will make it easier for you to obtain
the type of results you want in user interface that's fun and easy. 
We're always looking for new ways to help your SEO business run smarter,
faster and easier!  You can contact us by email, or jump into a conversation with us on Facebook or Twitter to share your ideas and requests, or just to say "hi" and let us know if you like these new tools!