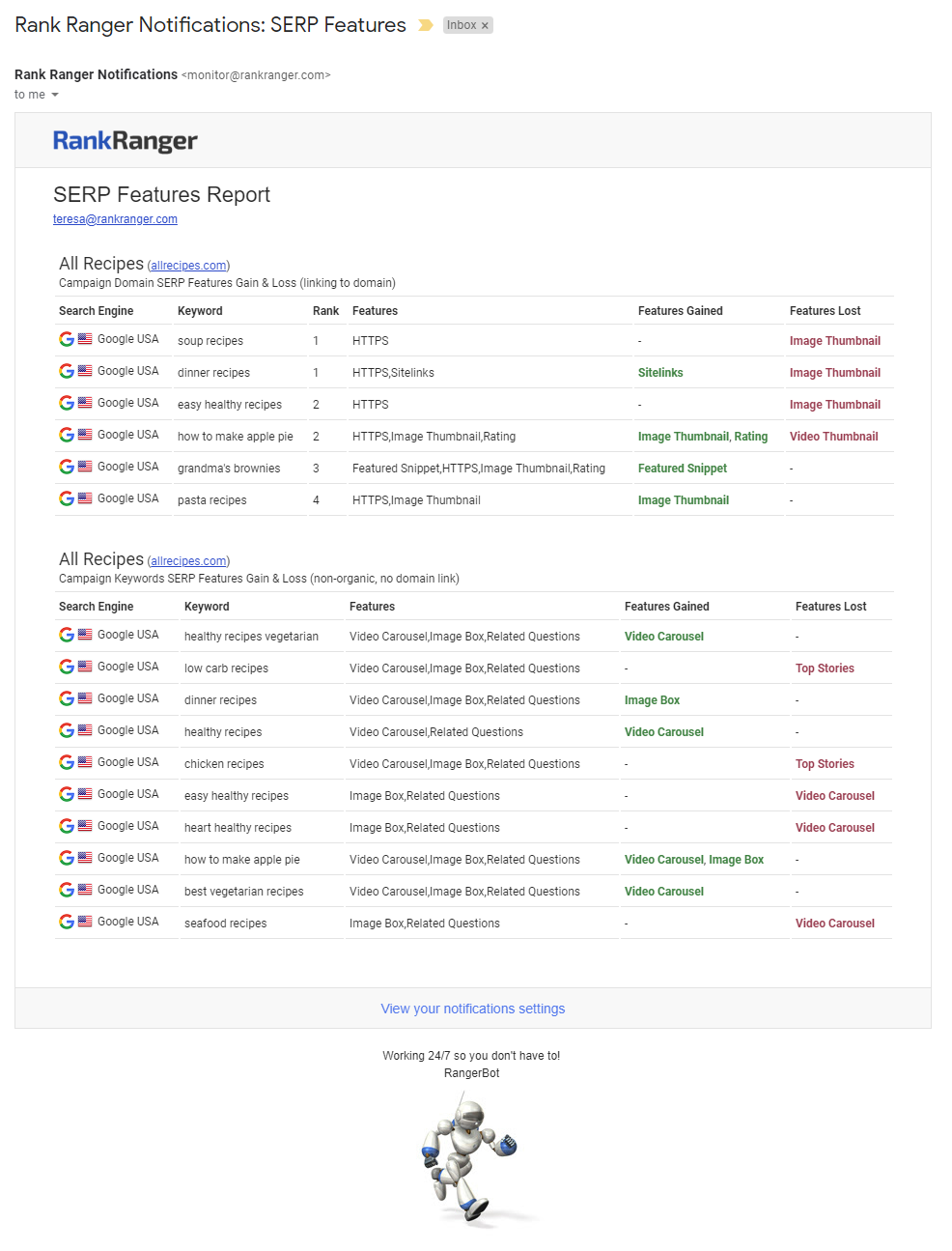 May 15, 2017   |  
Posted by
Rank Ranger
Have you been wishing for a tool that would notify you every time that a SERP feature displayed or changed for your keywords in Google search results?  If so, we have good news for you… easy, no hassle, automated email alerts!! 
Get SERP Features Reports by Email


Quick and easy to set up, the SERP Features Monitor can be scheduled to send daily, weekly, or monthly notifications directly to any email address you'd like.
SERP Features email notifications include a list of SERP features displaying in Google Search for each individual keyword, along with new features gained and other features lost since the previous period.


In this example, the keyword "grandma's banana nut bread" has an Image Thumbnail and Rating SERP Feature today, but lost a Featured Snippet and Breadcrumbs, while "lunch recipes" gained Sitelinks in addition to the Featured Snippet it had yesterday.
You'll find this new alert option in the Tools > Email Notifications section of Rank Ranger. Access this quick tutorial to start receiving SERP feature change alerts.
Export a SERP Features Summary
If you'd prefer a summary of the SERP features scored by the tracked domain and competitors, then our SERP Features Summary export to CSV format is a great option.  With it you'll receive a file that can be opened in Excel or imported into your database or application that contains:


the total number of campaign keywords

the number of times the primary domain displayed in Google top 20 search results with a specific Google SERP Feature for any of those keywords

the total number of times other domains displayed in Google top 20 search results with a specific Google SERP Feature for any of the campaign keywords

the primary tracked site's Domain Share for each SERP feature
Supported SERP Features include:
AMP

Breadcrumbs

Carousel

Featured Snippet

HTTPS

Image Thumbnail

Local Result

Phone

Reviews

Search Box

Sitelinks

Structured Snippets

Video Thumbnail
As Google adds new SERP features and phases out others, our SERP feature options will be adjusted. Learn more about Google SERP Features in our Visual SERP Feature Guide. 
The SERP Features Summary export can be accessed in the Tools > Utilities section of Rank Ranger under Campaign Export.
Analyze Competitor Search Results with SEO Monitor
If you're curious to discover more about the SERP Features that competitors – the ones that you may or may not currently be tracking in your campaigns – have received in Google search results and how they may have changed during the past 30 days, then our SEO Monitor is the best SEO tool for the job.  


Located in the Reports > Research > Competition Analysis section of Rank Ranger, the SEO Monitor graphs the top competitors in search results for the selected keyword and number of results (top 5, top 10, top 15, or top 20).
In this example, the top 10 competitors have been selected and both the number 2 and number 3 SERP position was held by allrecipes.com, which we discover as we scroll down to the SERP Snapshot section.
Learn more about the settings and options in this ultimate competition analysis tool.
Paving the Way for SERP Feature Success
As SERP Features only
become more and more relevant and sought after, so does staying on top
of your, and your competition's, SERP feature performance. Whether it be
through our SERP Feature email notifications, or via our SERP Features
Summary export, Rank Ranger offers you a way to keep on top of your, and
your competition's, SERP Feature performance. Throw the SEO Monitor
into the mix and you have yourself one serious set of SERP Feature tools
to put into your SEO tool belt.