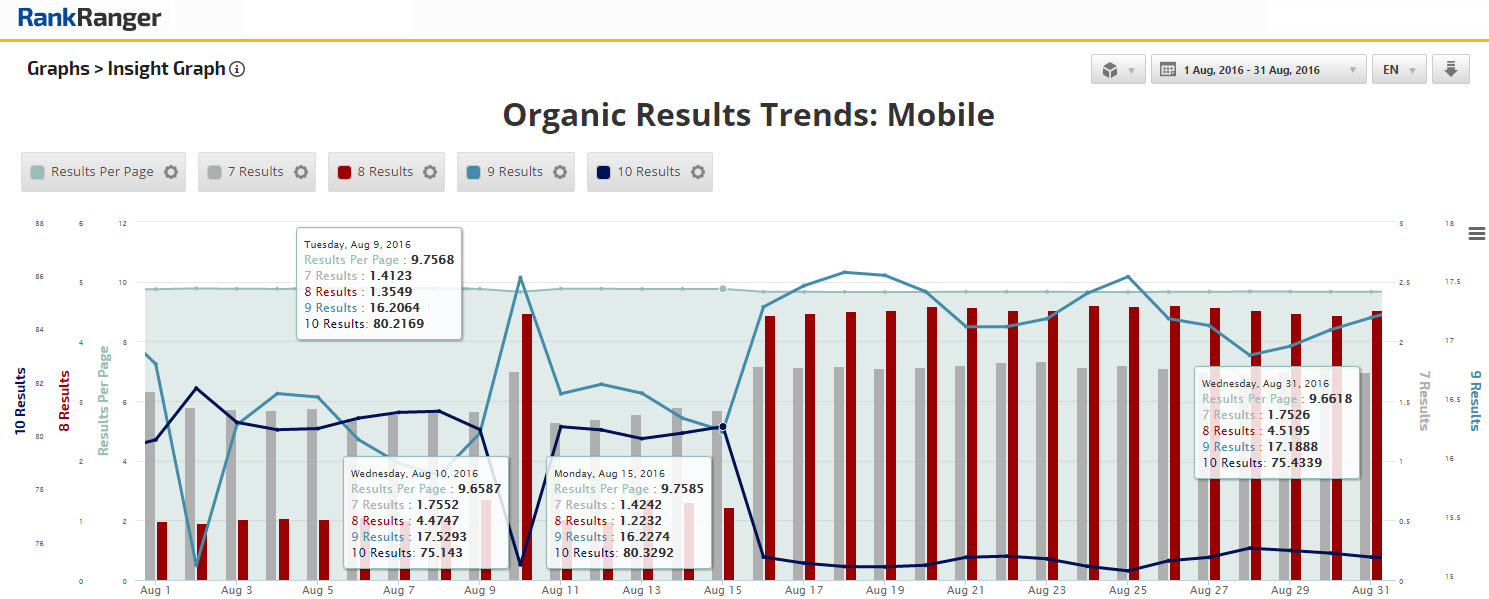 September 6, 2016   |  
Posted by
Shay Harel
August SERP Features: Out with the Old, In with the New, and Then out with New Again
August was a month with SERP news aplenty. In fact, last month had everything you could possibly want, *** summer days, the coming of the school year (a parent's best friend), and a multitude of SERP features coming and going.  At minimum it was everything a SERP Features Tracking Tool would want out of a SERP.  In any event, all of the news and happenings on the SERP last month made for quite a rich SERP experience, so without further adieu may I present to you the very much altered August 2016 SERP. 
The SERP last month was like a revolving door, some features came only to leave, others seem here to stay, while others are gone for good. This is in fact what made last month so unique, as to see so many SERP  feature gains and losses is a bit unusual, it's certainly not par for the course.  

Google Removes Mobile-Friendly Label
Let's begin with the most recent SERP feature movement news, the removal of the Mobile-friendly label. On August 23rd Google announced that its Mobile-friendly label would be removed from the SERP. Google explained the move saying that they "recently found that 85% of all pages in the mobile search results now meet this criteria [of being mobile friendly]." and that the label's removal was part of an effort to tidy up the mobile SERP. True to their word, Rank Ranger's own Mobile SERP Features Tracker caught the disappearance of the label from the mobile SERP just as August was about to leave us. 
Figure 1. The percentage of Page One results presenting at least one Mobile-friendly result drops drastically as the Mobile-friendly label is removed from the SERP


AMP to Enter Organic Results 
If you're saddened by the departure of the Mobile-friendly label, take solace in knowing that your organic results will be gaining a new feature – AMP. While AMP has been limited essentially to publishers within the mobile SERP's News Box, on August 2nd, Google made public that a page's AMP status will now appear within organic results. Google has made it clear that AMP is not a ranking factor – as of now. While Google is saying that AMP per se is not a ranking factor, speed is, page speed that is. An AMP optimized page loads four times as fast as its "un-optimized" counterpart. I was never that great at math (though ironically I taught the subject, go figure), but I know enough to say that a + b = AMP indirectly impacts rank. 


Google Adds Tic Tac Toe and Solitaire to the SERP 
August saw Google playing games with us… literally. AMP was not the only thing Google announced would enter the SERP. On August 25th the search engine announced and indeed rolled-out the ability to play Tic Tac Toe and Solitaire right on the SERP. What am I talking about? OK, stop whatever you're doing (which is obviously reading this), go to Google and type in Tic Tac Toe and enter into 4th grade heaven once again… Now that you're back (I'm estimating a good 20 minutes later), you'll have noticed that yes, you can play Tic Tac Toe right on the results page (playtictactoe.org must be wondering why their traffic has fallen off a cliff since the 25th). 
Figure 2. Google's SERP now offers the ability to play games such as Tic Tac Toe directly on the SERP 


Phone Icon Moves Beyond the USA 
Phone Icon, an exclusively mobile SERP feature entered a new market last month. The feature that allows you to call an establishment from within a mobile organic result via a gray phone icon was until now solely relegated to the United States. All of that changed between August 8 – 10 when the feature began to display in earnest in Canada as well (until then the feature would appear as part of a one or two day test, and even then only at the most minimal of levels). 
Figure 3. Google's gray phone icon rolls-out in Canada appearing in roughly 1.5% of Page One results 


Google Olympic Games SERP Feature 
Google went for the gold last month by introducing one of the most unique SERP features I've ever encountered. In order to help fans of the Games in Rio keep track of events, Google launched an impressive "new" Olympics SERP feature that tracked events, countries, athletes, sports, medal counts, etc. The feature was unique in that it functioned on desktop like a mobile Knowledge Panel, but with deeper information capabilities. 
Figure 4. Google's Olympic Games SERP feature on desktop displaying mobile Knowledge Panel functionality 


Although the Olympics are over, the feature still appears when entering queries related to the 2016 Olympics, but does not contain live and continuously updated content. As such, we wrap up August's SERP additions and removals with the feature that was added, but removed for all intents and purposes. After all, what is an Olympic-sized SERP feature without the Olympics? I would go into more detail on the feature, as it is quite novel and presents interesting implications, but I have already discussed the feature in-depth upon its release and in the context of Knowledge Panel functionality. 
SERP Feature Data Trends for August 2016 
With the SERP having undergone so many alterations via new and lost features it's easy to forget cold, hard SERP features data. While not as drastic as July's SERP data trends, August had its own share of SERP features data drama.
August SERP Fluctuations 
July saw some unprecedented SERP fluctuations that had some folks, myself included wondering if an undisclosed algorithm update had occurred. August, relatively speaking, was a quiet month for SERP fluctuations. Though quiet, the month did have a "fluctuation event" as the month rolled in.  In specific, the Rank Risk Index, measuring SERP fluctuations, saw an early month, multiple day, spike on both desktop and mobile. Some in the industry speculated that the fluctuations were a reversal of the "update" Google made in July.   
Figure 5. August 2016 desktop and mobile SERP fluctuations as presented on the Rank Risk Index
Changes in Organic Results on Mobile
Though the fluctuations noted above seemed to be significant based on industry chatter, the SERP features themselves did not show much movement. The one noticeable exception were the number of organic results displaying on Page One of the mobile SERP. 
July saw organic results on mobile take a step away from traditional behavior with 9 organic results spiking while 10 results dipped. In conjunction with the early August SERP fluctuations, the average number of Page One organic results on mobile returned to more traditional levels with the percentage of results showing 9 organic links falling over 2 percentage points while the percentage of results pages showing 10 organic results jumped over 2 points.
Figure 6. Organic results on mobile undergo a lasting mid-month shift
The changes in the number mobile organic results were not limited to the beginning of the month. Between August 9th and 10th the percentage of mobile Page Ones showing 9 organic results spiked again while the percentage showing 10 results dipped roughly 5 percentage points. Parenthetically, this data occurrence coincided with raised mobile SERP fluctuations as seen in Figure 5. However, by 11th the data returned to its previous pattern. That is until August 15th arrived. On the 15th we saw the beginning of yet another rise in the percentage of Page One results showing 9 organic results and a dip in those showing 10. By the time the 18th rolled around, 10 results saw an approximate 5 percentage point decline while 9 results saw close to a 1.5 percentage point increase.  
The percentage of Page One results on mobile showing 9 and 10 organic results were not the only organic numbers to shift. On August 10th there was a one day uptick in both 7 and 8 organic results, with 8 results showing an unheard of 3 percentage point jump. What's more is that the same shift occurred again the 16th, simultaneous to the shift in 9 and 10 organic results. The most interesting facet of this organically shifting story is that neither 7, 8, 9, nor 10 organic results shifted back to their normal data patterns. By August 31st, this new organic results trend was still in effect. 



Uptick in HTTPS Results 
No month would be complete without addressing at least one SERP feature data change on desktop. Though, to be honest, this one was on both desktop and mobile (it counts anyway). Starting on August 9th, the SERP Features Tool caught HTTPS taking a nice uptick, one far steeper than the feature usually sees. Between the 9th and 14th there was a solid two percentage point increase in the number of Page One results showing with at least one HTTPS site. The same held true on mobile, where the there was a roughly 2.5 percentage point increase. 
Figure 7. HTTPS on both desktop and mobile show a significant uptick that began on August 9


You might say that this doesn't sound like much of an increase. Well, everything is relative and this increase had the SEO community asking Google if it boosted the ranking signal for HTTPS. As an aside, Google quickly laid the theory to rest when Gary Illyes responded with a simple "no" on Twitter. 


Plenty of Changes on the SERP for Everyone
Whether you're a sports fan or just like to play cards, there was something on the August SERP for everyone. Which sporting event will Google show its deep Knowledge Panel for next? What card or childhood game will you be able to play right on the SERP next month? 
On a more serious note, though your website's rankings may not have changed, with all of the organic shifts on mobile are you still on Page One? As the mobile SERP continues to show increased preference towards 7, 8, and 9 organic results how many of you ranking in position #10 in the organic results will still be listed on Page One? 
As always, I look forward to hearing your insights and answers!