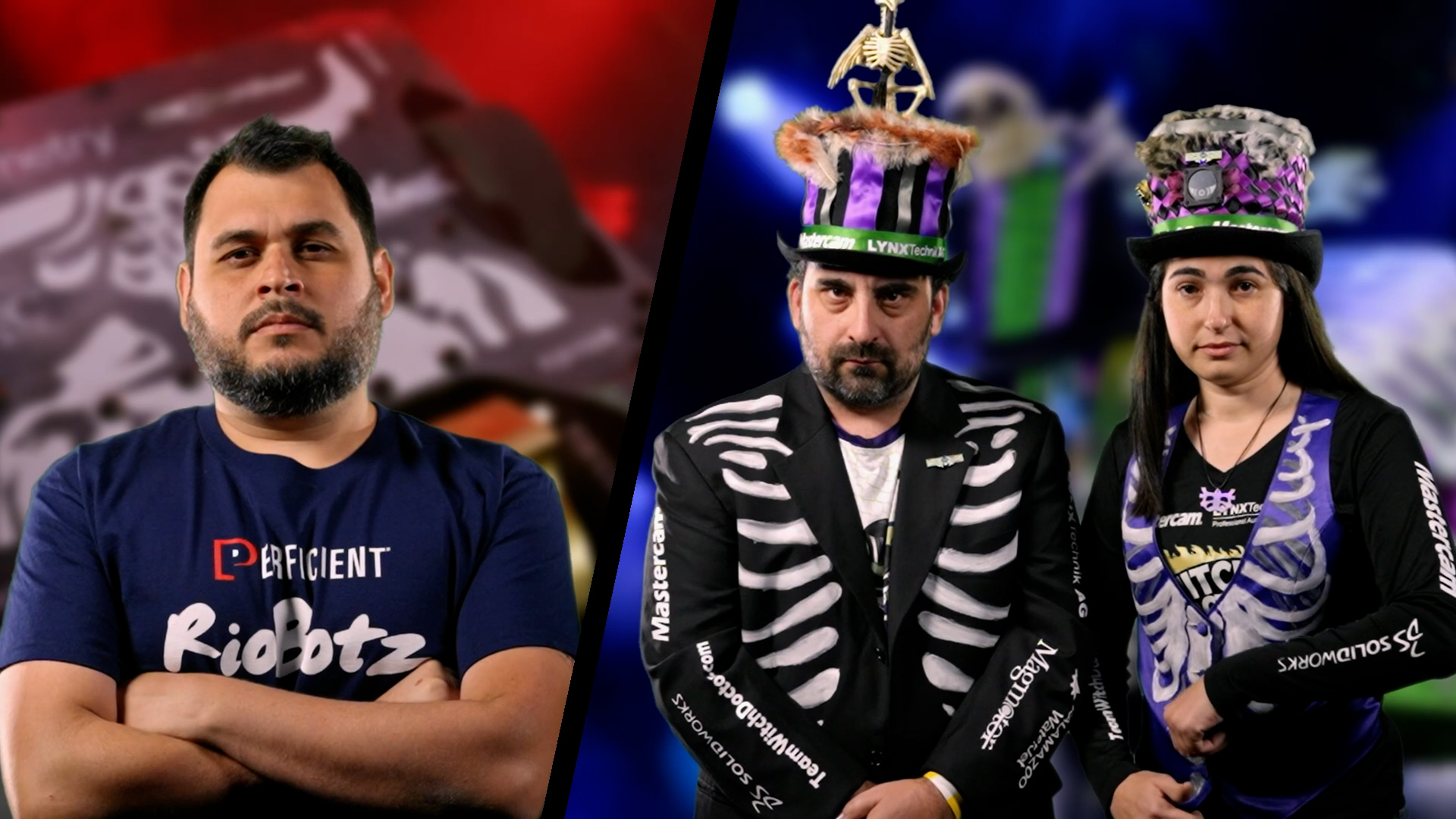 After taking a well-deserved break, Minotaur returned to the BattleBots arena on April 27 ready to fight with renewed vigor. It was Minotaur's fourth and final appearance in the qualifying round, and the stakes were high to keep its undefeated season intact. That would prove to be no small feat as Minotaur was set to face none other than Witch Doctor.
READ MORE: A Look Back at Our Favorite Moments From This Season So Far
These two robots have a complicated history. Minotaur and Witch Doctor have gone head-to-head twice before, with each one securing a win. However, during last season's face off, Minotaur lost by a controversial judges' decision that ultimately led the committee to change the rules moving forward. This loss resulted in Minotaur being knocked out of the tournament, so needless to say, the rematch this season was going to be one to watch. BattleBots even slated this battle as the most anticipated rematch in BattleBots history.
Minotaur and Team RioBotz with their expert driver, Daniel Freitas, entered the ring with razor sharp focus and the aggression of a bull on a mission for redemption. The battle kicked off with high energy at a fast pace as both teams took an offensive approach going tit-for-tat the entire time. Minotaur's smaller ****** positioned lower to the ground was able to get underneath to tear up the front wedge and rip the forks off Witch Doctor. The opponent was also able to get in some power shots and huge collisions sending Minotaur flying across the ring. However, Minotaur fought back by pinning Witch Doctor up against the wall twice to show domination and control. The raging bull was charging and didn't let its opponent out of sight.
Towards the end of the three-minute battle, both robots suffered compromised mobility and *******. Despite the heavy combat, Minotaur and Witch Doctor were still functional, turning it over to the judges for a final decision and sparking a moment of déjà vu. In a unanimous decision, the judges decided in Minotaur's favor!
Minotaur fans and Perficient colleagues celebrated the win together:
"Awesome!! It was a nail-biting situation." Vasanthabalan Arumugam, Talent Acquisition Specialist

"Loved that match. You could feel the emotion." Liz Stuart, Alliance Director

"I was on the edge of my seat last *****. I got nervous when Minotaur went flying across the arena but even with the mobility issues, they were still the clear winner for me. And the judges. Jennifer Rostal, Director

"Woot Woot Go Minotaur!" Bob Kwait, Senior Project Manager

"I was getting nervous towards the end when Minotaur was hanging out over the blades that come out of the floor. I felt like my dad yelling at the TV during sports events. I kept telling Minotaur to move off of that spot! Deborah Francis, Accounting Manager

"What a great fight! Go Minotaur Go!" Patrick Bindy, Software Developer
Minotaur had Witch Doctor all figured out! Great episode @BattleBots 💯 #TeamMinotaur pic.twitter.com/2JfO9JpSO0

— Perficient (@Perficient) April 28, 2023
Minotaur displayed superior aggression and control throughout the battle and got the redemption it was looking for. This marked Team RioBotz and Minotaur's fourth win of the season, earning themselves the coveted #1 overall seed of the tournament. It is Minotaur's first time placing as the top seed and a huge accomplishment to add to the team's excitement.
Minotaur has continued to prove it is a force to be reckon with in the competition. Minotaur has gotten further in the competition every season, but it's still looking for its first Giant Nut Trophy. As the #1 seed, Minotaur will have an easier path toward the ultimate victory. Minotaur will compete against Fusion, #32 seed, on May 11 at 7 p.m. CT on Discovery and streaming on Discovery+. Perficient's Minotaur fans have been rooting for Minotaur every step of the way, and we can't wait to continue following along in Minotaur's journey to hopefully see history be made!
In case you missed the battle or just want to relive the excitement, you can watch the battle shared by Discovery on Facebook here.
---
It's no secret our success is because of our people. No matter the technology or time zone, our colleagues are committed to delivering innovative, end-to-end digital solutions for the world's biggest brands, and we bring a collaborative spirit to every interaction. We're always seeking the best and brightest to work with us. Join our team and experience a culture that challenges, champions, and celebrates our people.
Visit our Careers page to see career opportunities and more!
Go inside Life at Perficient and connect with us on LinkedIn, YouTube, Twitter, Facebook, TikTok, and Instagram.