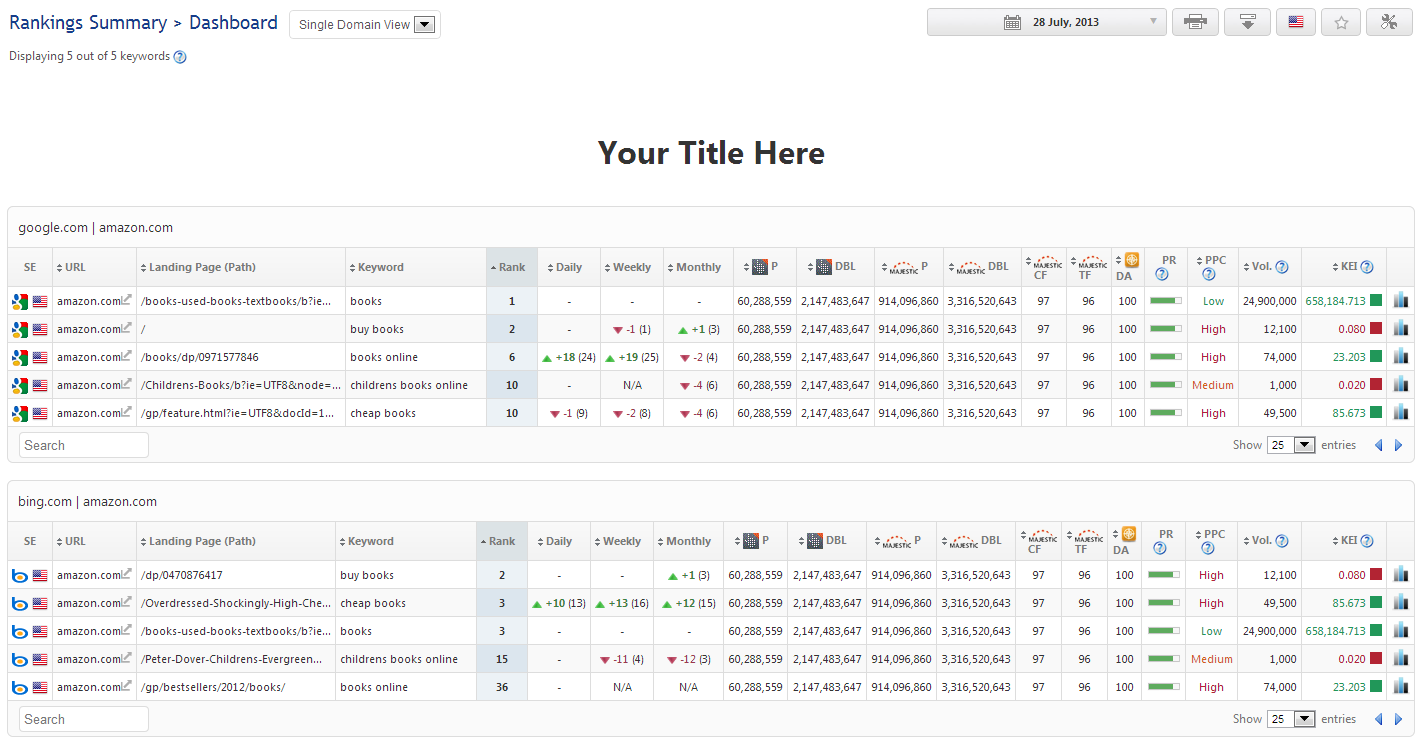 December 17, 2012   |  
Posted by
Rank Ranger
Our staff has geared up to help SEOs who need to quickly get their data migrated from Raven to Rank Ranger so you can get on with the business of providing top notch services to your clients.
We've heard that Raven users are concerned about the features they've grown accustomed to, so in this post I'll provide you with a high level outline of some of Rank Ranger's key SEO, PPC, Metrics and Reporting tool features.
SEO Rank Tracker reports daily rankings for your tracked keywords and is core to Rank Ranger SEO tools.
Campaign Management is simple and efficient with Rank Ranger's SEO Dashboard – a highly customizable platform offering you a combination view of:

SE, Keyword, Domain, Landing Page and Keyword Rank with Daily/Weekly/Monthly change for your domains and those of your competition

Ahrefs

Indexed Pages and Domain External Backlinks

MajesticSEO

Indexed Pages, Domain External Backlinks, Citation Flow and Trusted Flow

SEOMoz

Domain Authority

Google

Exact Monthly Search Volume, PPC Competition and Page Rank
Location Data: more than 400 Local and International Search Engines are supported. Results can be measured using your choice of Normal, Duplicate or Sub-directory methods to ensure the most accurate results.
Local Ranking enables you to track site rankings in Google's personalized results by selecting a few custom parameters.
Market Share: Rank Ranger details the number of visitors each of your keywords has brought to your and your competitors' websites, and whether these were PPC or organic visits.
Metrics: 3rd Party Integration from trusted sources including Google Analytics, Google Webmaster Tools, MagesticSEO, Ahrefs and more.
Tracking and Research Reports & Graphs are highly customizable providing you with the data you want in the format you want to receive it.
Reporting:
White Label Reports

: brand with your logo, select the parameters important to you, include multiple sub-reports, add text boxes introducing or explaining a graph or report, and have custom white label reports automatically sent to your email address so you can share with your clients.

Ranking and Landing Page Alerts

can be created and embedded into Custom Reports.

Export Reports to PDF, Excel/CSV, Word or HTML

formats on the fly and/or scheduled (according to your preference).
XML API is available and allows you to customize and integrate our databases into your own web and mobile applications and platforms.
Competition Intelligence: Rank Ranger monitors the entire competition of your keywords and reports on the top 100 competitors that have influence on the SERPs, helping you identify threats to your SEO ranking by spotting new competitors as they climb in the search results and singling out those whose rapid advance indicates they are particularly threatening to your position.
Modular Package Options allow you add campaigns and expand your account as needed.
Our goal is that Rank Ranger will help you work Smarter, Faster and Easier – register for your free trial to experience just how simple to use, yet professional, Rank Ranger's SEO Rank Tracker and other SEO software tools are. Please contact our Support Team if you have any questions.