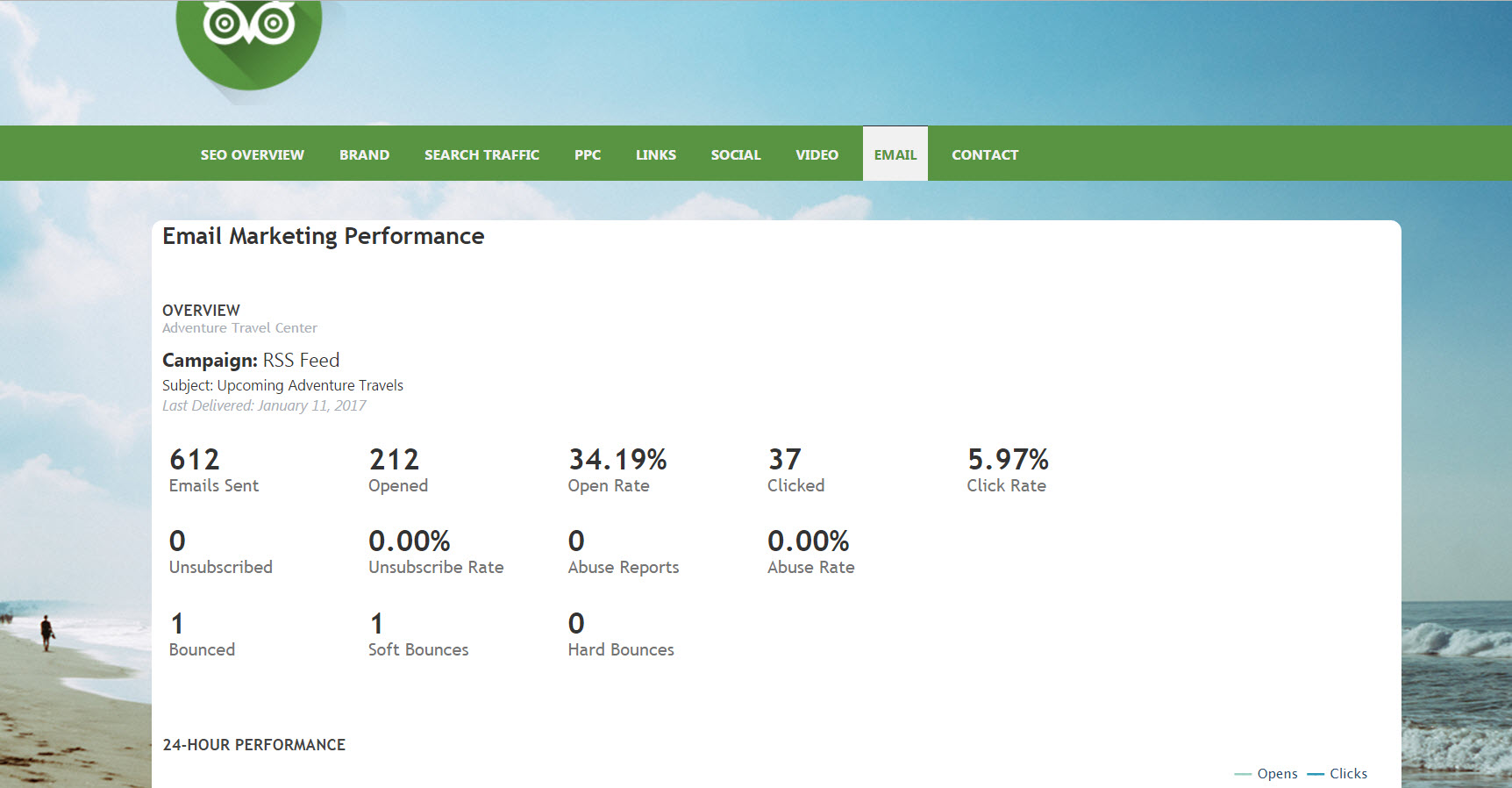 February 1, 2017   |  
Posted by
Rank Ranger
Email marketing, while perhaps often not put in the same spotlight as other aspects of digital marketing, has seen an industry awareness resurgence. As of late, industry leaders have begun to reemphasize the importance of a sound email marketing strategy. In an effort to always ensure that our users have access to a broad and comprehensive range of digital marketing tools and reports, Rank Ranger now offers a MailChimp integration. Widely considered to be a leader in tracking and measuring email marketing campaigns, MailChimp offers a pervasive set of email marketing data that can now be inserted into any of our white label reports and accessed directly in the Rank Ranger platform. With this, our latest in a long list of third party integrations, Rank Ranger continues to enable our users to effectively track and manage the progress of their digital marketing and SEO campaigns.

MailChimp Email Marketing Insights 
To help our users efficiently see their MailChimp metric data, and as such track their email campaigns, we've developed the MailChimp Overview Report. The elements of the report, in their totality, are designed to offer users an extensively expeditious look at the performance of their email campaigns. Further, and most uniquely, the elements within this report lend themselves to inclusion within our white label reports and dashboards.   
MailChimp Metric Data Survey
The MailChimp Overview Report, true to its name, presents an initial numeric survey of the essential data metrics found in MailChimp.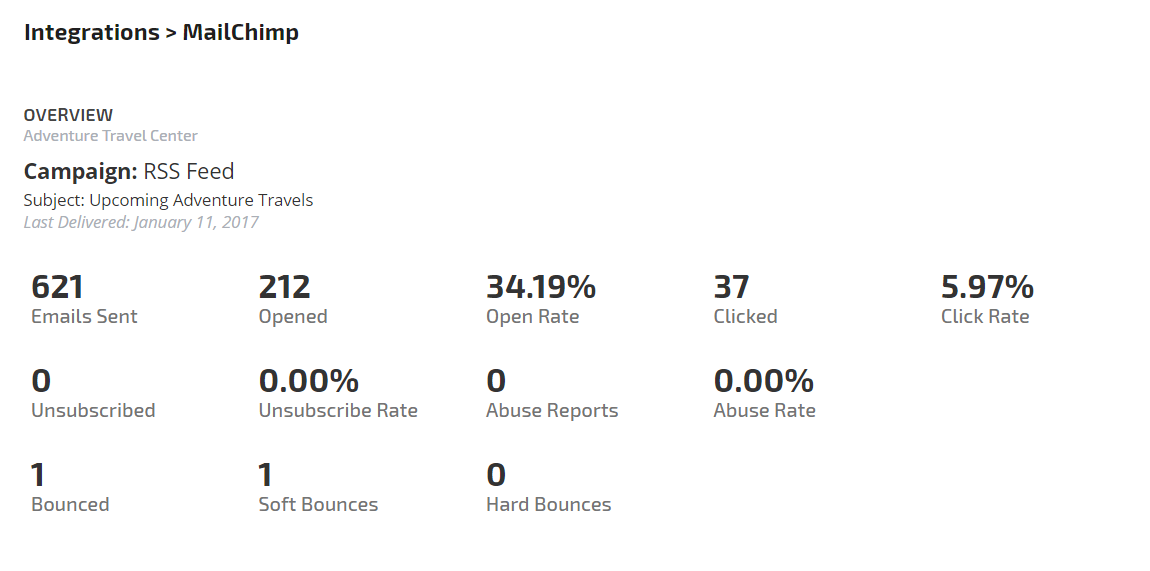 A survey of email campaign data displayed on the MailChimp Overview Report

Here, users can gain insight into the overall performance of their most current email campaign. To this extent, this element of the report includes data related to how users interacted with the email, as well as information related to email delivery (i.e. soft and hard bounces).  Specifically, the overview section includes the following metrics:
Total Emails Sent 

Email Opened

Open Rate

Clicked 

Click Rate 

Unsubscribed

Unsubscribed Rate

Abuse Reports

Abuse Rate 

Bounced 

Soft Bounces

Hard Bounces 

Hour-by-Hour Email Tracking 
Appending the numeric data within the Overview section of the report is the 24-Hour Performance Graph. The graph presents a 24 hour data snapshot of both the Opens and Clicks metrics within MailChimp. Offering an hour-by-hour breakdown of an email campaign's opens and clicks within the first 24 hours of its release, the 24-Hour Performance Graph, with its hover feature, presents telling email campaign metrics in a graphically enhanced manner. 



A hover shows the number of opens and clicks an email received at a specific hour 
Top Links Clicked Tracking
Tracking the most clicked links within an email, the Top Clicked Links element of the MailChimp Overview Report enables users to track the clicks the links embedded within an email received on a per link basis. Enabling users to procure email embedded link insights, the Top Clicked Links report element displays actual live links for user convenience. 

The Top Links Clicked report element displaying the number of clicks per embedded link in tandem with live links 
Interactive Map of Email Opens by Geo-Location 
The Locations by Open Map is the MailChimp Overview Report's last data element. The interactive map feature allows for deep data insights to an email campaign. Via the map, users can hover over and highlight any country in the world. Doing so brings up a hover data box that indicates the total number of Opens that occurred in that country for the most recent email campaign.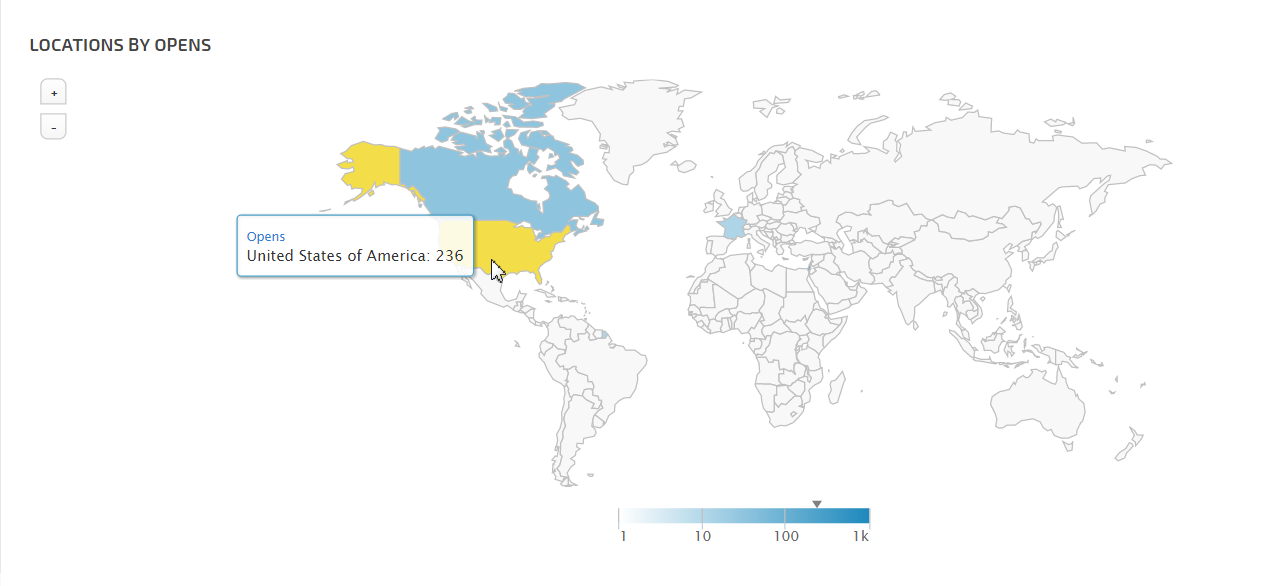 The number of opens an email received within the United States displayed via a data hover on the Locations by Open Map report element 
For greater data and navigation efficiency, we've afforded each country where an Open has occurred, a progressive color shading. That is, the color shade within the countries darkens in relation to the number of Opens that occurred within a specific country. A country with more Opens than another will have a darker shade, while a country with no Opens will have no shade of color at all. 
Share Your MailChimp Campaign Performance in White Label Reports 
The integration of MailChimp data into Rank Ranger becomes uniquely relevant for those users seeking to show such data within the context of a white label report. To this extent, Rank Ranger offers such users three pertinent white label options with which to accomplish such a task.
1) Altogether congruous for those conducting email campaigns, our automated PDF reports enables users to insert MailChimp data within a custom scheduled PDF report that can be sent to multiple email address simultaneously. This option affords users the ability to insert a cover page to display a custom logo and text boxes that allow for direct communication with end-users.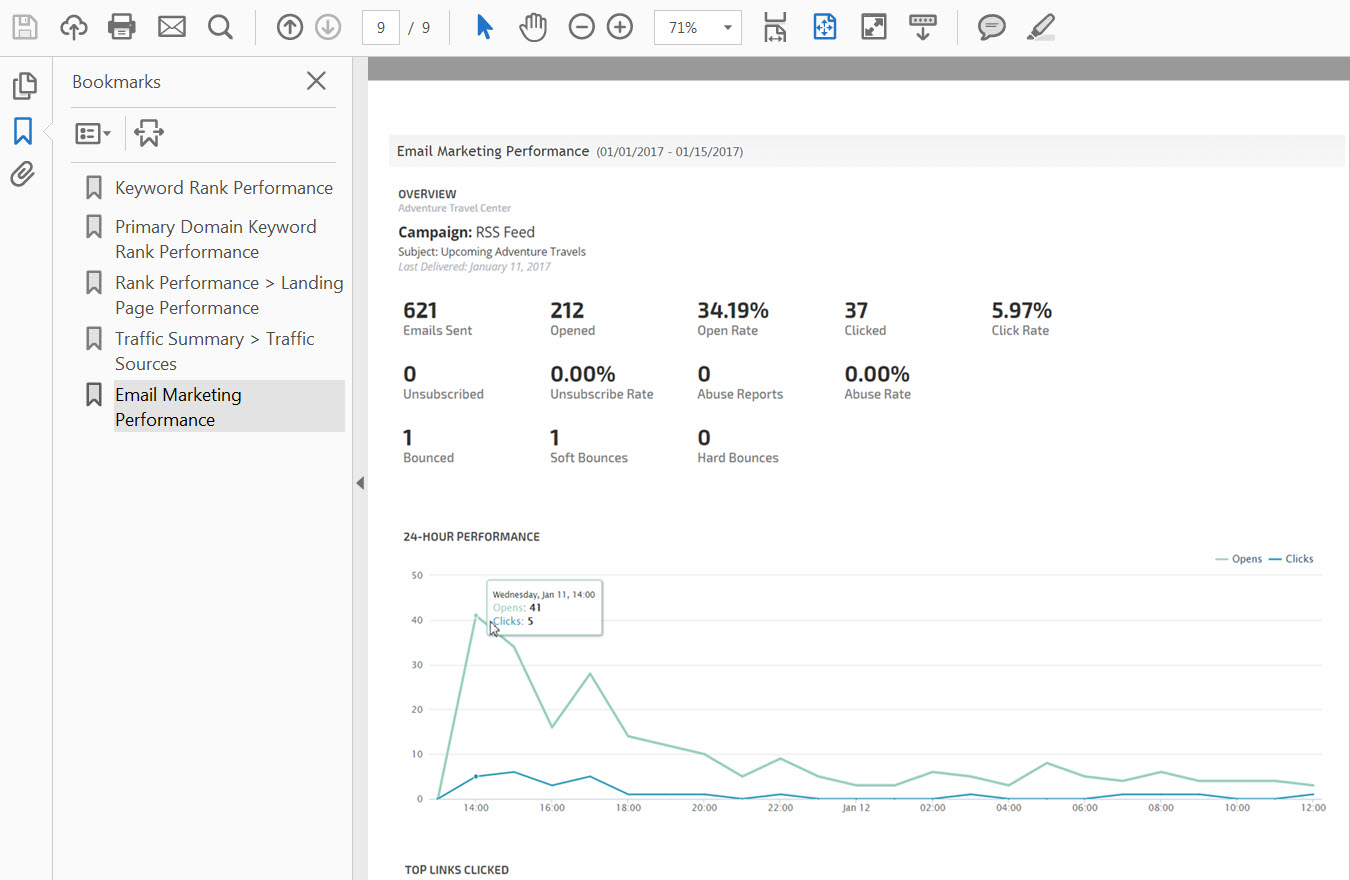 MailChimp reporting shown within a white label PDF report 

2) As opposed to emailing MailChimp data within white label reports, the Client Dashboard provides users with an online white label reporting option. The Client Dashboard affords users the ability to present active data MailChimp reports under a custom logo. Further, the Client Dashboard can be shared with an end-user via a secure and custom URL (custom domain services are also available). 
3) Our newest white label option, the Marketing Dashboard presents users the ability to show MailChimp within a 100% white label context. With full access to the dashboard's HTML and CSS, users can replicate the look and feel of either their own, or their client's website. Combining the best of both the Client Dashboard and PDF reports, the Marketing Dashboard presents active data along with the ability to insert text boxes to foster enhanced communication. Also, the dashboard allows users to supplement their MailChimp data with custom interactive content that can be embedded into the dashboard itself. Here too, the dashboard can be shared via a secure and custom URL with a custom domain option being available as well.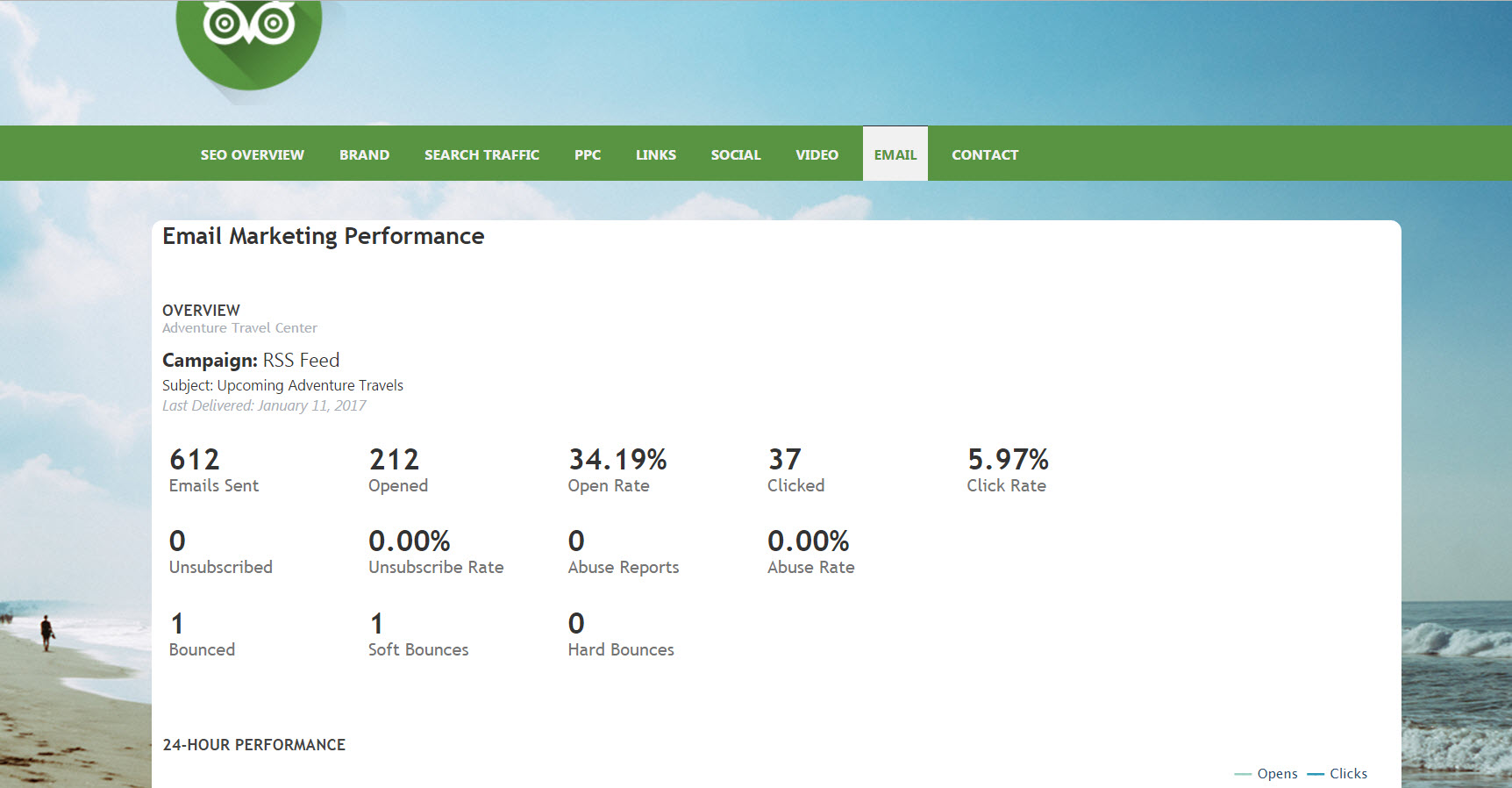 Data from the MailChimp Overview Report within the white label Marketing Dashboard 
Custom MailChimp Metrics Report Options 
To help our users effectively display their data, or include it within our white label reports, (and per Rank Ranger tradition), we've included a series of custom options and abilities. Firstly, users can select a custom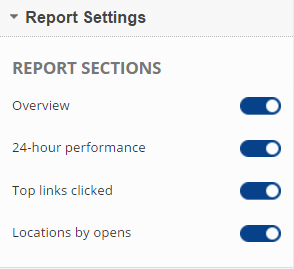 report start and end ****. Also, and if so desired, users can enter a custom report title to the MailChimp Overview Report. To further enhance the custom data display abilities users are afforded, we've made it simple to either include or exclude any data element the report presents. As such, users can engage a toggle switch to either display or hide the Overview, 24-hour Performance Graph, Top Links Clicked, and/or the Locations by Opens Map report elements. The ability to custom display data elements is particularly pertinent to gearing white label reports towards specific end-users. 
Infinite Integration Ingenuity
We've committed ourselves to offering you more in 2017. More reports, more options, and most definitely more third party data integrations. So far so good, three integrations in the last 30 days is no small feat, but it's nothing compared to what's on the horizon. If you're a fan of Bing Ads, Zapier, and Adobe Analytics then stayed tuned, because these integrations (and more) are coming to you in the not so distant future. We're on an integration roll these days that shows no signs of slowing down. All aboard the third party data integration train!