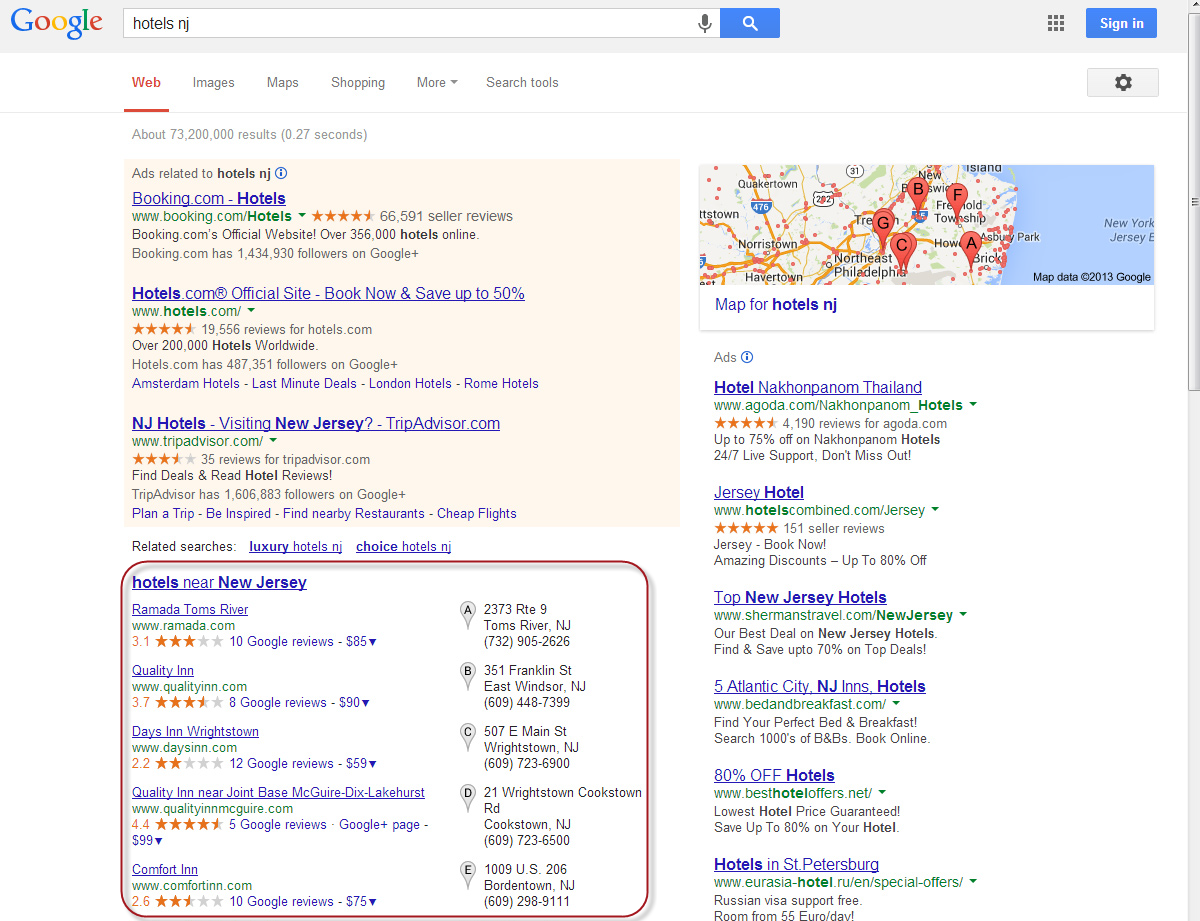 October 28, 2013   |  
Posted by
Rank Ranger
We've been bombarded lately with questions about local results tracking, so here's the scoop… Google Local results – such as Google Places/Maps results that appear in between universal results, carousel results or just Google Maps results – are supported by Rank Ranger.
Local Results Block vs. Carousel vs. Google Maps
Figure 1: Google Local Results Block
Figure 2: Google Carousel Results display up to 20 places
Figure 3: Google Maps Results
Using Normal rank tracking mode, the local results in the above examples would not be considered and counted in your search engine results, however, Rank Ranger provides two local results options that you may select from depending on the type of results you desire.
Track Universal Results (Web Search)
You can track Google.com, Google.co.uk, etc. for universal results and choose whether or not you would like to include Google Places results in the count. Simply select any Google search engine and check the Hybrid ranking option (instead of Normal ranking) and Rank Ranger will consider and count the non-traditional SERP (such as Google Local enhanced results) along with Universal results in the count.
Figure 4: Normal vs. Hybrid Mode


Track Local Results Only (Maps Search)
You can track local results separately and/or as the places that appear in Google Maps search, or as seen in the carousel that displays at the top of universal results in a regular Google search. Simply add Google Places as one of the search engines in the Campaign Wizard Search Engines tab and your reports will include only local results (refer to Campaign Setup documentation).
Figure 5: Select Google Places
Optimize Your Keyword Format
Whether you choose to track Universal or Local-only results, we recommend that you tailor your keywords in this format: Keyword + geotag (city, state and/or zip code for the location).   For example, if you need to know where "guitar shop" ranks in Chicago, Los Angeles and Dallas,  your keywords could include "guitar shop Chicago", "guitar shop Los Angeles", "guitar shop Dallas", etc.  
Need more information?
Smarter, Faster, Easier! That's our goal and we hope this information will make it easier for you to obtain the type of results you want.  We're always looking for new ways
to help your SEO
business run smarter, faster and easier!  You can contact us by email, or jump into a conversation with us on Facebook or Twitter to share your ideas and requests, or just to say "hi" and let us know if you like this new feature!