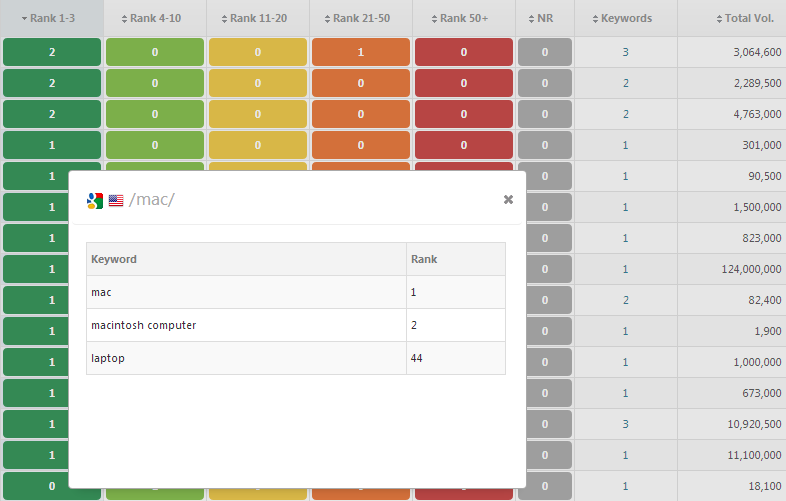 May 14, 2014   |  
Posted by
Shiri Berzack
Tracking performance of a website's landing pages can be a challenging task, and it is becoming increasingly more important to track where your keywords are sending customers as well as which pages users are sharing around the web. That's why we have expanded our Landing Page Performance report features to include rank distribution, social metrics, backlinks and analytics – giving you all the landing page information that you need, in one report. 
Rank Distribution

In one view see the performance of an exact URL as ranked for your
keywords. Click on the page string to see the exact keywords you are
ranking for and their individual rank.
Track Social Signals

Track social metrics from Twitter, Google+, Facebook, LinkedIn, Pinterest, StumbleUpon, Reddit and Delicious for a unique landing page. You don't have to limit yourself to top level domain statistics anymore, with this unique Landing Page Performance report you can analyze social impact of a specific web page.

Your SEO Backlinks
View metrics from MajesticSEO and Moz for your pages, giving you a
perfect overview of where your backlinks are falling short or are top
performers.
Landing Page Traffic
By linking your Google Analytics account to your Rank Ranger profile, you
will be able to see the number of visits to each landing page. For a more detailed understanding of page visits, the report provides Organic Traffic in one column and All Traffic in a separate column.
Questions?

Which landing pages does Rank Ranger check?


1. Rank Tracker results: all pages that are found in the search engine results for keywords that are tracked in your campaigns.
2. Link results: all the of source URL backlinks you track with our Link Manager.
How often does Rank Ranger checks these metrics?

Rank Ranger refreshes the data for all of these metrics weekly. But our Rank Tracker continues to track rankings on a daily basis!
Do I need to pay extra for this? Do I need an additional account for one
of the resources that you are pulling data from?

No and No! These features are included in all Rank Ranger packages at no additional cost.
It's time to take charge of your landing pages, not just your domain, and
this is the perfect report to help you get there.