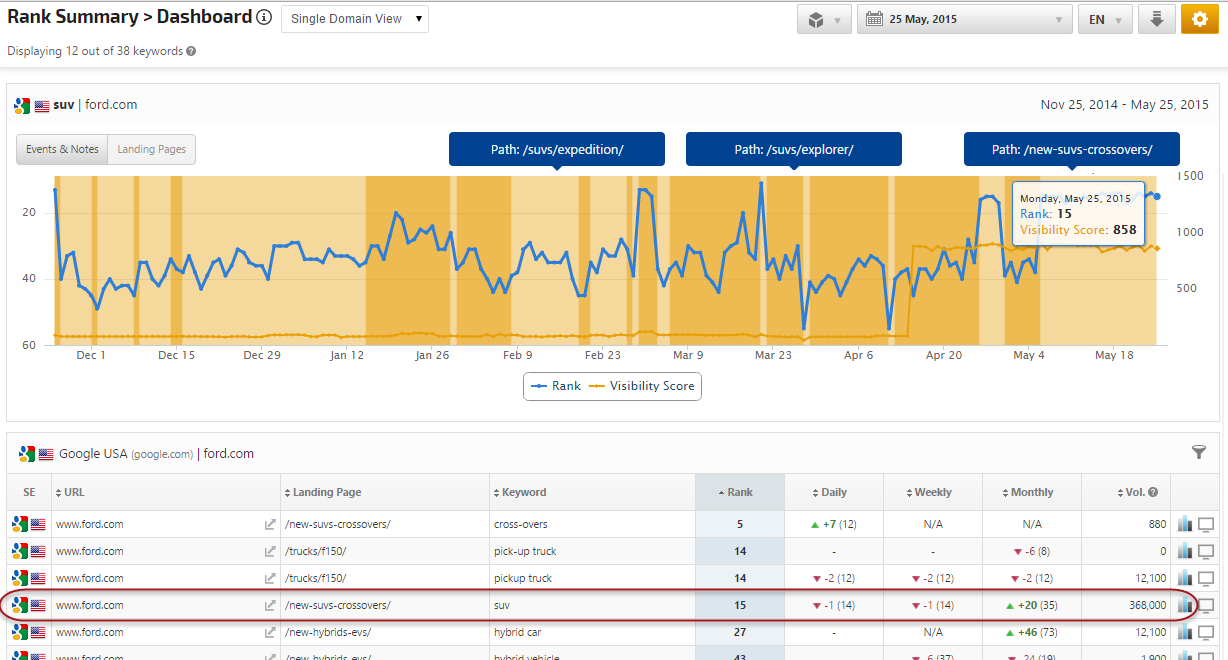 June 4, 2015   |  
Posted by
Michael Lerner
Often Google Search Results will include links and descriptions that are not for the target page you intended your audience to reach as the result of a search.  That landing page may not be optimized for conversion and therefore can lead to higher bounce rates and less time spent on the site, both detrimental to rankings.
Keywords and keyword phrases like "sushi in London" or "SUV" take visitors to a page of SERP results.   These results lead to different landing pages in websites, not just sushi.com or ford.com, more like sushi.com/london-restaurant (for example) or ford.com/suvs/explorer.   Haphazard web pages in your site can easily turn up in SERP results.   Especially when keywords are not focused, branded or geo-located, the user might not be referred to the correct page in the website.   This can cause visitors to bounce off of your site, and leave you without a successful conversion. And that bounce rate can be bad for your site SERP position and ranking, for that keyword, and for your other keywords.   This landing page, could be anything in the site via organic search.
Our Rank Tracker Dashboard, gives an example of what we call Landing Page Flux.   In the website, Ford.com, and the keyword SUV, over the period of the past six months, for the keyword suv, Google has led visitor sessions to three or four different inner pages of ford.com.
Landing Page Flux on Google Organic Search for Ford.com
One of the landing pages for the keyword suv, www.ford.com/expedition – shows a large header with a detailed page about the Expedition.   However, if you look at the page more in depth, the keyword suv is only mentioned one time on the page, in the contents of a navigational tab, and in the URL.   But behind the scenes suv is optimized in the page source code with over 200 mentions of suv.
Optimizing Keywords for Ford.com
The second landing page you find in the SERP for the same keyword is Ford.com/suvs/explorer.   Again SUV is mentioned only once in the URL, and as a page link.   The SEO at ford.com has paid attention, SUV has a huge search volume of 368,000 queries per month.   The current result landing page, ford.com/new-suvs-crossovers/  has eight mentions of SUV in the page content, including h1 and h2 title tags.  After six months of Googlebot testing the source code, CTR and other metrics, Google has decided to use this landing page in SERPs for the past three weeks.
Landing Page Flux settled on Ford Crossover & SUVs page
Google even found an offbeat blog post about 4-wheel-drives that it posted for one day.  Rankings bounce around 20 to 30 positions, from position 40 to position 15 in the SERPS.
In the algorithm Google uses to match keyword queries to SERP result landing page, we have seen four landing pages for one keyword, suv, over a 6 month period.   This is not the way most SEO marketers would probably want to see their site handled. But Google is unquestionably in charge of results at google.com.    The only page that is more optimized for SUV, is the new-suv-crossover page, and that's where Google has ranked ford.com/new-suv-crossover the highest.
In mobile searches Google has also tested landing pages for mobile devices, currently suvs/explorer and a week before /new-suvs-crossovers/ the opposite direction that desktop searches have gone.    See the Rank Ranger Search Engine Summary below for the SE Google Mobile.  
Mobile Landing Page Search Results
Notice in the Daily Breakdown comparison between Organic and Mobile rank below that organic and mobile are serving different landing pages on many days for the same keyword and when the page is the same, the ranking can be different.
Comparison of Organic and Mobile Rank for Landing Pages
Google's John Mueller mentioned in his June 2 Webmaster Central Hangout that the Landing Pages that turn up on SERPs "kind of depends on the query" that was entered in the search. He stated that "context" is the most important issue determining a landing page, that the query of what people are searching for matches the context of what the page's information contains.   Specifically, John was speaking about a page that has an embedded photo with a different url than the webpage as a whole.   What url would turn up in the search?   The photo's URL at Flicker or Picasa, or the site's URL.   John said if the information on the webpage provides a better context for the search query, that's an important indicator that the site page, not the picture page will turn up in SERPs.
Rank Ranger's On-Page Keyword Optimization tool reports on elements of context based on the keyword (equivalent to a search query).  The tool analyzes different aspects of the keyword for the landing page URL running tests on many elements based on best practices with respect to the Google algorithm including:  Page Score, SERP Preview, Page URL, Page Title, Meta Description, Meta Keywords, H1 Heading, Page Structure and Page Keywords as well as Content Statistics, Readability, Accessibility to Search Engines, Page Response Speed, Image Optimization, Canonical Tags, Page Links and Mobile-Friendliness.
With respect to the algorithm, John Mueller mentioned that "it's not obvious how the algorithm works.   It will work to even out good things and bad things (on the site), the algorithm works by balancing the site's overall picture.   Google can't say add two keywords here and take away a keyword there and it will improve your rankings."
So a focused approach to every page in your website is important, because every page can be a landing page.   The "context" from a Google algorithm standpoint contains elements of content, page mechanics and source code details.