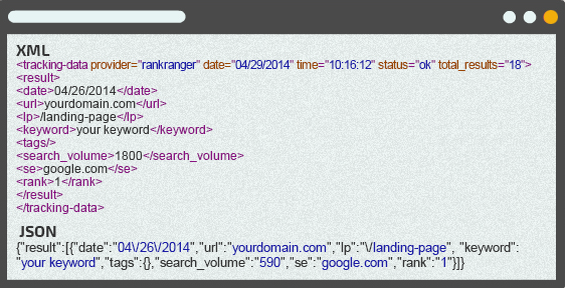 June 3, 2014   |  
Posted by
Rank Ranger
This past month we have made a number of updates to the Rank Ranger API Methods, all in our quest to make your SEO management easier, better and faster. Some of these updates were brought about through our WeDevelop program that has been a great success in recent months. To sum it
up take a look below for snippets of information about each update and feel free to click through to the relevant API method if one catches your interest.
API Overall Updates
Rank tracking API Methods have been tweaked and upgraded to make sure that they are better for you to use. Specifically, we have added the option of using a Reference ID for internal purposes. This will allow you to match your Rank Ranger campaigns with personalized IDs that you're currently using in your own system for your customers.
Market Reach API Method

We have introduced a new API Method that provides Market Reach data
to measure the potential revenue of a business opportunity on a global scale for a tracked keyword. This is correlated to your search engine rank as that determines the reach that your website is achieving on relevant SERPs.
White Label Portal API Method
This new API Method allows you to manage access to your White Label Portal for any campaign by enabling, disabling and resetting public access and/or creating a custom URL. White Label SEO reporting is extremely useful for marketing agencies whose clients like to keep track of SEO activities, as well as in-house SEO departments who want to present their data in a professional and personalized manner.
Rank Ranger's API allows you to integrate data from your account into your own applications. Tracking data is available in XML and JSON format through the API.