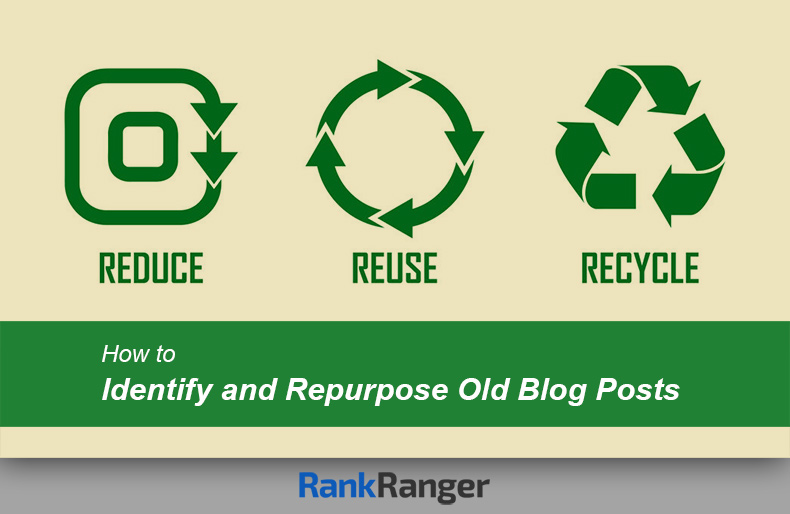 October 20, 2021   |  
Posted by
Liraz Postan
As a content marketer, you probably understand how challenging it is at times to come up with new and relevant topics.
Writing is about sharing ideas, right? Well, the only way to build authority – contradictory as it may sound – is to inspire others whilst letting them form their own opinions, instead of trying to convince them otherwise.
Some blogs are so good that they can stand the test of time. But, behind those blogs is an idea, and ideas are bulletproof! So, next time you're struggling to present your audience with something meaningful, consider scraping through your archives.
Careful, though – reusing old content is tricky and oftentimes, it can be like playing with a loaded business gun.
In this post, I'll show you how to include repurposing old blog posts into your digital content marketing strategy.   



6 Tips on Turning Old Into Gold 
Before moving on to the nitty-gritty of repurposing old content, let's first make it perfectly clear why you need to regularly update your content. When visitors land on your website, they're usually in search of something. It can be any information about a specific topic they're interested in, a promotion, or just their curiosity calling.
But, what happens when they discover you have outdated content, serving no value? Not only will you lose your audience for good – you'll actually be working in your competition's favor. And that's not all. Old content, no matter its quality, raises red flags for search engines. Okay, don't jump the gun and delete old posts just yet. Instead, audit your website and find the long-forgotten, old gems that can bring you fresh, new traffic!
Determining What Can Be Reused 
Not everything you have written on your blog can and should be reused. Even if a certain post attracted a lot of attention in the past, it may not be relevant today. Think of blog posts that you wrote about Vine, Myspace, or a game that no longer exists.
Do they bring any value today? No, and they actually do more harm than good to your blog's ranking.
While auditing your blog, put yourself in the reader's shoes. It all comes down to whether you'd want to read a certain blog post again or if you have outgrown the topic. It's the best way to determine what you can reuse and what needs to be gone for good.
For example, blog posts that revolve around general, actionable tips, will never go out of style. If you wrote a piece on the best fitness mobile applications in 2018, research a bit and see if things have changed. Upgrade your post with the best-ranked applications for 2021, and you're good to go!
High-Traffic Posts 
Look at the posts that brought you high traffic. Maybe you were writing about some history-defining moment, like the legalization of same-*** marriage in the States back in 2015. You can easily reuse this post and upgrade it with more information as to how the situation has developed since. Then again, there are posts that bring a lot of traffic but are not exactly interesting anymore.
Think of Psy's Gangnam Style. While it made history back in 2012 as the first video to reach one billion views, nowadays, a lot of other songs have managed to do the same. Baby Shark Dance has more than nine billion views (don't hate me for the earworm).
Low-Traffic Posts 
Don't give up on old blog posts that didn't gain as much traction as you thought they would. If the content is good and the topic is still relevant, try publishing it again. Make small tweaks in the SEO. Give it a fresh perspective. Add videos and images at that.
There are a number of factors why a certain blog post didn't perform well. For starters, you could've published it when there was a lot going on in the world. You might've been targeting the wrong audience. Or, you just didn't know how to promote it. Learn from your mistakes and remember, it's never too late for a second chance!
After auditing your website, you need to polish your content to make it top-notch.
How to Make Your Old Content Shine: 6 Simple Steps 
There is no other way around revamping old content into quality pieces than to start where you are, use what you have, and do your best.
Here's how you can accomplish it the easiest:
Let Your Creativity Run Wild 
As a writer, you probably consider yourself a creative person. If it wasn't for your creativity, you wouldn't even have a blog in the first place. There's a very good reason why your blog isn't getting the attention you think it deserves – you were afraid of unleashing your creativity.
Once you discover which blog posts can be reused, rethink your writing approach.
As you read through it, you'll start noticing what could use some improvement.
New, better, engaging words will come to mind. Don't overthink them. Go with your first thought. You can always come back to it later if something better pops up.
There's no harm in searching for inspiration if it doesn't come naturally. One of the best ways to make your content better is by listening to your audience. Read the comments and see what people are saying. If they have any questions, address them in an updated post. Include everything that's relevant to the topic, leaving readers with no unanswered questions. Finally, trigger their curiosity to keep them coming back for more.
What makes the difference between average and killer content? It's the touch of inviting expressiveness that only you can add to your content!
Work With Visual to Achieve the Wow Effect 
It's all relative… only people's admiration with visuals is absolute. An image here and a video there will give your posts a new lick of paint that your audience will greatly appreciate.
Let's be real – no one likes reading long walls of text that seem to have no beginning or end. There's a rumor going on that people's attention span has gone from 12 to 8 seconds – that's even shorter than a goldfish's. In other words, you have a pretty tight time window if you're to make your readers stick to the end.
Breaking your text into short sentences and paragraphs is a must. However, to boost your chances of engaging your audience, images and videos are paramount. Don't go overboard though, you don't want to trigger people's photosensitive epilepsy.
Post relevant visuals, and depending on the niche of your blog, you can even add a meme or two. Aside from knowing what your audience wants to read, keep track of what your audience wants to see. Text and graphics are the winning combo!
Optimize to Conquer 
"You wrote. You optimized. You conquered." – these are the words to live by within the writing world.
What good is quality content if the greater public won't see it? If you were writing for yourself and not for a larger audience, you would've started a diary, not a blog. To get your content out there, you need to implement a proper SEO strategy.
You can always hire an SEO expert to do the heavy lifting, but you can optimize your blog solo, too. Improvise, adapt, overcome – here's what you can do:


Double-check the quality of your content.

There's nothing that search engines appreciate more than well-written content.

Improve your page title.

Let your readers know what they can expect, but make room for some mystery.

Make sure the technical part is working properly.

Slow loading time or broken links can seriously damage your rankings.

Pay attention to the meta tags.

A concise, keyword-rich meta title and descriptions are guaranteed to boost the traffic.

Add an image.

Don't be lazy and use whatever you find online. Invest some time into making one if need be – and don't forget to add alt tags.

Do your keyword research.

If properly used, keywords can rank you on the first page before you can say Google.
Summon the Power of Social Media 
You don't need an Ouija board to harness the power of social media. But, you might need a pen and paper to plan your social media activity to best promote your blog.
That is if you want to drive more traffic to it.
Assuming that you do, you can start by posting spoilers on Instagram, Facebook, Pinterest, or other social media platforms where your target audience is most likely to spend their time. Share a screenshot of a thought-provoking, eyebrow-raising part of your written content that people can't resist voicing their opinion about. Include a link that'll get them directly to your blog where a positively heated discussion commences.
Another approach you can try is to make an infographic of the key points of your blog post and publish them on social media. The right audience will want to read more on the matter and stick around – thus further satisfying their curiosity by reading your blog.
Spread the Word 
To make the most of your existing content, you have to distribute it to a larger audience. While social media marketing can greatly help with this, give email marketing a chance as well. The simplest thing you can do is create a newsletter.
Many bloggers, but businessmen too, started embracing a brand new newsletter strategy. Namely, they include the whole post in their newsletter. It's definitely a risky approach. But, if you decide to embark on this journey, make sure to rewrite your old blog posts to be short and sweet.
You can always do it the old way and include a link to your blog post in the newsletter. Yet, there's a fair chance that people will never click on it. The reality is, there's no right or wrong way on how to promote your blog via newsletter. What you need to do is test both options and see which one works better for your brand!
Be a Guest 
A lot of high-authority websites accept guest post submissions. So, if they're hosting an event, make an appearance. Guest posts have become increasingly popular over the last couple of years. The reasoning behind this is simple. Not only do you get to repurpose your content, but you'll also drive traffic exactly where you need it – to your blog.
However, choose where you'll be a guest wisely, depending on your niche. Send guest posts only to those websites that have a similar target audience as yours. Another thing you must pay extra attention to is plagiarism. Although you have given permission for your blog to appear on a different website, Google is very strict when it comes to the originality of the content.
Quick editing will do the trick, and you can publish your post on a number of websites with just a couple of simple changes to the original blog.
Last but not least, remember to always include a link back to your own blog!
Breathe New Life into Old Content 
There's a treasure of ideas buried in your blog archives and it would be a shame if they go to waste without getting the attention they deserve. So, feel free to repurpose them to fit the tone your audience is looking for. Another thing to remember is to keep your content relevant at all times and to always give more than what your competitors offer. That said, don't be afraid to be creative and take risks. Do what you must, just don't let those valuable pieces of content go to waste!
If it's broken, don't throw it away. Try to fix it!
==> Now that you understand how to repurpose old content, check out our guide on how to write great content that ranks