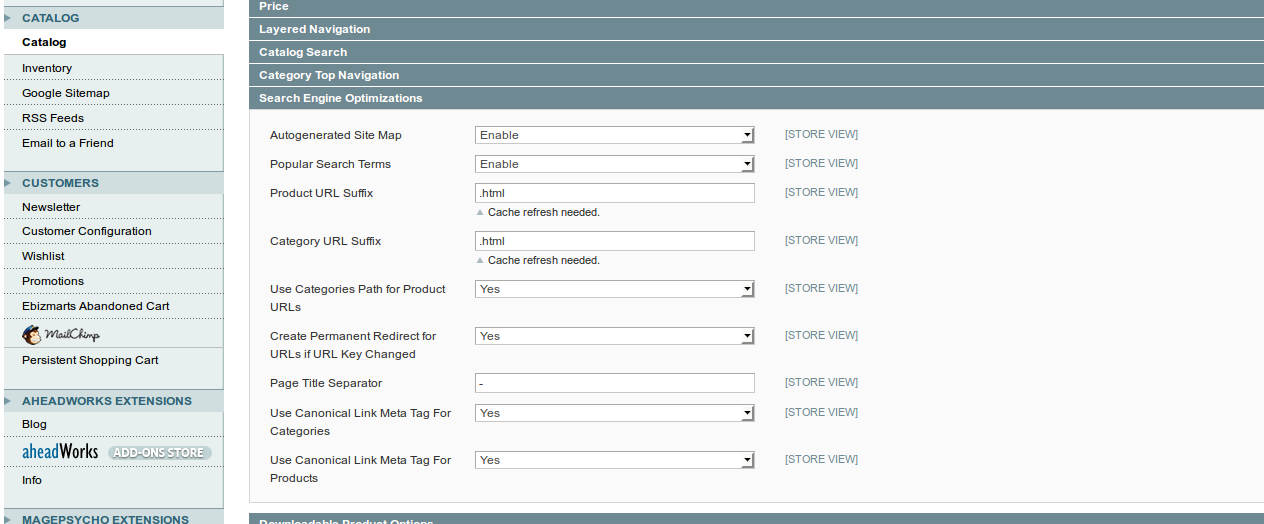 January 30, 2014   |  
Posted by
Owen Radford
Magento is an amazingly versatile piece
of e-commerce software. You can download and use it for free. Unfortunately for
marketers it requires a little cajoling to help you with your SEO efforts, but
that's to be expected as we all know SEO isn't in the forefront of most
developer's minds!
So here are a few tips to make life with
your Magento site that bit easier.
Canonical URLS
This is quite often one of the first
settings we look at for a new client. Quite often one product fits into a few
places in the category tree. This can cause duplicate content issues. Be
mindful of your overall structure here before you flick both of these settings
on. If you use an error-reporting tool you can double check by monitoring your
error reports before and after implementing this option.
This option is in System >
Configuration > Catalog > Search Engine Optimizations:



301 Redirects
You'll probably need to do some 301
redirects at one point or another. Perhaps you renamed a page that's already
linked to, or changed some aspect of a product and want to lead people to the
latest version. Here's where you can use a 301 redirect to state that the
resource has moved permanently. This passes on nearly all of the 'link juice'
and makes it easier for your customers.
Thankfully in Magento these can be
written without digging into .htaccess files (it's so rare that I have to do
this that I need to re-learn every time!). Go to Catalog > URL Rewrite
Management. Click 'Add URL Rewrite' then select 'custom'.
In the image below:

ID Path – for your reference

Request path – the old URL, that the visitor or search engine already knows

Target path – the updated URL for the resource

Redirect – select the type. Usually you'll want 301

Description – notes for your reference
Sitemap
A properly formed sitemap describes your
site structure to search engine crawlers and demonstrates formally which pages
you are prioritizing. Thankfully Magento does this for you (though there are
advanced extensions you may want to play with). Before you submit it in
Webmaster tools let's do a quick sanity check to make sure it's set up
properly. Go into System > Configuration and go to the Catalog tab and expand
the Search Engine Optimization area. We're just checking that the auto generate
option is enabled here.
Next go to the Google Sitemap tab. Here
you can set some estimated change frequencies and priorities for each type of
page (category, product, CMS, etc.). Again we'll check the generation settings
at the bottom – confirm it's enabled, set a convenient time for generation and
set a frequency (so if you have a lot of products come and go you can set it to
daily, for example).
Magento Speed Optimisations
Whilst there are arguments about how
effective site speed is for SEO and whether you should focus on your Time To First Byte or other elements, the fact is that a fast site is good for your customers, so
grab your Dev and implement caching in .htaccess, minify HTML/CSS/Javascript
where possible and look at any other easy fixes from the Google
PageSpeed Insights tool.
Default tags
Again in System > Configuration go to
the Design tab and select HTML Head. I acknowledge that duplicate title tags
and meta descriptions are an issue, but I'd rather have a few of these than
have missing tags. So in this section you can set a default title tag, so that
any pages without one will receive what you enter here. You can also set a
title suffix, perfect for ensuring each page title ends with your brand name.
Another quick sanity check – once
launched, confirm the robots default setting is INDEX, FOLLOW and that demo
store notice is set to no.
Tracking codes
With Magento we can easily insert our analytics code, which is handy as the Google Analytics code has itself been
through a few updates recently.
To apply your Google Analytics code go
into System > Configuration > Google API tab. Expand the Google Analytics
option, enable it and paste in your tracking code. Easy!
Slightly less easy – applying the AdWords code. Magento's knowledge base says here that there is an option for it. This appears to relate to Magento Go and I
don't seem to have an equivalent menu item in any of the Magento sites I have
available for examples. So you may need your developer's help in following this conversion tracking guide.
We also have an area for miscellaneous
scripts that can come in handy (System > Configuration > Design > HTML
Head).
Server Re-writes
Go into System > Configuration and in
the Web tab expand the Search Engine Optimization tab. Typical setups will
enable the server re-writes and in the URL options section above will disable
the add store code to URLs option. It's worth a quick check with your developer
on this one!
Other Areas to Look at (advanced tasks)
I've covered just a few of the basic
areas to look at when starting a Magento SEO project, here are a few other
areas you and your developers can approach to build on this:
Magento
hosting/Magento speed optimization – yes I mentioned this above, but once
you've done your basics such as caching, minifying CSS/HTML/Javascript, image optimization you can look forward to getting your hands dirty with some
database optimization. You're welcome!

If you're
big enough and have the budget you could look to expand into a multi-store
setup with your site translated (by a native please – and certainly not by an
automated tool!) into different languages. Throw in the language HTML tag for
each one too.

With a
little work you can have product images automatically take the product's name
(or short description etc.) as image alt and title tags.

Use an
extension to provide blog functionality? You may need your developer's help to
reign in the content/meta tag duplication warnings this creates.
Of course, with enough time and budget
the sky's the limit for tuning up and optimizing Magento. I hope you liked the
guide, what tips would you add? What steps do you always take with a fresh
Magento install? Let me know!