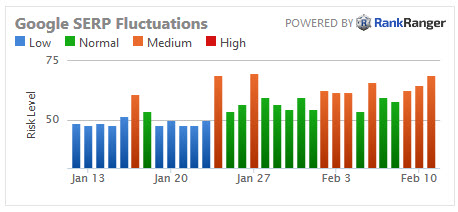 February 11, 2014   |  
Posted by
Rank Ranger
Google's Top Heavy Update #3 targets websites that spam or over use ads on their pages.
Our Rank Risk Index was displaying Code Orange activity and we noticed webmaster & SEO forums had some chatter about significant traffic drops.


We ventured over to Matt Cutts' blog and Twitter feed in search of some answers and finally the announcement was made:
The refresh that Matt is referring to in his Tweet is Google's Page Layout Algorithm – the goal of which is to make users search experience more efficient and quick, enabling them to reach the content they're seeking.  According to
Google's Webmaster Central Blog
when the first update came out in 2012, Google received "complaints from users that if they click on a result and it's difficult to find the actual content, they aren't happy with the experience. Rather than scrolling down the page past a slew of ads, users want to see content right away. So sites that don't have much content "above-the-fold" can be affected by this change."
Apparently Google will not penalize all sites with above-the-fold ads, but rather those that take up too much real estate vs. useful content in the top section of a page. Google, in their noble quest to provide a more user-friendly experience, is obviously targeting low authority websites with this update.
Our take on this: The winners will be Big Brands that were competing with non-authority websites on the same keywords. 
If this update affected your site, please share your experience in the comments below.
Learn more about Google algorithm updates history to better understand fluctuations in rankings and organic website traffic.