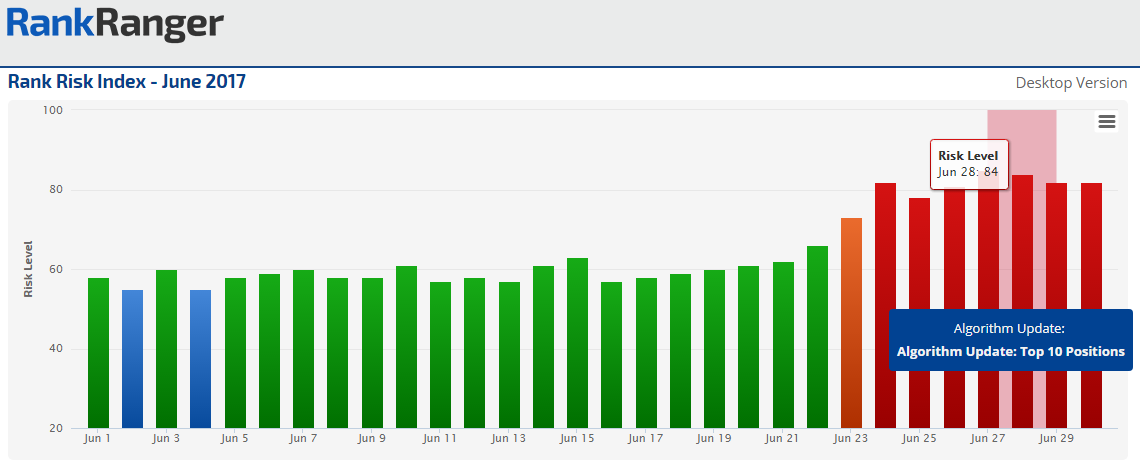 July 10, 2017   |  
Posted by
Shay Harel
For the second month is a row, Google has rolled-out a significant algorithm update. Following a May 18th Google update, the end of June heralded in an update that just kept on going, and going… and by month's end still had not entirely run its course. As expected, the impact on rank was no small matter. Truth be told, this elongated algorithmic anomaly nearly eclipsed the rest of June's SERP news. Not to fear, it will all be covered here in the latest (and possibly greatest) edition of The SERP News.      

Google's Latest Update and the Bottom Half of the SERP – An Algorithm Story
Just when you thought June would be a quiet month on the SERP, Google went ahead and rolled out a monster of an update. In all honesty, and this goes back to 2015, the Rank Risk Index has not tracked an update that lasted as long as this end of June algorithm behemoth. With modest beginnings on June 23rd, the Rank Risk Index showed high fluctuations all the way through the end of June (and beyond).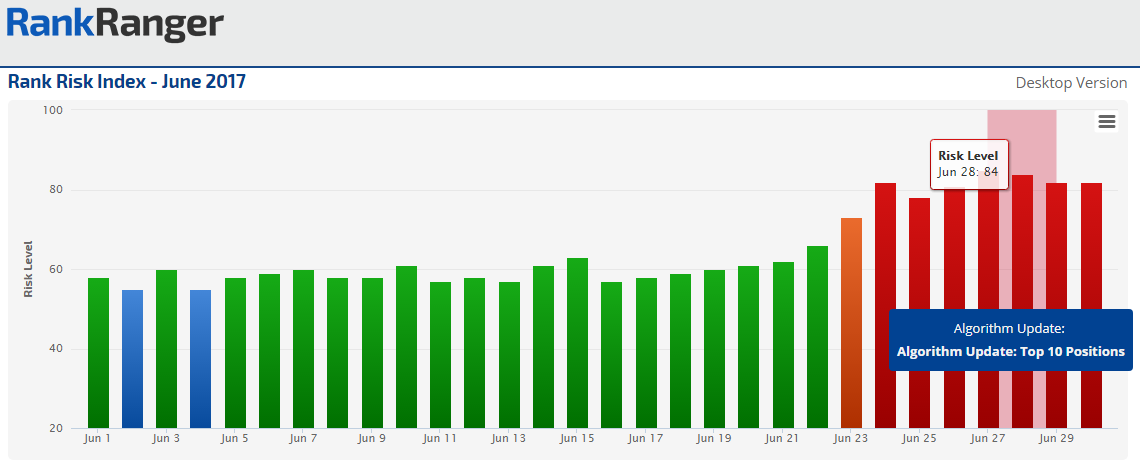 The end of June Google algorithm update as captured by the Rank Risk Index


Isolating the data on this algorithm update, prolonged as it may have been, was tricky nonetheless. After quite a bit of data digging I was able to find a pattern across the niche's we track. As it turns out, there were extensive rank fluctuations between the 6th and 10th position on the SERP. That is not to say that the top half of the SERP was without fluctuations. Though, in some niches, the top 3 results did show minimal fluctuation levels during the update. In any event, there was a significant jump in the percentage of the results fluctuating on the bottom half of the SERP, i.e. positions 6 – 10.
When compared to the baseline data on fluctuations per niche, the increase in bottom half of the SERP's fluctuations were striking. For example, and furthering the age old adage of going with your gut, the Food and Drink industry saw a just whopping 1,085% increase between the fluctuations found within the top 5 results and those within the top 10. Such a striking difference in the data, that is upon adding the bottom 5 results into the mix, directly implicated Google's targeting of the 6th through 10th positions.  

Featured Snippets Spike Across Europe
Way back in April of 2016 we announced that our SERP Features Tool had tracked Featured Snippets making their initial appearance on the SERP in additional European markets (mainly Nordic markets). In the zero ranking game now, these European countries were never dominant players in the "Featured Snippets" arena. For the most part, these countries hovered, and in fact more or less stagnated, at about 1%-5% of Page Ones plastered with the highly coveted zero ranking boxes. 
This past month however, Europe came to the table with some rather impressive numbers. Between June 5-6 there was a uniform spike across "upper-Europe" that propelled these sovereign States into Featured Snippet stardom, with some of the countries approaching and even surpassing the 10% mark. The Netherlands, being one of the starkest examples, had Featured Snippets appearing in just 4.5% of its Page One results on June the first. Less than a week into the month, the Kingdom of the Netherlands saw that figure spike to 13.2%, an impressive 193% increase.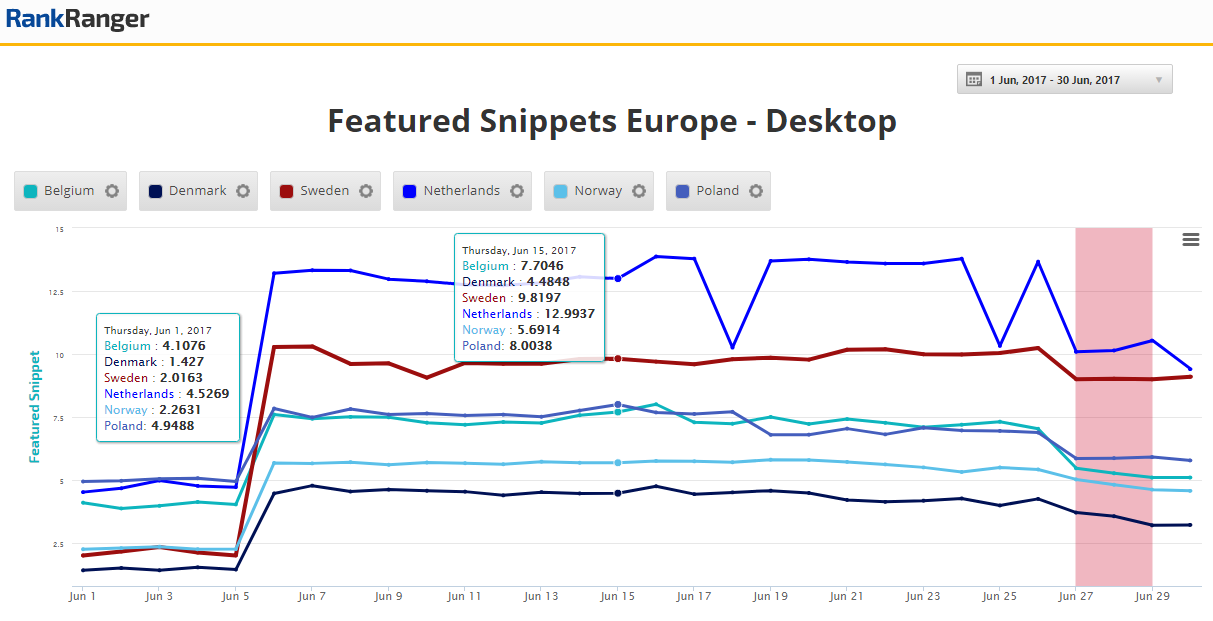 The Insight Graph showing Featured Snippets spike significantly across multiple European countries
What is interesting to note is that there was a slight depreciation that corresponded to the aforementioned Google update. Personally, I think it's safe to say that the feature will return to previous highs over a relatively short period of time (but not in one fell swoop).  


Google Jobs Opens for Business on the SERP
Getting down to business (sorry, I just couldn't help myself), Google's new jobs SERP Feature underwent its grand opening (sorry… again) on the June SERP. The basic gist is that Google is showing job listings related to a specific location (or industry) at the top of the SERP via a new feature called Google for Jobs. So say we did a search for jobs atlanta, we might get this: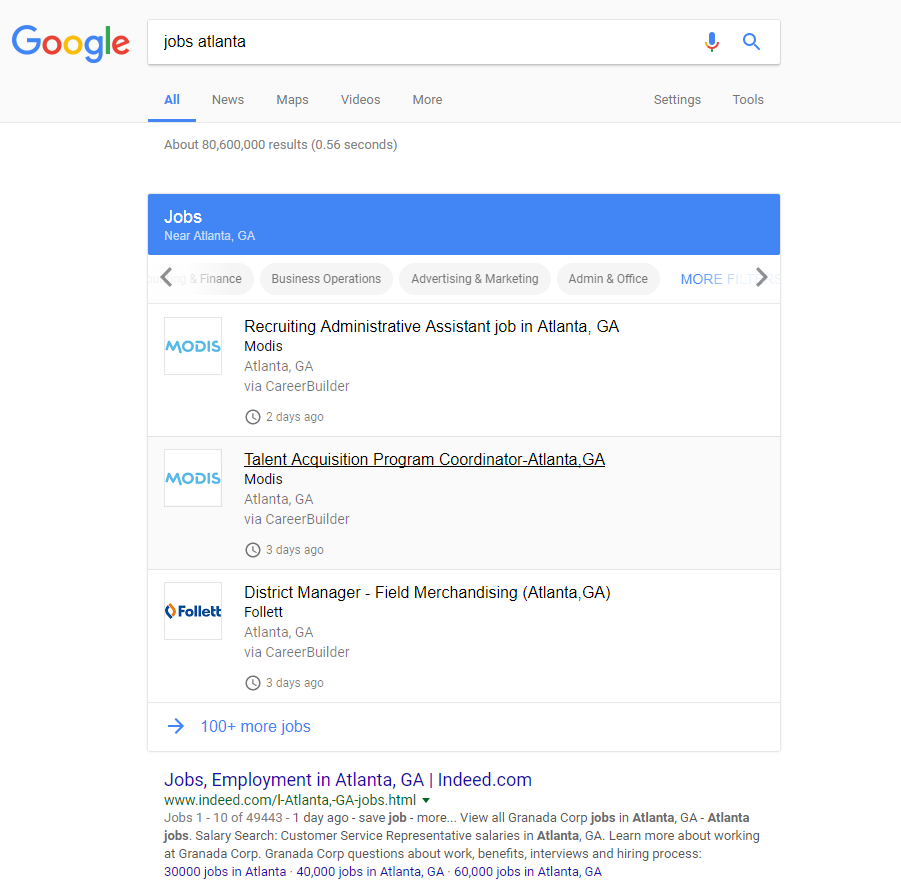 What you get essentially is a list of jobs in the Greater Atlanta Area. Each result includes obviously the job title, but also the web-based source of the job (i.e. CareerBuilder) along with the time of posting. The feature has strong resemblance to Local Pack functionality on mobile that includes a filter carousel which appears above the results. Also like a Local Pack, clicking on the bottom header for additional jobs brings you to the equivalent of a Local Finder. Like a traditional Local Finder, there is a left-sided panel that presents a full list of results. Where a Local Finder would show a map, here within Google for Jobs the full listing, which includes a job description, is presented.   
There are still a few questions to be answered as Google gets into the job market. First and foremost, what will the impact be on organic sites, such as monster.com? The obvious aside, I'm curious how Google goes about choosing a listing source for a job that has been placed on multiple sites? How does it choose which site to source in the feature? What are the criteria. I'm sure job sites are curious as well!  
There is also the issue of spam. Again like the Local Pack, there already appears to be an issue with some spammy local results. Below is a Google for Jobs listing that appeared for the keywords easy money jobs ny: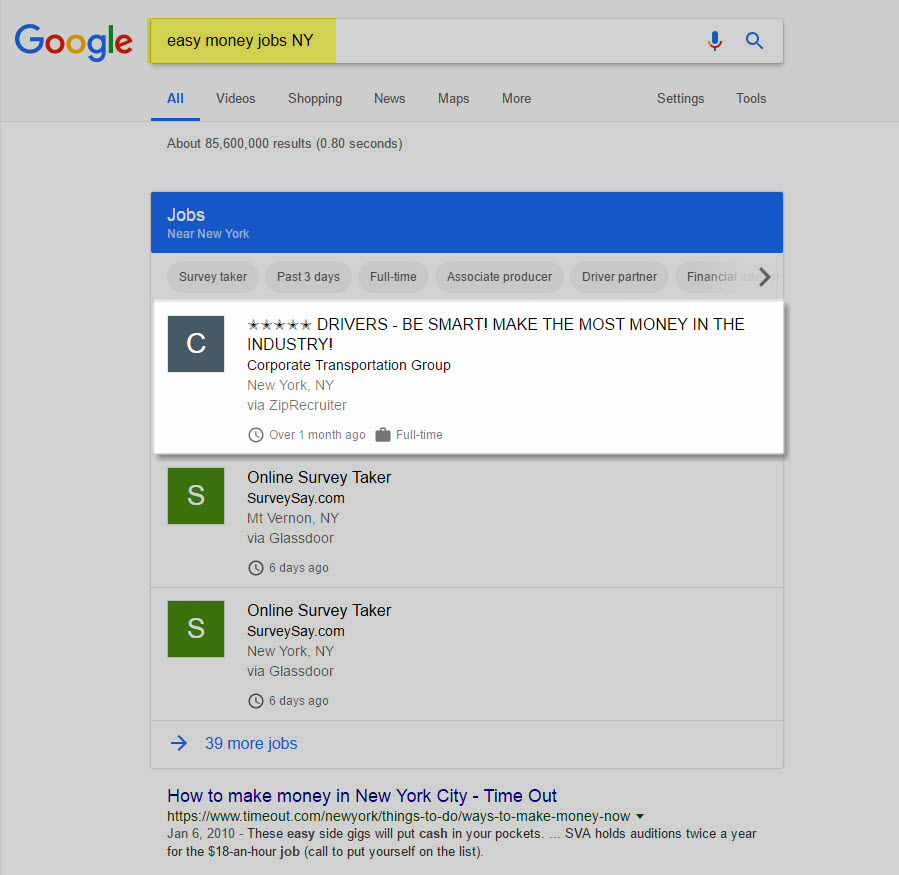 The above has the content style I would expect from a suspicious Craigslist listing. It raises the question as to how Google is going about deciphering between genuine job listings and spam (not to say that the listing here is not genuine). Actually, this concern goes beyond spam as it enters the world of "scam."
The real-world implications of someone falling for a job scam can not only be far-reaching, but downright terrible if you really get into it. Google has a tremendous responsibility in ensuring that certain illicit industries do not make their way into the results (as they often do on Craigslist). About a year ago Google banned Payday loans from appearing in AdWords. At the time, Google was concerned about predatory payday lending. Yet a recent search for payday loans jobs yielded the following listings: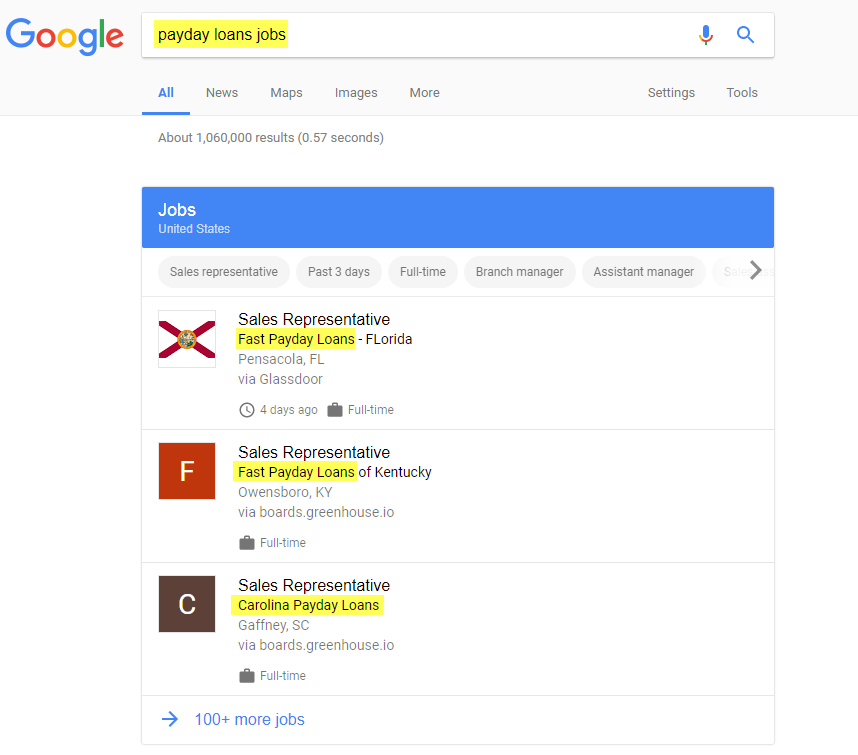 Beyond being a glaring contradiction, these listings highlight my above concern. If Google considers these loans to be of a predatory nature, it can't at the same time advocate people enter the field. Google cannot have its cake and eat it too. It can't denounce payday loans on ethical grounds at the same time as streamlining a path into the field for prospective employees. It's the equivalent of the FBI or DEA raiding a narcotics production facility and then putting out an ad for **** lords to fill the new vacancies. 
June SERP Feature Changes
I have to tell you, I **** this stuff. I **** the little changes Google makes here, adding a dab of this, a pinch of that, it's like they're creating SERP feature masterpieces. People will say that there's no point in tracking these changes, that we're all just enamored with Google. However, aside from the inherent intrigue in watching something evolve and the existential satisfaction that comes with it, there is quite often a degree of actual added-value that results from Google's SERP feature tinkering, last month's changes being no exception.      
Hotel Listings Undergo a Series of Changes… Again 
Google certainly has an affinity for hotel listings. Just last month we saw hotels reviews within the mobile Local Knowledge Panel acquire a prolific set of changes. Over the course of June, local SERP feature sleuth, Sergey Alakov, spotted a series of changes to hotel listings within the Local Pack. Firstly, throughout June Google was testing multiple forms of a hotel "price slider" within the Local Pack. The slider acted as a filter that either included or eliminated results to conform to the price range set via the slider. Towards the end of the month, Google even tested a hotel Local Pack that included an enlarged picture, rather a series of pictures. The upshot, other than the fact that everyone loves bigger pictures, was that you could scroll through multiple pictures without leaving the Local Pack.  
Yet, there were still two bigger changes to hit hotel results within Google's SERP features: 
1) Hotel Deals in the Knowledge Panel: For mobile only, Google will tell you about **** dependent deals for a specific hotel. Currently, Google will tell you if the listed rate for a hotel is a "deal" or not via a label that appears within a Local Pack. Here, though Google takes it one step further and provides you will **** dependent deals. Meaning, should you book the hotel between certain dates, doing so would result in a discount of x amount. Google now tells you those dates.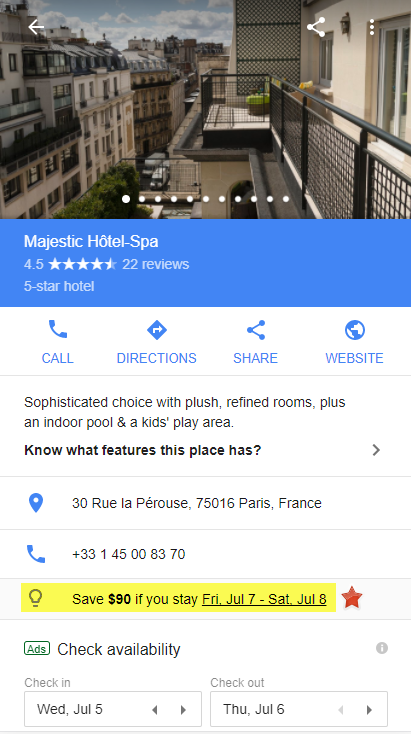 **** specific hotels deals within Google's Local Knowledge Panel on mobile
This is an obvious improvement from merely informing the user as to which hotel is currently offering a discount. What Google has essentially done is take the guesswork out of finding the best dates for the best rates. I can personally tell you, and I am sure many of you can related to this, I've spend more time than I would like punching various sets of dates into a travel site as part of a futile attempt to find the best dates for the rates.
2) Hotel Price Tags Are Here to Stay: Despite an official announcement, it would appear that hotel price tags are here to stay. Hotel price tags you ask? As opposed to say a pin indicating the location of a hotel within the Local Pack and/or Local Finder map, a tag with a given hotel's daily rate now appears.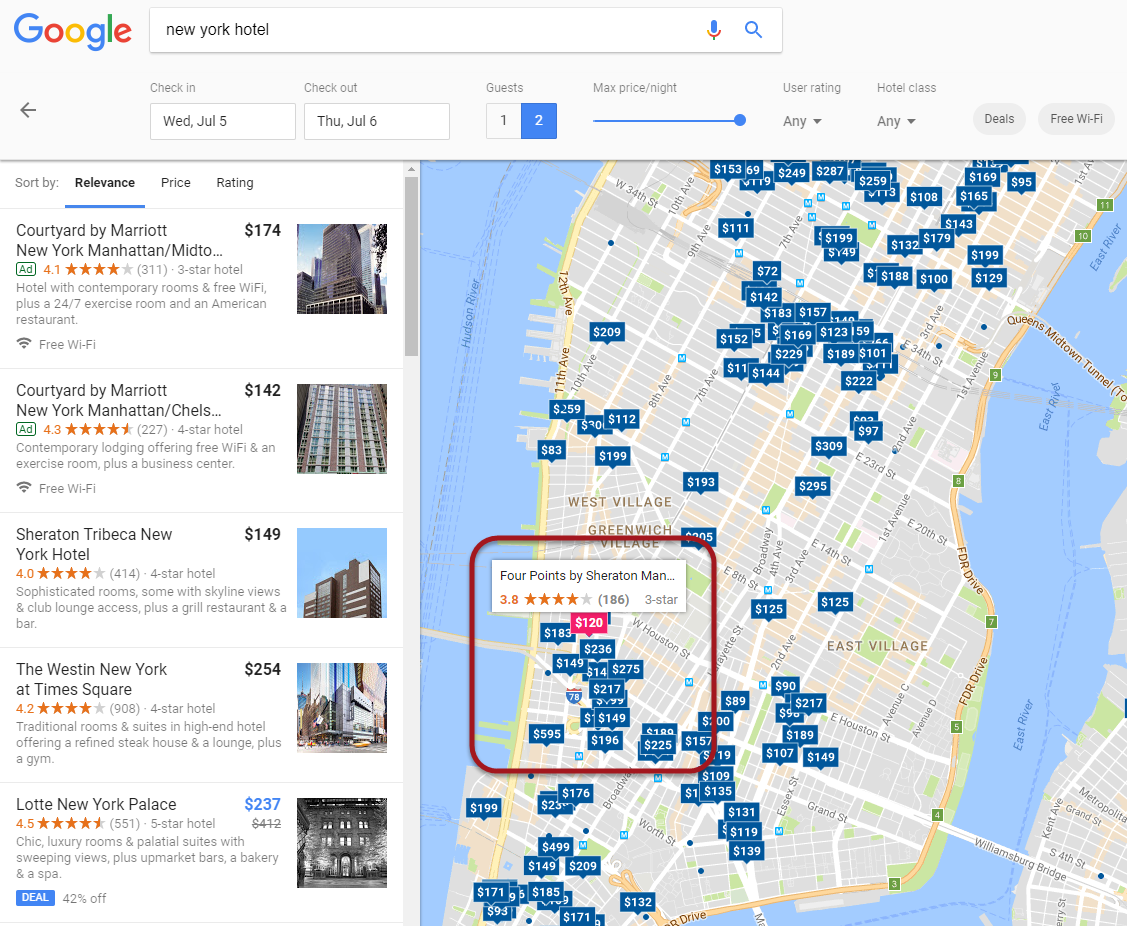 Hotel price tags within the Local Finder make the accompanying map easier to navigate when looking for the right hotel in a specific area 

Looks a bit much right? I thought the same thing until I actually had to look for a hotel for an upcoming conference the other day. I wanted a hotel within a very specific radius of the event, so I was using the Local Finder's map. Of course, I was also looking for a hotel within financial reason. Having the price right on the map made for one of the most pleasant hotel searching experiences I've ever had, and I eternally hate these kind of endeavors with great gusto.   
Tapping into Tabs and Highlights 
Other than hotels, the brunt of SERP feature changes more often that not relate to local establishments. In such cases, and again on mobile, Google has unwrapped two updates within Local Knowledge Panels; tabs and highlights.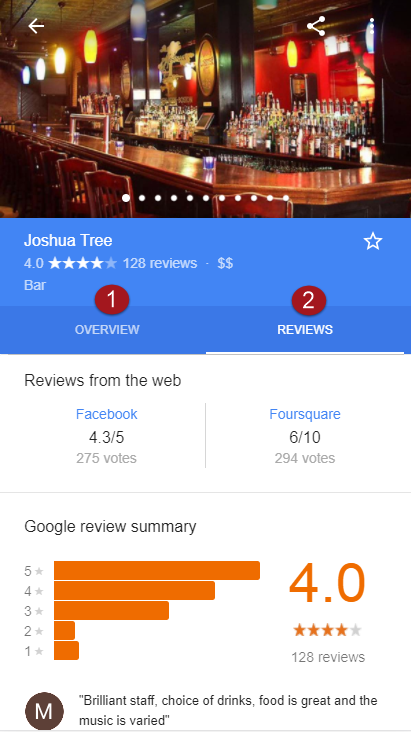 The new tab layout within a Local Knowledge Panel on mobile 

For local establishments, and due to limited space on your phone's screen, Google has introduced Local Panels with two tabs, an Overview tab and a Reviews tab, both of which are self-explanatory. However, on the first tab, the Overview tab, Google has also introduced Highlights.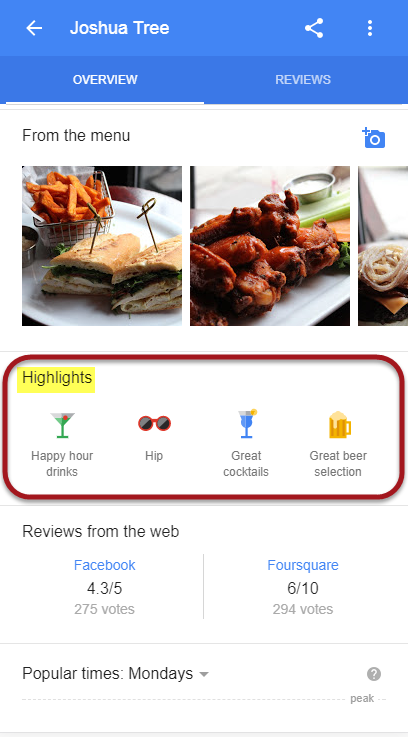 The new Highlights element offers a summary of sorts at a glance 
Think of Highlights as a description of a local establishment, but without much in the way of words. Instead, Google is showing icons that offer you insight into your favorite bar or restaurant's vibe, food/drink selection, best qualities. etc. What I think is advantageous about the addition, and I can only speak from a personal and subjective vantage point, is that it makes it easy to "get a feel for the place." So if you're a bit picky about where you sip your suds or grab a slice, but don't have the time or desire to start reading through even just 2-3 lines of a description, the feature is great. Of course for us homebodies it's a bit inapplicable.  
Taking Google's Pulse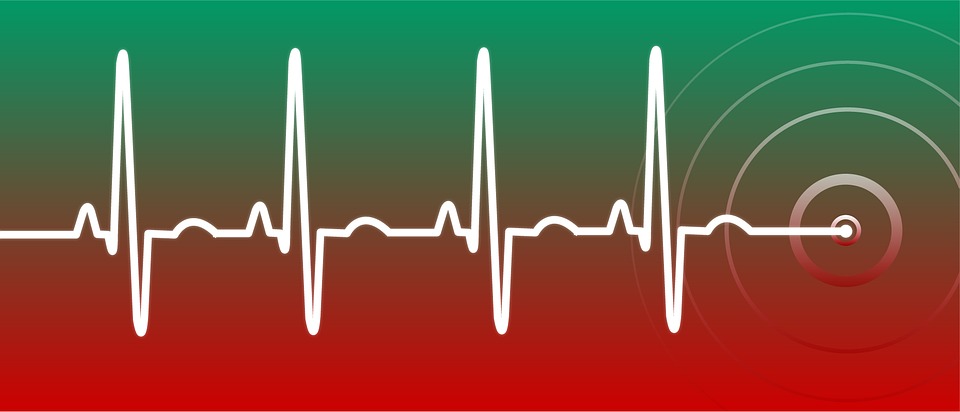 Algorithm updates are nothing new, a quick look at their history makes that obvious. Although hard to qualify, something is in the air, something a bit different. There seems to be a sort of greater consciousness and yearning for understanding within the industry when it comes to Google's updates. And although the policy of denying "unofficial" updates is also no novelty over at Google, the industry's reaction, subtle as it may be, is. Again, without qualification, I sense a great disturbance in the force, a greater unrest and discontentment within the industry in the face of Google's traditional denials.
What this means for the industry exactly is uncertain and I'm no prophet. However, I get the sense that we're headed down an interesting road, and perhaps a paradigm shift within the industry. In any event, cheer up, for every algorithm update there's always another nifty change to hotel related SERP features. So, here's to the brighter side of things!