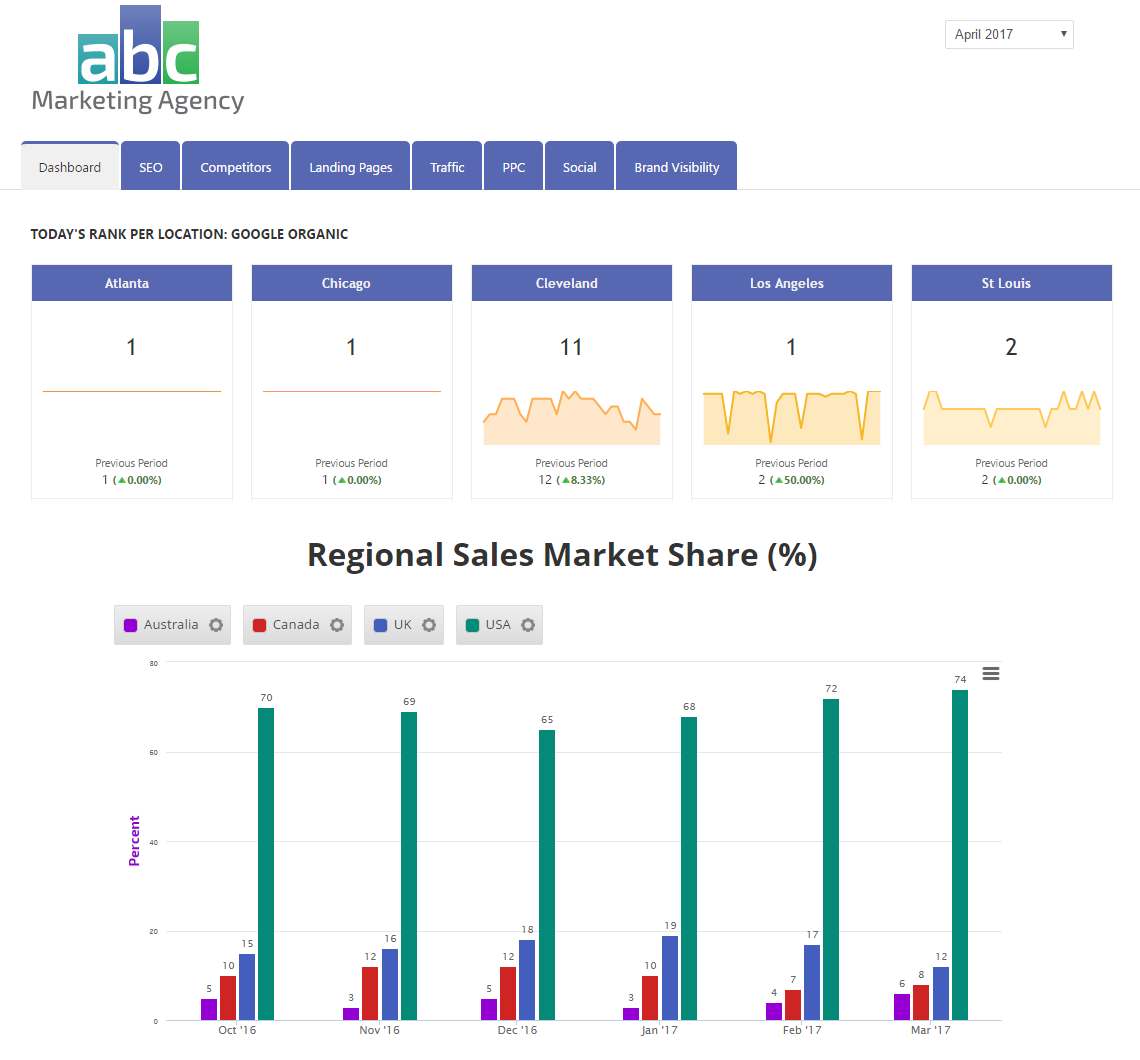 May 24, 2017   |  
Posted by
Rank Ranger
No one knows your data like you do. In fact, no one has access to your data the way you do. Not even Google, or Microsoft, or yes, even Rank Ranger, has access to the plethora of data you're tracking, storing, or otherwise keeping tabs on. When it comes to your data, you are the hub that the various outlets storing and tracking your information must channel through. Which is why we're giving you full control to display whatever data you need, want, or would otherwise enjoy seeing with our Google Sheets integration. Unlike any other third party data integration, unifying Rank Ranger with Google Sheets puts you in control of what data you want to track. More than that, by integrating Google Sheets you can display data that you, and only you have, affording you the ability to create graphs that are beyond unique, but rather exclusive. Data that is entirely complete and comprehensive.   
Creating Custom Graphs to Showcase Your Internal Data 
With the integration of Google Sheets, you can now employ Rank Ranger's custom graph building capabilities to showcase your own internal data. Both the Insight Graph and Metric Widgets are available to you for creating custom graphs so as to report on your own data. That is, you have the ability to either display the various metrics within your data side-by-side on a blended metric graph, or via a series of customizable widgets. As is always the case with the Insight Graph and Metric Widgets, there are a series of custom display options available to you such as custom titles, color schemes, or even the type of chart you wish to display, etc. 
Data from a Google Sheet showcasing regional sales data as displayed within Metric Widgets 


By using Rank Ranger to create visually enticing graphs to best capture your internal data, you are able to place such information within a larger reporting context. Consider a scenario where you are reporting on your AdWords activity. Surely you would wish to highlight the success of your AdWords campaigns. However, wouldn't the success of an AdWords campaign be all the more powerful if you could show its success compared to offline advertising and even sales themselves? By integrating internal data into Rank Ranger via Google Sheets, now you can. In doing so you create a situation where your internal data is qualified by the data you are tracking externally and vice versa. Meaning, you now have the ability to show the total data picture, from start to finish in a way that only you can. 


The Insight Graph showing data integrated via a Google Sheet that indicates spend and revenue correlations 


More so, employing Rank Ranger to create internal data displays affords you the ability to insert such graphs/widgets into white label reports that contain the wide spectrum of your data reporting. As such, you have the option to send automated white labeled PDF reports that contain an array of both internal and externally obtained information for a broader data analysis. You can also share active internal data along with active external data via the Client Dashboard, should you wish to show current period data. 
However, to create the most comprehensive narrative and story-line between your internal and external data you can engage the Marketing Dashboard. This multi-page dashboard not only affords you full access to its HTML and CSS, but allows for unlimited customization. Here you can share your internal data within the context of data you've obtained from third party sources in a way that allows you to insert custom explanations and to embed custom content such as videos, social media posts, etc. As such, utilizing Rank Ranger in this manner results in reports that are exclusively insightful and that are applicable for both internal and external reporting.


Integrated data from a Google Sheet indicates the importance of ranking well on the SERP within the US market 
Integrating Google Sheets Data for Unique Comparisons 
Being able to integrate Google Sheets and create reports for any sort of data you're tracking is itself invaluable. However, since we've equipped both our Insight Graph and Metrics Widgets with the ability to chart your Google Sheet data, you can now track correlations as never before. Specifically, you can create blended metric data-sets that combine information from any one of our data sources (i.e. rank tracking, backlinks, Google Analytics, Search Console, AdWords, Bing Webmaster Tools, Bing Ads, Social Analytics, CallTrackingMetrics, Yext, Google My Business, etc.). The obvious upshot is being able to display your internal data, information that only you are tracking, alongside external data that is provided by a third party source. 
In such a scenario you could easily create graphs or widgets to show correlations between: 
Social analytics progress, social site traffic, and each facet of your social media budget

Call tracking data and overall sales 

Site optimization costs and rank

Site traffic and revenue 

The Insight Graph displaying organic traffic relative to revenue figures supplied by a Google Sheet 
The ways in which to take advantage of integrating Google Sheets into Rank Ranger are literally as varied as the internal data you have at your disposal. In each case however the result is the same, insights that are profoundly broadened by data that is exclusively yours. 
Mind the Gap by Integrating Google Sheets 
There's an inherent gap in the data provided by any external source. This is not a bad thing per se, it's just the nature of the beast, the way things intrinsically are. No external source knows exactly how much revenue you brought in, to what extent you are leveraged financially, or even how much each employee costs you. As such, no external source can really paint the full picture. No one other than you, knows the full story.  The only problem is telling that story has always been difficult. By integrating Google Sheets into Rank Ranger, we've humbled ourselves by realizing that we can't fill in each and every data gap (no matter how many third party sources we integrate). Instead, we decided to empower you by enabling you to fill in the data gaps with information that only you can possibly have. In doing so, we've created an environment where you can tell the real story, the full story, bringing context and completion to your external data.