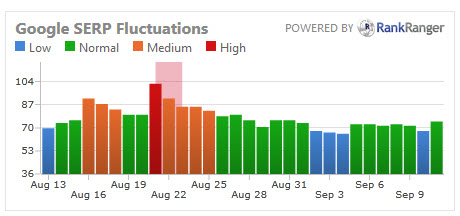 September 16, 2013   |  
Posted by
Rank Ranger
We're happy to see that so many of you are using our Rank Risk Index that tracks SERP fluctuations of the 10,000+ domains and keywords that we
monitor daily. By providing you with this Google algorithm
monitoring service, you can be alerted when potential negative results
need to be addressed quickly.  And since some of you have been asking, we've created a widget so you can easily add
this service to your website.
Simply scroll to the bottom of the Rank
Risk Index page, copy the Embed Code and paste it into the section
of your site where you'd like to display this attractive Google SERP
Fluctuations tool.  That's it – fast and easy – and you can now share quick access to our algorithm monitoring results with your site visitors.
We hope you'll have fun with, and benefit from, this free risk analysis tool. Your feedback enables us to continuously improve our rank tracker products
(and feed the egos of our programmers once in a while), so please
contact us and let us know how we're doing.