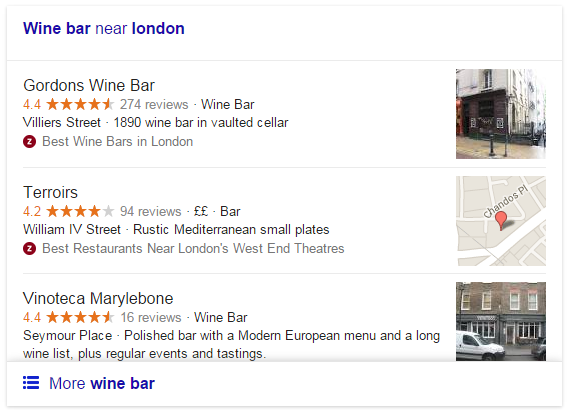 March 19, 2015   |  
Posted by
Michael Lerner
Rank Ranger's monitoring of the Rank Risk Index over the past week has shown much greater than usual Google SERP fluctuations. One reason why… Google threw a new local result page into the mix in some categories and in some markets.
Our findings show when a person searches for a local food or hotel, Google has replaced the old local maps that detailed location, phone and balloon. Replacing that old feature is a new local pack.
The result lists the first three ranked restaurants, hotels or bars. The example above is from a google.co.uk search for "Wine bar near london".
Notice at the bottom of the special bordered results box there's a link to other results, "More wine bar."
When searching for hotels and restaurants, you find a new sorting button where you can change those results based on price, rating and even check in or check out dates.
It seems that Google is working to clean up the confusing balloon / map / local search results that were difficult to decipher and navigate. However, in the old local version, when searching for "contractors NYC", clicking the result link would take you right to the company's website. 
In the new format, and so far only in google.com, not most foreign searches, clicking on the special box result opens a Google page with the company's, in this case restaurant's, address and contact information along with ratings and reviews.
A similar action on a mobile Google search opens up a Google window with links to call and a map to the address.
The More button also reveals a completely new Google result page.
Bottom line, Google keeps the search traffic in Google, and the result gives the searcher a cleaner more uniform result, but more clicks to get to phone numbers and actionable information. This can be skewing SERPs across the board as customers see the results in a new way, constraining them to Google pages instead of the direct site outside of Google. There continue to be links to the actual sites, but they are several screens away from where they used to be.
Here are some of the searches we did in Google.com USA, along with their results.

Yes = the new format

No = the old local search map


fast food san diego: No

pizza los angeles: Yes

ice cream dallas: Yes

candy omaha: Yes

asian food chicago: Yes

italian ice cream london: Yes

british foods in america: No

fish & chips springfield: Yes

clean hotel atlanta: No

luxury hotel aspen: Yes

construction nyc: No
As your SEO online marketing platform, our goal is to develop the SEO software solutions you need and to provide you with options for rank tracking organic and local results – both the local pack and the More search results page that follows it. Rank Ranger subscribers enjoy the option to include map results blended with organic results or select the Google Places search engine to track map results separately.   
Our local rank tracking is continually being updated in order to provide you with accurate local SERP results as Google changes the way they deliver local search. It really looks like Google will continue to roll out the new local pack format as a way to improve the organic search result list. We invite you to share your thoughts on the new local pack format, and also let us know if you'd like to start tracking on our Google Places search engine.