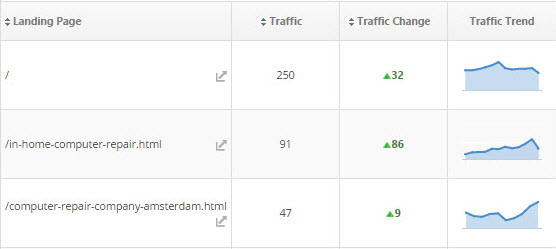 November 18, 2015   |  
Posted by
Michael Lerner
The most important job in SEO and Search marketing is driving traffic to a website and converting those clicks. Often, the most popular page of a domain will be it's home page. However, when it comes to quality traffic, people are drawn to specific keywords and subjects that relate to your sales funnel and pages other than the Homepage. Often traffic queries will lead to a blog post or specific content page that encourages conversions in a different way, through detailed information or specific instructions. These content pages can be a really important source of leads, free trials and purchases.
Our new Landing Page Traffic Insights reveals deep dive analytics to discover these trending landing pages in your domain. Keep tabs on performing blog posts and content pages, to make sure they continue to deliver.
Landing Page Traffic Insights Report Detail


With the proper data you can find which landing pages to re-optimize, create new content or push engagement. Refresh and refuel these important Landing Pages as they lose traffic over time. To use the Landing Page Traffic Insights report and invigorate the inside pages of your site, consider this detailed process.
First, determine which web pages to focus on by choosing the conversion goal that's the most important for your website, the one which you want to optimize and boost. In the Rank Ranger Landing Page Traffic Insights report you can choose a period of time to see cumulative landing page metrics:


Traffic

New Users

Clicks

Impressions

Avg. CTR

Avg. Position
Sort these metrics from both Google Analytics and Search Console to determine which landing pages have created the most conversions for your website. The longer period of time, the better view of trends.
Once you have sorted by the most powerful pages in your site over the period of time selected, take a look at the Traffic Trend or the New Users Trend to see how the various landing pages have performed. You may find that a Landing Page had a lot of conversions over time, but has slowed considerably lately. Those pages that have lost steam are the best suited for new content to refresh their click rates.
For those Landing Page trends that you want to target for improvement, you can benefit from discovering the keywords that Google identifies as being relevant for that page. Those keywords will offer insights into a new direction and ideas for the rewrite and even provide a new focus. By clicking on the screen icon at the far right of the Landing Page Traffic Insights report, you get linked to the Search Analytics Keywords report, filtered by the Landing Page you selected. There you can discover the queries that drive the specific page's impressions, clicks and traffic.
The queries presented here include the actual Not Provided (by Google Analytics) keywords connected to the Landing Page. They are an excellent guide to optimizing that webpage. Use the keyword data to rewrite the post so it's more in line with queries from the Google Search Console data. Even add those keywords to your Campaigns to keep a close eye on their traction and rank in Search.
You can discover exactly what people want from that web page and the information they are seeking and tailor these important pages for your visitors. By using the Landing Page Traffic Insights and rewriting your blog or page content to match you'll be on your way to better engagement and traffic.