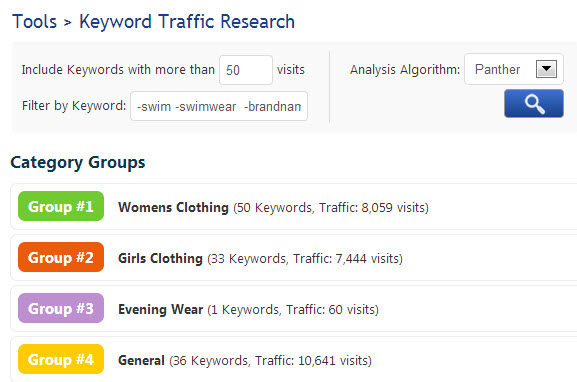 October 13, 2013   |  
Posted by
Rank Ranger
Rank Ranger's new Keyword Traffic Research tool utilizes proprietary algorithms to help you find strong keywords for your campaigns, and keywords that can drive traffic to your website. 
When you begin with a new customer and are conducting your initial keyword research, this tool provides a unique one-stop solution to quickly gather the information you need. Enter a few simple filter parameters and select the analysis algorithm
you want and the tool displays data in Keyword Category Groups based on
similarities.


A General group gathers all of the keywords that don't fit into a common grouping, and for sites that don't have at least 300 keywords driving traffic to them. Traffic volume is based on data for the last 3 months.
Keywords that are already being tracked in your campaign are flagged with a Tracking icon.  New keywords can be  conveniently added to your campaign from within this tool.


Keyword landing pages are provided and lead to the Beta stage release of our On-Page Keyword Optimization report.
Log in to your account and check out the Keyword Traffic Research tool by navigating to the Research tab. For more information, please review the documentation for this tool.  Don't yet have a Rank Ranger account? Register now for your free trial