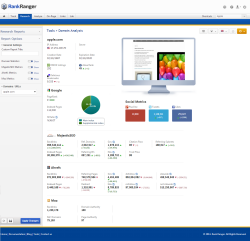 February 21, 2014   |  
Posted by
Rank Ranger
The Domain Analysis report provides a comprehensive overview of domain statistics in living color. Choose from a variety of report options and launch – the domain home page displays in living color and a Google Supplementary Index Ratio pie chart comes to life beside the latest Social Metrics from Google Plus, Twitter and Facebook.
Integrated data served from MajesticSEO, Ahrefs & Moz includes backlinks, indexed pages, referring domains & pages, follow/no follow and more.  Plus a quick glance at Domain IP address, server status, domain registration dates, DMOZ listings, Alexa Rank and Delicious
Bookmarks.
Domain Analysis
(click the image for enlarged detail)


Domain Statistics
A quick glance provides Domain IP address, server status, domain registration creation & expiration dates, DMOZ listings, Alexa Rank and Delicious Bookmarks.
Supplemental Index Ratio
Mouse over the pie chart to view number of pages and ratio of site pages that are located in Google's Supplementary Index vs. the number located in Google's Main Index. Only web pages in Google's Main Index are served in their SERPs.
Social Metrics
View the number of times site visitors have clicked on social sharing buttons on any of your web pages.
Integrated Data Providers: MajesticSEO, Ahrefs & Moz Metrics
Review the number of Backlinks, Indexed Pages, Referring Domains & Pages, Do/No Follow links and more from third party data providers.
With one-click you can impress your clients by adding this colorful and informative presentation to your automated White Label PDF Reports.  Visit our Domain Analysis documentation for more detailed information on the metrics included in this report.
Smarter, Faster, Easier! That's our goal and we hope these new reports will make it easier for you to obtain the type of results you want in a user interface that's fun and easy.  We're always looking for new ways to help your SEO business run smarter, faster and easier!  You can contact us by email, or jump into a conversation with us on Facebook or Twitter to share your ideas and requests, or just to say "hi" and let us know if you like these new tools!