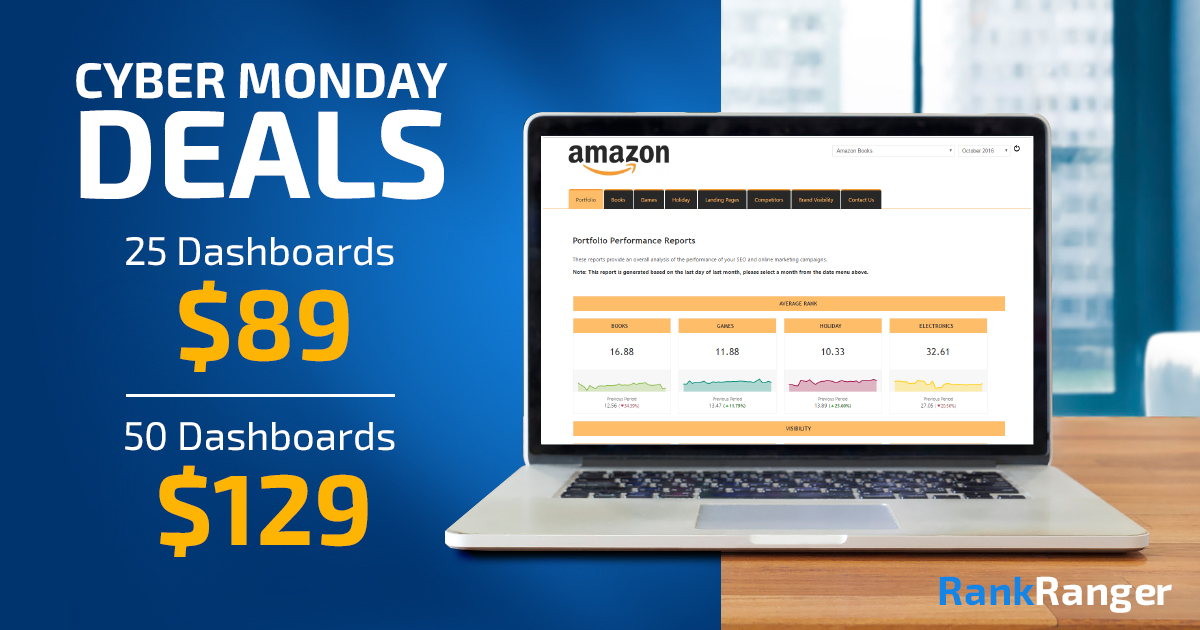 November 22, 2016   |  
Posted by
Rank Ranger
In honor of the Monday of all Mondays, Cyber Monday, we're going all out with Marketing Dashboard mania!
Dashboard Super Specials
Take advantage of our Cyber Monday sale on the all new Marketing Dashboard that revolutionizes white label reporting!
The new Marketing Dashboard is a tool for presenting data in an enhanced branded manner with style. Create your own custom design by modifying the HTML and CSS, or simply add logos and choose from a variety of custom templates.
Tell Your Success Story with the Marketing Dashboard
Whether for internal or external communication, this white label marketing dashboard can be used to display:


SERP Rank tracking from traditional organic, local, and mobile search engines – plus specialty search engines including Google Maps, Local Pack and YouTube, and App Tracking in Apple iTunes and Google Play Stores


Messages to your client using Text Boxes that can be scheduled to display during specific time periods


Videos (e.g., communicate with your client or show off work you've completed) by embedding YouTube or Vimeo code


Google Spreadsheets, Presentations, Drawings, and Forms by embedding Google code


Reports in a variety of languages


Multiple campaigns for the same client using a single sign-on dashboard feature


Plus reports and graphs using integrated data from:

Adobe Analytics

  Ahrefs

  Google AdWords

  Google Analytics

  IBM CoreMetrics

  Search Console

  Facebook Ads Manager

  Facebook Insights
Instagram

  Analytics
LinkedIn Analytics

  Twitter Analytics

  YouTube Channel Analytics
                  Coming Soon:
  AWeber

  Campaign Monitor

  MailChimp



The Marketing Dashboard – Truly White Label   
Take dashboard reporting customization and communication to a new level with:


Cyber Monday Deal on Stand-alone Marketing Dashboards
Stand-alone dashboards are for marketers who don't do SEO and therefore don't need rank tracking. These marketing dashboards include all of the integration data and features described above with the exception of app store and search engine rank tracking (although a small number of keywords and backlinks are included in these packages so you can experience the possibilities). 
Crazy Cyber Monday pricing is set at only:


25 Dashboards for $89 per month –

that's less than $4 per dashboard!





50 Dashboards for $129 per month –

that's less than $3 per dashboard!



New customers can get started by registering for a free trial and then upgrading between today and Monday, November 28th, to one of the Cyber Monday specials.Get Started!
Customer Loyalty Appreciation Special  
In the spirit of Thanksgiving we want to show our appreciation to our loyal customers by offering a special on the Marketing Dashboard that is pure Cyber Monday madness!
Customers can log in and click the person icon in the upper right toolbar and select Add New Package, then scroll through the package list to discover your special customer loyalty marketing dashboard pricing.  Please follow the upgrade package instructions or contact our service team for information on the best way to upgrade your custom package with Marketing Dashboards. 
You're only a few simple clicks away from gaining a tool that has the potential to increase your business by expanding your service offering above that of the competition – and that makes you look great while saving time and money.Upgrade Now!