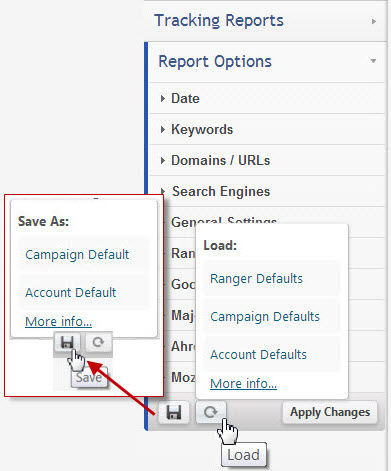 September 23, 2013   |  
Posted by
Rank Ranger
Have you ever perfected your SEO report options for one campaign and
wished you could apply those same settings to all of your campaign rank
tracking reports?  Or perhaps you decided to play with the settings to
obtain different results but wished you could revert back to your
previous research or analytics report options?  Well now you can with Rank Ranger's new Report Save or Load feature for Campaign or Account-wide options!
Save Report Options

As displayed in the screenshot below, once you have your report options set the way you want them, you have the choice of saving them as the default options for a specific Campaign or as your Account Default (applied across all campaigns for a particular report).  If you use this option, it will also control what your customer views in their White Label SEO Report Portal if you have this report enabled for their campaign.
Load Previously Saved Defaults

If you make changes to a report's options and decide you want to revert back to a previously saved setting, you have the choice to load Rank Ranger Defaults or previously saved Campaign or Account Defaults by mousing over the Load icon as displayed in this screenshot.


We're always looking for new ways to help your SEO
business run smarter, faster and easier!  You can contact us by email, or jump into a conversation with us on Facebook or Twitter to share your ideas and requests, or just to say "hi" and let us know if you like this new feature!