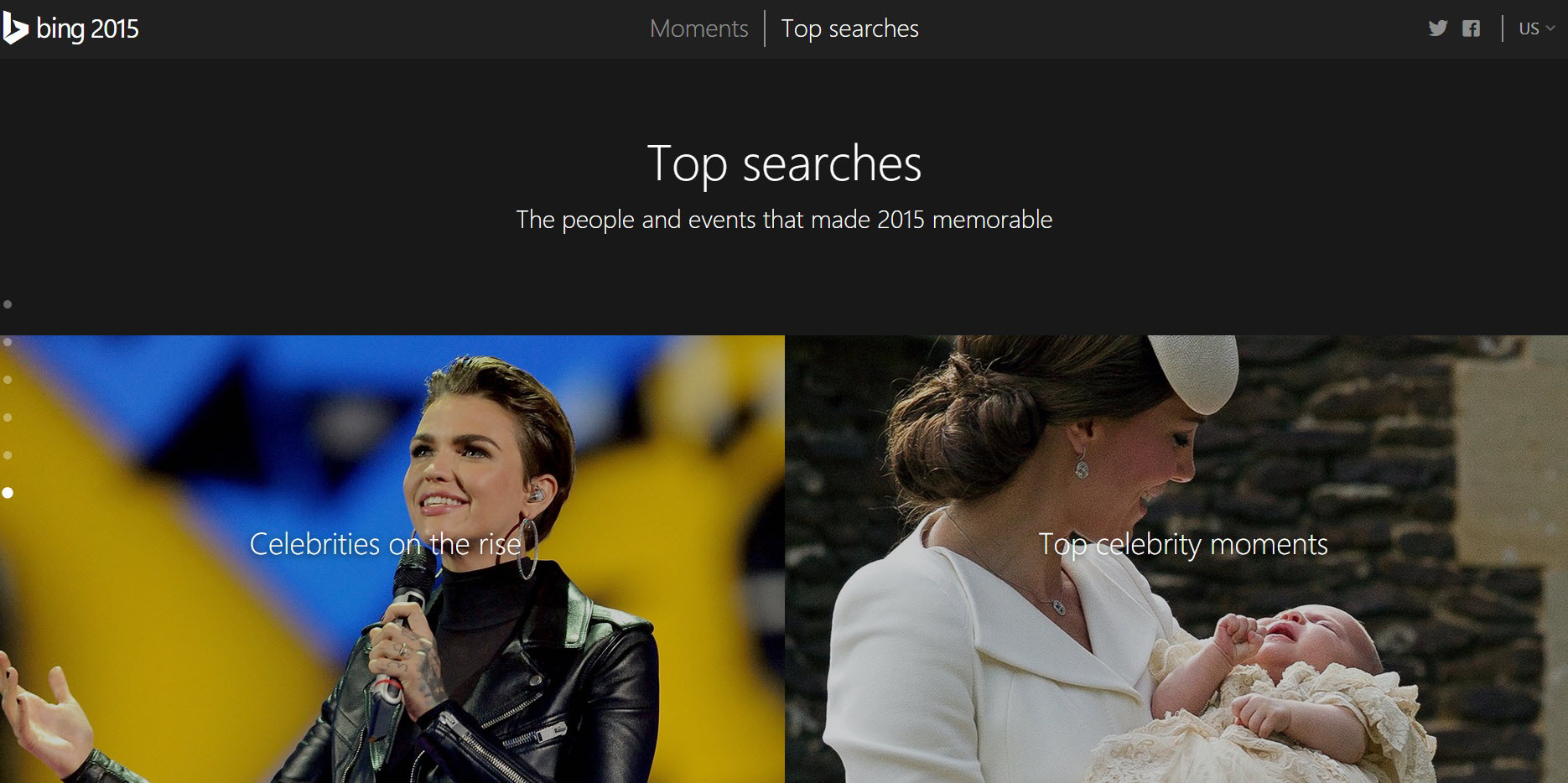 December 3, 2015   |  
Posted by
Joel Janovsky

Lately, I've gotten a feeling that Bing is trying to "catch up" a little bit with Google. releasing new tools and features, such as Bing's Mobile Friendliness Test Tool, recently announced. Other personal indications of Bing's path forward is their new integration to Microsoft's newly launched browser, Microsoft Edge. The first Microsoft browser in recent years that, if you'd ask me, feels up-to-**** and on the same level as their competitors. My gut feeling is that they're "on their way" – and really trying to give Google a match.
But now, back to the topic – Bing's Search Trends for 2015, the most popular search queries among their users, divided into a number of different categories, such as: Top Celebrity Searches, Top Athlete Searches and Top New Searches.
Bing is presenting their yearly roundup in a very nice, clean, funky and professional way – all at once. The truth is, that simply by checking these stats out, it makes me really curious and excited: what's next?
Will we soon see Bing increasing their market shares and slowly getting users to use Google less? Will Microsoft's newly launched Windows 10, Microsoft Edge and ongoing development of Bing Search Engine bring Microsoft back into the game? I guess time will tell. I'm excited to see what's happening next- are you?
Bing Top Searches 2015
Bing's Top Celebrity Searches in 2015



Caitlyn Jenner

Miley Cyrus

Taylor Swift

Kim Richards

Kim Kardashian
Bing's Top Athlete Searches in 2015



Tom Brady

Ronda Rousey

Jordan Spieth

Stephen Curry

Aaron Rodgers


Bing's Top News Story Searches in 2015



ISIS and Paris Attacks

The EU migrant crisis

Earthquake in Nepal

Snowstorm buries NE US

Germanwings 9525 crash
The results being displayed in Bing's 2015 recap are dependent on your location, and not worldwide. The results shown above are all from Bing US. As you can see, the results are different for different countries, such as Bing UK and Bing Germany.