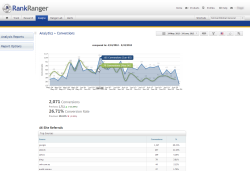 June 25, 2013   |  
Posted by
Rank Ranger
I'm happy to share with you our new Analytics Conversions report which provides an enhanced analysis of your Google Analytics Goals Conversions and Ecommerce transactions including number and rate of conversions, top Referral Sources and Top Keywords.

.

Features
Mouse-over any point or number in the interactive graph to view the number of conversions or transactions on any day.
View the number of Conversions and Conversion Rate or (when Ecommerce is
selected in the Goals/Conversions section of Report Options – see how easy it is to use) the
Transactions
, Conversion Rate and Revenue for the specific time period. You can also view the change from a previous time period by
selecting 'Compare to Past' with a **** range in Report Options.
Review Top Referral Sources
Review Top Referral Keywords
We're anxious to receive your feedback on this new Rank Ranger report so please check it out and let us know what you think.  If you're not already using our rank tracking tools, we invite you to take Rank Ranger for a test drive – register now for your 30-day free trial!